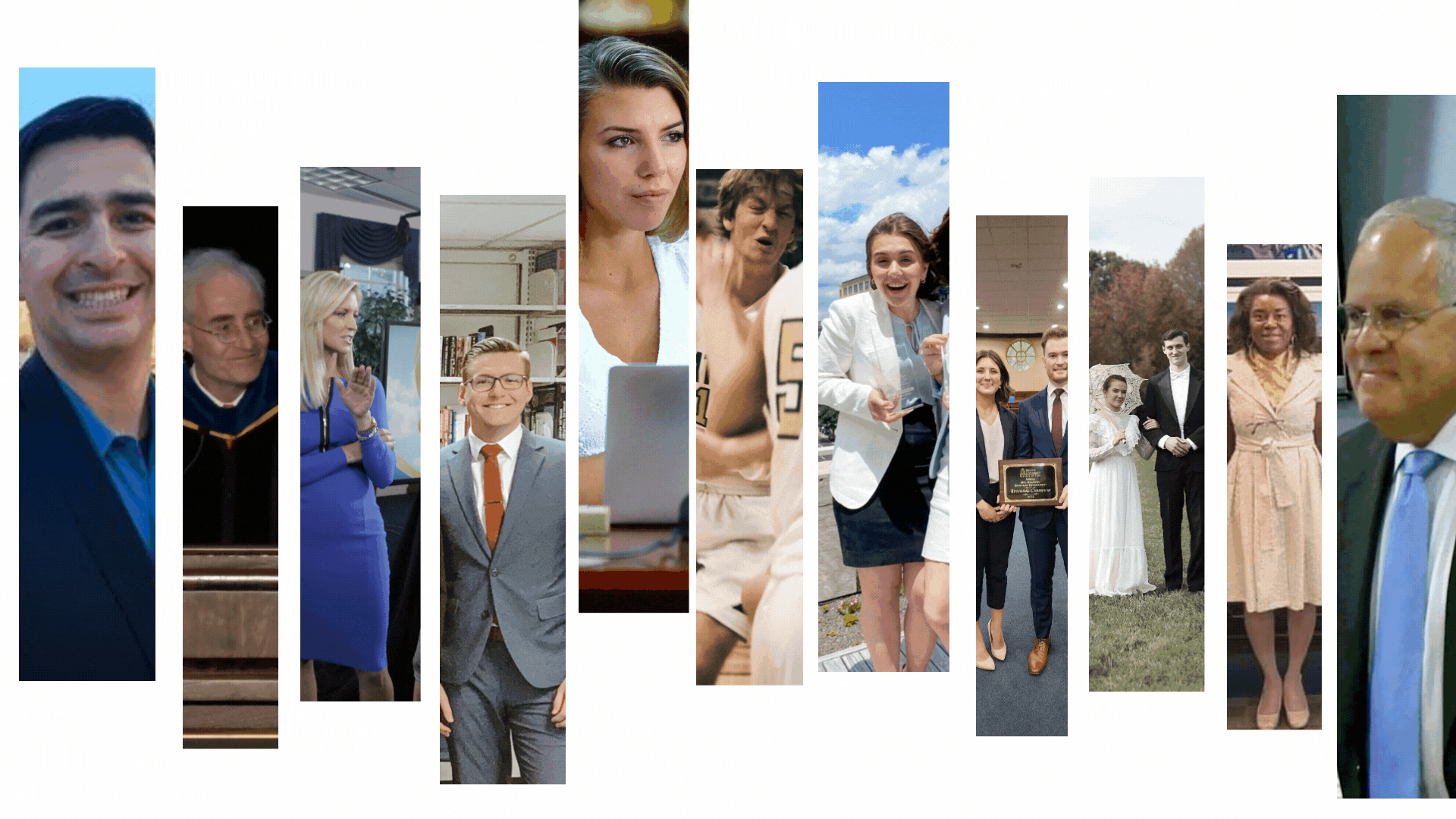 Our nation's history is filled with great leaders who displayed a bold humility as they served in the public arena. Patrick Henry College provides the training and development needed to equip a new generation of these kinds of leaders who can think deeply, write clearly, and speak with conviction.
We have seen throughout history the impact that even a few can have in speaking Truth. The Patrick Henry College education and experience is unique within the academic world. Our students are trained to communicate with humility, strength, and courage, yet in a winsome manner.
A lot is underway this season in the Patrick Henry College's forensics program! PHC has secured spots for 21 teams to compete at Regionals; 14 have competed so far, earning nine bids to Nationals. We've compiled just a few of the highlights for you here.
1. PHC places 3rd and 5th at the 2022 AMCA Moot Court National Championship

In February, Patrick Henry College teams competed with courage, skill, and determination at the AMCA Moot Court National Championship this past weekend, achieving notable results in the process. Congratulations to all eight teams on advancing to the single-elimination rounds on Saturday—a remarkable achievement.
Read the rest of the story here.
2. Mock trial teams succeed at 2022 regional tournaments
In March, two Patrick Henry College Mock Trial teams won bids to the Opening Round Championship Series (ORCS), the tournament that determines which teams compete in the 2022 Mock Trial National Championship. The Amber and Gold teams will advance to ORCS in the coming weeks.
3. Two PHC teams win bids to the 2022 Mock Trial National Championship
In March, both Patrick Henry College mock trial teams that competed at the Opening Round Championship Series (ORCS) tournament this weekend earned bids to the 2022 AMTA Mock Trial National Championship in April!
PHC was the only school in the Atlanta tournament to qualify two teams. Out of 69 schools to compete at ORCS this weekend, the only other school to achieve the same feat was University of Virginia in the Washington, D.C. tournament.
Read the rest of the story here.
4. PHC hosts intercollegiate NATO Summit debates
On March 26, Patrick Henry College hosted its inaugural NATO Summit Debates in nearby Herndon, Virginia. Graduate and undergraduate students from multiple schools competed at the tournament, and judges included foreign policy experts, military veterans, and college administrators.
PHC students swept the tournament, winning four out of the top five team awards, as well as four out of the top five individual speaker awards.
Read the rest of the story here.
In April, Patrick Henry College's Model United Nations team won Outstanding Delegation, Best Position Paper, and two Best Delegate awards at the 2022 Southern Regional Model United Nations Conference (SRMUN) in Charlotte, N.C. The team, representing Ukraine, was comprised of only six students.
In the same way that Mock Trial and Moot Court imitate debate in a court of law, Model UN imitates the conference of delegations at the United Nations. Each competing school chooses a different country to represent and are evaluated on how well they portray the policy positions of that country.
PHC won Outstanding Delegation and Best Position Paper in the awards for the overall conference.
6. PHC places 4th at 2022 mock trial National Championship
In April, two Patrick Henry College teams faced strong competition from Harvard University, UC Berkeley, Tufts University, defending national champions University of Maryland, Baltimore County (UMBC), Howard University, and other stellar programs at the 2022 AMTA Mock Trial National Championship this weekend.
7. PHC students debate in the 2022 Schuman Challenge
In April, Patrick Henry College students Isaac Winnes, James Dunning, and Gage Neudigate earned fourth place at the 2022 Schuman Challenge on April 7 and 8. The team just barely missed the cut for finals by 0.4 points.

The Schuman Challenge is an annual civic debate competition hosted by the delegation of the European Union in Washington, D.C. Teams of three from colleges and universities around the nation give a ten-minute presentation and engage in a question and answer period on an international policy or resolution. This year's teams had to answer the question, "How should the EU and U.S. cooperate in Afghanistan following the U.S. military withdrawal?"
8. PHC mock trial program ranks among best in the nation
As of July, according to the recently released AMTA's Team Power Rankings for the 2023 competition season, Patrick Henry College is the only college with two teams in the top 20. In addition, PHC's B team is the leading B team in the country.
Each year, more than 650 college teams from across the nation participate in the American Mock Trial Association (AMTA) undergraduate mock trial competition, in which teams of 6-10 students simulate a civil or criminal trial by taking on the roles of witnesses and attorneys. In doing so, students gain a deeper understanding of our legal system while gaining analytical reasoning, persuasive speaking, and leadership skills. For the last several years, PHC has fielded four teams in the AMTA regional competition, with each team striving to earn a spot among the top 48 in the nation at the National Championship Tournament.
9. Two PHC civic debate teams excel in inaugural tournament
From October 13-16, Patrick Henry College students competed in the inaugural Vanderbilt Dialogues on Democracy and Elections. The event charged students to research and offer proposals on election policy reform before a panel of experts from the Vanderbilt Project on Unity and American Democracy.
PHC excelled in its performance, and students Christian Castro, Julianne Kidd, and Sarah Schmidtler were selected to advance to finals!
10. PHC mock trial team places second at Penn State's Happy Valley Invitational
In October, three of PHC's mock trial teams—the Navy, Blue, and Gold—recently competed in several invitational tournaments, with one team winning second place!
The Navy team (coached by Kyle Ziemnick) competed at Penn State's Happy Valley Invitational two weekends ago. The team, captained by junior Andrew Bleiler and senior Luke Argue, finished with a 6-2 record, earning second place overall. The mock trial team swept rounds against Georgetown and Dickinson and split rounds against two of the top teams in the country, Tufts and Yale.
11. Varsity mock trial team brings home win from invitational
In November, two of PHC's varsity mock trial teams traveled to William & Mary in Williamsburg for the Colonial Classical Invitational tournament in late October.
The Blue team won the invitational with a 7-0-1 record, and the gold team performed well and finished with a 4-4 record. Sophomore Sarah Fox and junior Ben Oyer won attorney awards, while junior Sarah Crosby won a witness award.
12. PHC varsity moot court team celebrates a win at an AMCA Regionals tournament
A lot is underway this season with PHC's forensics program! PHC has secured spots for 21 teams to compete at Regionals; 14 have competed so far, earning nine bids to Nationals.
At the Mid-Atlantic Regional tournament hosted by Regent University in late October, PHC earned four nationals bids; six PHC teams competed at Regent; five of the six teams advanced to the Saturday elimination rounds, and all six teams won three or more ballots in prelims.
_________________________
Founders Magazine offers a biblically-faithful perspective on today's hardest issues. It is published once a year. Would you like a FREE subscription of Founders Magazine in the mail?

Want to stay in touch?