Fall 2023
Faith & Reason lecture by Dr. Rob Spinney

Recorded on Tuesday, September 19
---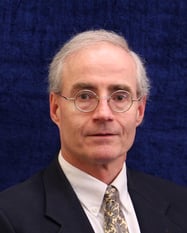 Lecturer: Dr. Rob Spinney
Dr. Robert Spinney has been teaching American history courses at Patrick Henry College since 2004. He also teaches the college's Historiography course, which is a semester-long examination of what it means to do history from a Christian perspective. The textbook that is currently being used in PHC's sophomore-level American History course was written by Dr. Spinney. He has published two additional history books (a comprehensive history of Chicago and a history of 1935-1950 Nashville, Tennessee) and numerous ministry-related booklets with titles like Did God Create Sports Also? Thinking Christianly About Sports, Peeking Into the Devil's Playbook: Satan's Strategies for Tempting Christians to Sin, and Why Do Bad Things Happen to Good People? Thinking Biblically About the Problem of Sin in Our World. In addition to serving as a pastor for six years, Dr. Spinney was formerly a member of the faculty at Trinity International University (Deerfield, IL).

Lecture Abstract: Expressive Individualism: The Toxic Worldview that We Breathe Every Day
Expressive Individualism is probably the dominant worldview in America today. We can understand neither our current political environment nor contemporary culture without understanding EI. But EI is not merely a mentality embraced by those who reject Christianity. It has leaked into the church and is likely the biggest threat today to your spiritual health. No one is immune to Expressive Individualism. The Lord Jesus Christ's people must expose and resist it.