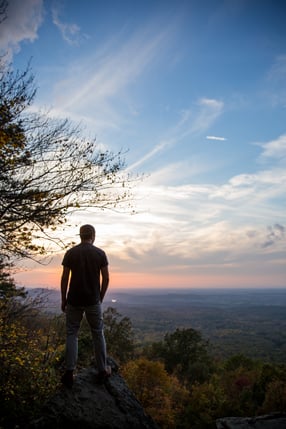 Through these courses, PHC's Core Curriculum embraces all seven of the classical liberal arts, both the arts of language, or trivium (grammar, logic and rhetoric), as well as the quantitative arts, or quadrivium (mathematics, geometry, empirics, and music). Through study of over 70 "great books" of Western civilization, students make connections across disciplines and explore the unity of truth, beauty, and goodness in the person of Christ.
The classical liberal arts, however, is more than a sequence of courses; in fact, the trivium serves as a powerful educational methodology. Students learn the grammar (the foundational facts, rules, and information), logic (analysis required for understanding), and rhetoric (creative application) of the disciplines, both within individual courses and within the degree as a whole. The same classical liberal arts methodology that educated the American founders now equips PHC students, not solely with knowledge of great texts but with the skills for a lifetime of learning. The results of this time-tested methodology are clear: PHC students consistently score in the 99th percentile in reading, writing, and critical thinking skills and are among the nation's best communicators (click here to read more).
The trivium's sequence of grammar, logic, and rhetoric provides a conceptual framework for PHC's Bachelor of Arts degrees, where students study the Core (grammar), major courses (logic), and apprenticeship (rhetoric). Because there is no electivity in the Core, the faculty in major courses are able to assume certain prior knowledge, allowing for advanced mastery in upper-level courses that would not otherwise be possible. As a result of the classical approach in Core and major studies, students are prepared to excel in their apprenticeships:
"PHC's emphasis on Apprenticeship (specifically, the internship program) exemplifies the rhetorical dimension of classical education, and it also follows the model of how classical universities prepared young people for their professions, giving them a rigorous grounding in the liberal arts and then sending them out to practice their craft under a master/mentor." — PHC Philosophy of Education
Apprenticeship Requirements
Each degree program requires a significant number of Apprenticeship credits (as high as 23 credits for some programs). Apprenticeship, which can be customized to the student's career plans, offers vocation-related experience and the application of classroom learning. It is the culmination, or rhetoric level, of PHC's classical Christian liberal arts curriculum:

A "liberal arts education" is associated with the pursuit of knowledge for its own sake and is generally contrasted with the practical, job-focused training of "vocational education." Actually, though, liberal arts education has historically been complementary with a very practical approach to on-the-job training: the apprenticeship methodology, which is a distinctive of Patrick Henry College.
Though this approach goes back to classical and Biblical times, apprenticeship as a formal educational methodology had its origins in the medieval guilds. A young person would learn a trade or profession under the tutelage of a "master" in that trade or profession. Working side by side with the master and helping him do his work, the apprentice learned by means of practical real world experience....
Students, having learned the "grammar" of their disciplines and understanding its "logic," go on to apply what they have learned in the "rhetoric" of their own creative performance. — PHC Philosophy of Education
Click here to learn more about PHC's majors. Click here to learn more about two popular forms of Apprenticeship: Internships and Moot Court.

Foreign Language Proficiency Requirement
Foreign language ability is required of all PHC graduates. Students may increase their proficiency level through a variety of formal or informal learning methods including, but not limited to, online language learning, traditional classroom curriculum, independent study, immersion programs, and other overseas experiences. Visit the Foreign Language page for more.