The Office of Admission operates on a rolling admissions basis, accepting qualified applicants as space permits, until the final application deadline. Application and financial aid deadlines for the fall and spring entering classes are detailed below. Prospective students whose applications and all supporting materials are postmarked by the Early Action and Priority Financial Aid deadline are guaranteed consideration for the full range of published scholarships and financial aid. Students who apply by the Regular Decision and Final Admission deadlines will be considered for financial aid as funding permits.

We recommend applying in the early fall of the year before you wish to begin Patrick Henry courses. The Office of Admissions is committed to making the application process as efficient as possible, while ensuring adequate time for each application to receive a thorough review. An application is considered complete once the Office of Admission has received a completed application and all supplementary materials. While admission staff will strive to contact you about outstanding items, it is the applicant's responsibility to ensure all application materials are postmarked by application or scholarship deadlines.
Fall 2017 Enrollment
November 1, 2016
Early Action Admission: Application fee – waived
Scholarship Priority
December 1, 2016
Leadership Scholarship Application due
Community Service Scholarship Application due
February 1, 2017
Regular Admission: Application fee – $20
Regular Scholarship
Trivium Scholarship Application due
J.S. Bach Music Scholarship Application due
Preliminary Resumé/video for Forensic Scholarship due
March 30, 2017
Recommended PROFILE submission for Need-Based Scholarship
June 15, 2017
Final Admission: Application fee – $40
Final Scholarship
Final PROFILE submission for Need-Based Scholarship
Final Resumé for Forensic Scholarship
(or at the conclusion of a national tournament, if later)
Spring 2018 Enrollment
October 1, 2017
Early Action Admission: Application fee – waived
November 1, 2017
Final Admission: Application fee – $20
Final PROFILE submission for Need-Based Scholarship
Note on the Early Action Admissions and Scholarship Priority deadline:
Students that have all application materials submitted by the Early Action and Scholarship Priority Deadline of November 1, 2017 are assured that 100% of the financial aid published in the Guide to Scholarships and Financial Aid will be available. After the deadline, applications will still be accepted and reviewed; however, due to the limited number of certain scholarships and funding resources, the availability of scholarships is not guaranteed.
Please let us know if we can tell you more about the College or assist you with your application by calling us at 888-338-1776 or email us at admissions@phc.edu
Non-Degree-Seeking Students
A non-degree-seeking student has been approved to take courses on-campus, but is not fully admitted to the degree-seeking program.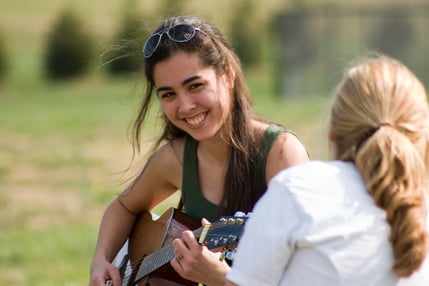 A non-degree-seeking student is one who has been approved to take courses for personal or professional enrichment, but is not working toward the completion of a degree. Non-degree students may be dual-enrolled students 17 and older earning both high school and college credit, adult learners and non-traditional students, or other students who desire to take Patrick Henry courses for personal or professional development.
Non-degree-seeking students may take up to nineteen credits (generally six classes plus Research and Writing) before they must complete the full degree-seeking admission process.
All credits successfully completed in the non-degree program will apply toward a Patrick Henry degree program if a student is later accepted for degree-seeking admission, with the exception of College Level Writing Skills.
Students in the Purcellville area who are 17 and older may choose to take non-degree courses on campus as space permits, but non-degree students are not currently eligible for on-campus housing.
View the Non-Degree Seeking Application.