The Patrick Henry Undergraduate Law Review is an undergraduate journal dedicated to the scholarly examination of legal issues and informed discourse on legal thought. This student-run journal provides a forum for students to publish their research and join the academic discussions that permeate the legal field while developing opportunities for the College's future attorneys to learn skills that few practitioners possess. Visit the Law Review's webpage to read past editions of the publication, meet the editorial staff, and learn how you can be a part of what this journal is accomplishing!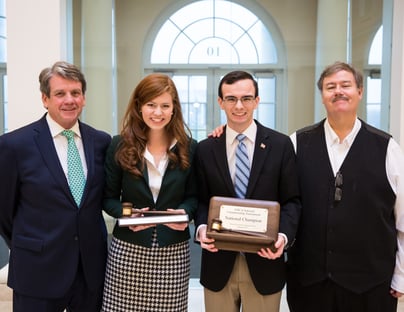 Moot Court
In moot court, students simulate appellate advocacy and hone their understanding and articulation of constitutional law and Supreme Court precedent. Well-deserving of an extremely rich legacy through years of dedicated coaching by Chancellor Emeritus Dr. Michael Farris and the late Dr. Frank Guliuzza, the Patrick Henry moot court team has won an unprecedented twelve of the last fifteen national titles in the American Moot Court Association. No other college or university has more than one title. Additionally, PHC students stunned the world by winning the 2016 Nelson Mandela World Human Rights Moot Court Tournament in Geneva Switzerland. This was PHC's first year in the World Human Rights competition.
"Moot Court is the single most beneficial experience for anyone contemplating law school. Thanks to Constitutional Law and Moot Court, I entered law school already knowing how to read legal opinions and think like a lawyer. I was also comfortable standing in front of judges and arguing in open court. These experiences were absolutely invaluable."
— Holly Slon, History, Class of 2009
The Mock Trial program prepares students to enter the worlds of both civil and criminal trial advocacy. Students develop knowledge of the federal rules of evidence, courtroom procedure, witness examination, case-building, and more. PHC Mock Trial teams compete against more than 700 teams from 400 schools, including the nation's top ivy-league institutions. Fierce competition hones their critical thinking skills and equips them to clearly articulate passionate and well-reasoned legal arguments.