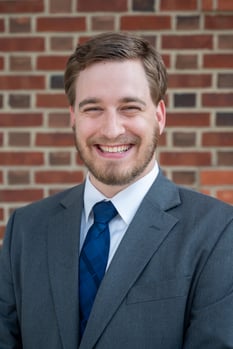 Director of Student Recruitment
As Director of Student Recruitment, Stephen Pierce oversees and directs recruitment strategies for the Admissions team. Stephen graduated from Patrick Henry College with a degree in Classical Liberal Arts and joined the Admissions team shortly after graduating. After years as an Admissions Counselor and Senior Admissions Counselor, he felt called by the Lord to grow the college with the right mission-fit students. Stephen brings first-hand knowledge of PHC, having experience at PHC as a Campus Safety officer, Resident Assistant, Chapel Guild leader, and Teen Leadership Camps Counselor. These opportunities have given Stephen a deep institutional knowledge and an intense love for the college.
Stephen has been a pianist, composer, and church musician for over half his life. He loves to spend time outdoors in God's Creation, particularly in the mountains, and to enjoy the beauty that God has given to man. Because of this, he loves carpentry and woodworking. Stephen married his wonderful wife Megan in November 2016, and they have one daughter, Janie, and one son, Ray.
Student Talent Acquisition Manager
Olivia Schmidt graduated from Patrick Henry College with a degree in Classical Liberal Arts. Her love for ministry and particular interest in the liberal arts led her to PHC and into the Office of Admissions, where she enjoys walking with prospective students through the enrollment decision. Throughout her college career, Olivia submerged herself in both campus and community life; in addition to serving at her local church and teaching math at a middle school, she worked as a Resident Assistant and led several campus music groups. When she's outside the office, Olivia loves living life with her husband, all-things cardio, cooking for large groups of people, and catching a sunrise whenever she can. But most of all, she loves people, and cannot wait to hear from you!

Financial Aid Officer
mnmonroe@phc.edu | 540.441.8142
Meredith Monroe holds a B.A. from Patrick Henry College in Economics and Business Analytics, focusing her studies primarily on mathematics and entrepreneurship. She is driven by her love of unconventional storytelling, in which she uses numbers rather than words to communicate hidden truths about the world—or at least the world of PHC Admissions. During her time at PHC, Meredith worked as a Resident Assistant and held multiple positions in the Admissions Department, including Campus Visits Assistant, Student Ambassador, Data Analyst, and now Financial Aid Officer. Outside of office hours Meredith loves to spend her time experimenting with small business ventures, making music on her violin and cello, and enjoying the simple pleasures of life with friends and family.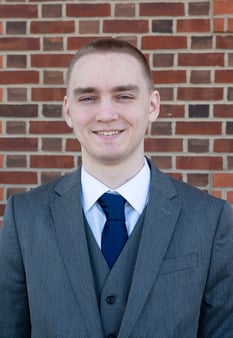 Data Analyst
blalger@phc.edu | 540.441.8130
Bill Alger serves as the data analyst for Patrick Henry College's department of admissions. He graduated from Bob Jones University with a degree in Computer Science. Bill started his career as a US government contractor working in software development. After experience in that environment, Bill decided he wanted to find a Christian workplace where he could grow in his faith and be challenged to do his best for the Lord. Here at PHC, Bill is excited to help young men and women develop themselves so they can advance the kingdom of God in this country. In his free time, Bill likes to read novels, play Age of Empires, and even write his own science fiction stories.
Administrative Assistant; Campus Visits Coordinator
jjwright@phc.edu
|

540.441.8111

Jennifer Wright began her career as a fifth grade teacher and upon the birth of her first child decided to focus her education experience towards her own children. For the next twenty years she home schooled her two girls until recently graduating her youngest and successfully propelling both of them into their own thriving university student careers. She recently joined Patrick Henry College (PHC) as the Admissions Administrative Assistant and brings with her a wealth of experience that is rooted in her education and home schooling background. She also has the helpful perspective of being on the other side of the admissions process. She feels blessed to have this opportunity to use her experience, talents, and passions to encourage students to join the PHC family if that is where God is leading them to be. In this role, as with every role in her life, her earnest desire is to reflect the amazing love that God has poured into her heart to everyone she meets. (Romans 5:5)

Jenn holds a B.S in Elementary Education. She loves reading, gardening, photography, anything involving the beauty of God's creation, and especially spending time with her family. Jenn and her husband Christopher have been married for twenty-three years and have two beautiful girls Lillianna and Caroline. They have lived in the northern Virginia area for twenty-two years and specifically in Clarke County for the last thirteen.
Master Admissions Counselor
Alyson Sothoron began her career as a Research Analyst studying health and social science policy. She loves research and has a passion for lifelong learning. She moved from the quantitative side of research to the qualitative side and worked as a Focus Group Moderator for a few years before becoming a counselor, adjunct instructor, and life coach. She joined Patrick Henry College (PHC) as Senior Admissions Counselor with the goal of helping connect the next generation of godly leaders to a learning experience that will grow them academically, emotionally, and spiritually—and, equip them to impact their respective spheres of influence with Truth and Spirit.
Alyson holds a B.A. in Journalism from the University of Maryland and a M.Ed. from Colorado State University. She worked professionally as a whitewater rafting guide and wilderness field instructor and loves to spend time in the outdoors, marveling at the wonders of God's Creation.
Assistant Admissions Counselor
danielleb@phc.edu
| 540.441.8110

Danielle Bliven is a current junior at Patrick Henry majoring in journalism. She loves walking through gardens, journaling, going to coffee shops with friends, and leading worship on her campus. She has worked in the Admissions Department since freshman year and loves working with prospective students and their families.

Danielle interned with Alliance Defending Freedom in Washington D.C. and won third place in the "Student Writer of the Year" category for the Evangelical Press Association. One of her articles detailing the personal experiences of women who have had an abortion will appear as a feature story in WORLD Magazine in January 2021. Danielle desires to use her writing as a medium of healing for others and is excited for what the Lord has in store.
Assistant Admissions Counselor
lorenc@phc.edu
| 540.441.8110

Loren Campbell is currently a sophomore at Patrick Henry College, majoring in Economics and Business Analytics. In his first year as an Assistant Admissions Counselor, Loren is excited for the opportunity to walk with prospective students and help shape the future of Patrick Henry College!
If he's not studying, Loren can be found hanging with friends or watching some sporting event. Loren is a member of the PHC Baseball Team, is a drummer at nearby Blue Ridge Bible Church, and is a professional golfer in his own head. Born and raised in the Dallas area, Loren is a fan of the Texas Rangers, the Dallas Mavericks, and the Dallas Cowboys. He also loves Star Wars, Marvel, LEGOs, playing drums, and the great state of Texas.
Assistant Admissions Counselor
everettc@phc.edu
| 540.441.8110

Everett Chew is a current sophomore from Los Angeles, California studying Economics and Business Analytics at PHC. Along with his work as an Assistant Admissions Counselor, he is a member of the Model United Nations Team, Varsity Moot Court Team, and a student tutor at PHC's Study Support Center. In his free time, there is nothing Everett loves more than a 2-hour afternoon nap after class. He also enjoys participating in the intramural sports league, playing the piano, and making midnight trips to Waffle House with his friends. In the future, Everett hopes to pursue a career in data analytics, technology, or business. Most of all, Everett is passionate about connecting with prospective students, helping them understand God's calling, and showing them the unique value of a PHC education.
Assistant Admissions Counselor
katim@phc.edu
| 540.441.8110

Kati Marr is a junior at Patrick Henry College majoring in Journalism. Hailing from the state of Mississippi, she loves sweet tea, the outdoors and spending time with friends. Kati has been involved with several campus extracurriculars including: International Justice Mission, Model United Nations, Student Senate, the Herald student newspaper, and the women's soccer team.
Kati loves creating multimedia content for others to enjoy and has used this skill for the Office of Admissions and other organizations on campus. If she's not doing school, she's watching movies or eating Chick-Fil-A.
Assistant Admissions Counselor
coler@phc.edu
| 540.441.8110

Cole Reynolds was born and raised in Houston, Texas and is currently a Junior at Patrick Henry College where he is pursuing a Government degree with an American Politics and Policy track. This is Cole's second year as an Assistant Admissions Counselor and third year working for the Office of Admissions. He has enjoyed every minute of walking with students and their families during their college decision journey. Aside from working in Admissions, he has also serves as a Resident Assistant, Chapel Guild Leader, Campus Safety Officer, Editor-in-Chief of the George Wythe Review, and competes as a part of the Varsity Moot Court team. In his spare time Cole enjoys playing music and basketball and is an avid fan of the Houston Rockets.
Assistant Admissions Counselor
gracer@phc.edu
| 540.441.8110

Grace Roberts is a current senior at Patrick Henry College. She is a Literature major, a head Resident Assistant, and a member of the PHC chorale and chapel guild. She has worked in the Admissions Office as a Student Ambassador since sophomore year and just began as an Assistant Admissions Counselor at the beginning of the Fall 2020 semester. In Grace's spare time she enjoys doing fun, spontaneous things with friends, reading anything by C.S. Lewis, drinking inordinate amounts of British tea, and seeking out the beauty and goodness of the Lord in the most unexpected places.