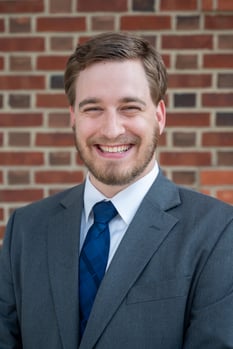 Director of Student Recruitment
As Director of Student Recruitment, Stephen Pierce oversees and directs recruitment strategies for the Admissions team. Stephen graduated from Patrick Henry College with a degree in Classical Liberal Arts and joined the Admissions team shortly after graduating. After years as an Admissions Counselor and Senior Admissions Counselor, he felt called by the Lord to grow the college with the right mission-fit students. Stephen brings first-hand knowledge of PHC, having experience at PHC as a Campus Safety officer, Resident Assistant, Chapel Guild leader, and Teen Leadership Camps Counselor. These opportunities have given Stephen a deep institutional knowledge and an intense love for the college.
Stephen has been a pianist, composer, and church musician for over half his life. He loves to spend time outdoors in God's Creation, particularly in the mountains, and to enjoy the beauty that God has given to man. Because of this, he loves carpentry and woodworking. Stephen married his wonderful wife Megan in November 2016, and they have one daughter, Janie, and one son, Ray.
Student Talent Acquisition Manager
Olivia Schmidt graduated from Patrick Henry College with a degree in Classical Liberal Arts. Her love for ministry and particular interest in the liberal arts led her to PHC and into the Office of Admissions, where she enjoys walking with prospective students through the enrollment decision. Throughout her college career, Olivia submerged herself in both campus and community life; in addition to serving at her local church and teaching math at a middle school, she worked as a Resident Assistant and led several campus music groups. When she's outside the office, Olivia loves living life with her husband, all-things cardio, cooking for large groups of people, and catching a sunrise whenever she can. But most of all, she loves people, and cannot wait to hear from you!
Financial Aid Officer
mnorndorff@phc.edu | 540.441.8142
Melissa Orndorff graduated from Virginia Tech in 2012 with a degree in Human Resources. She has worked in both the retail and banking industry, holding various positions in both. Her passion for helping others is what led her to becoming a Financial Aid Officer. Melissa is excited to bring her knowledge to the families and students of Patrick Henry College. It is her hope that she, along with the Office of Admissions, can help make it possible for each student to spend an amazing four years at PHC!
Melissa married her high school sweetheart, Travis, in March of 2014 and together they have two children, Charley and Jackson. They enjoy spending time together as a family and finding new activities for the kids.
Data Analyst
mnmonroe@phc.edu | 540.441.8130
Meredith Monroe holds a B.A. from Patrick Henry College in Economics and Business Analytics, focusing her studies primarily on mathematics and entrepreneurship. She is driven by her love of unconventional storytelling, in which she uses numbers rather than words to communicate hidden truths about the world—or at least the world of PHC Admissions. During her time at PHC, Meredith worked as a Resident Assistant and held multiple positions in the Admissions Department, including Campus Visits Assistant, Student Ambassador, and now Data Analyst. Outside of office hours Meredith loves to spend her time experimenting with small business ventures, making music on her violin and cello, and enjoying the simple pleasures of life with friends and family.
Administrative Assistant; Campus Visits Coordinator
jjwright@phc.edu
|

540.441.8111

Jennifer Wright began her career as a fifth grade teacher and upon the birth of her first child decided to focus her education experience towards her own children. For the next twenty years she home schooled her two girls until recently graduating her youngest and successfully propelling both of them into their own thriving university student careers. She recently joined Patrick Henry College (PHC) as the Admissions Administrative Assistant and brings with her a wealth of experience that is rooted in her education and home schooling background. She also has the helpful perspective of being on the other side of the admissions process. She feels blessed to have this opportunity to use her experience, talents, and passions to encourage students to join the PHC family if that is where God is leading them to be. In this role, as with every role in her life, her earnest desire is to reflect the amazing love that God has poured into her heart to everyone she meets. (Romans 5:5)

Jenn holds a B.S in Elementary Education. She loves reading, gardening, photography, anything involving the beauty of God's creation, and especially spending time with her family. Jenn and her husband Christopher have been married for twenty-three years and have two beautiful girls Lillianna and Caroline. They have lived in the northern Virginia area for twenty-two years and specifically in Clarke County for the last thirteen.
Senior Admissions Counselor
amsdegroot@phc.edu | 540.441.8125
Alyson DeGroot began her career as a Research Analyst studying health and social science policy. She loves research and has a passion for lifelong learning. She moved from the quantitative side of research to the qualitative side and worked as a Focus Group Moderator for a few years before becoming a counselor, adjunct instructor, and life coach. She joined Patrick Henry College (PHC) as Senior Admissions Counselor with the goal of helping connect the next generation of godly leaders to a learning experience that will grow them academically, emotionally, and spiritually—and, equip them to impact their respective spheres of influence with Truth and Spirit.
Alyson holds a B.A. in Journalism from the University of Maryland and a M.Ed. from Colorado State University. She worked professionally as a whitewater rafting guide and wilderness field instructor and loves to spend time in the outdoors, marveling at the wonders of God's Creation.
Admissions Counselor
Sarah-Anne Soares graduated from Berea College in the Spring of 2018 with a Bachelor's Degree in Music and a whole lot of love for students. Last May, she moved back to her hometown in Virginia, prompted by the clear, gentle, and loving direction of God. She had known about PHC for years, and since she loves investing in the lives of students so much, she decided to go for this position as Admissions Counselor. Sarah-Anne believes that God has placed her very intentionally in Virginia and here at PHC, and she's thankful and excited to follow Him wherever He leads.