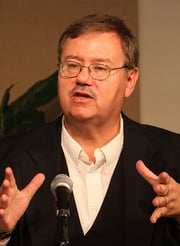 Frank Guliuzza, Ph.D.
Dean of Academic Affairs; Professor of Government
Frank Guliuzza (Ph.D., Notre Dame) is Dean of Academic Affairs and Professor of Government. He also serves as the College's Pre-Law Advisor and coaches the College's mock trial and moot court teams (the latter along with PHC Chancellor, Michael Farris).
He is the author of Over the Wall: Protecting Religious Expression in the Public Square (SUNY: 2000) and an author in, and the co-editor of, the book Before the Paper Chase: The Scholarship of Law School Preparation and Admissions (Carolina Academic Press: 2012, with Tim Garrison). He has published articles and reviews in a number of journals including The Marquette Law Review, The Drake Law Review, The Willamette Law Review, The Journal of Politics, The Review of Politics, PS, American Political Science Review,and Academe.
In his academic career, he has been recognized four times for "Outstanding Teaching in Political Science" by the American Political Science Association (2000, 2003, 2004, 2008). While at Weber State he was awarded The "Endowed Professor" in the College of Social & Behavioral Sciences, and in 2003-2004, he was presented with what is Weber State's most prestigious faculty honor – The "John S. Hinckley" Award for excellence in teaching, service, and scholarship. He was the recipient of the Dello Dayton Award (2008) and the Congressman Neal Smith Award from the American Mock Trial Association (2008) for his exemplary contribution to law-related education. In 2003, he was selected by the Council for Advancement and Support of Education & Carnegie Foundation for the Advancement of Teaching as "Utah Professor of the Year." He has also been listed in Who's Who in Teaching twice (2005, 2006), and was in Who's Who in America (2011, 2013, 2014).
He is the current President of the American Collegiate Moot Court Association (ACMA), and is a past President of the Western Association of Pre-Law Advisors (2001-2007) and the Pre-Law Advisors' National Council (2007-2009). Further, is he on the Executive Committee of the American Mock Trial Association (AMTA). As of 2013 he had coached 22 teams into national/championship competition in intercollegiate mock trial. Furthermore, his students captured championships at four AMTA regional tournaments and at four invitational tournaments, and he is the co-coach of five ACMA national championship moot court teams (2009, 2010, 2011, 2012, 2013).
A licensed minister, he has spoken in several churches throughout the United States and has pastored at Victory Baptist Chapel (Three Oaks, MI); Calvary Baptist Church (Ogden, UT); First Baptist Church (Brigham City, UT) and Mountain View Baptist Church (Layton, UT). In 2000, he ran for the United States Senate and, in August, 2001, was elected Vice Chairman of the Utah Republican Party. His wife of 30 years, the former Kathy Spaulding, died in 2012, and he is the "Dad" of Matthew Williamson and the late Timothy Stoddard.