Music Facilities
Current music facilities include 5 private piano rooms for practice and instruction as well as a large rehearsal room for our ensembles. We plan to fully develop the facilities dedicated to music study in the Barbara Hodel Center. When completed, the music department's facilities will include the following:
7 additional practice rooms

4 teaching studios with pianos

A teaching classroom with an electronic piano lab

A music lab with computer stations equipped for music study
Music Opportunities:
Music Minor: Students in the Music Minor will be well equipped to apply their gifts and abilities while receiving additional instruction in music history, music theory, conducting, pedagogy, philosophy, and an applied music area.
Scholarship: Members of the Chapel Guild are eligible to apply for the J.S. Bach Music Leadership Scholarship. Combined with one or more music activities on campus, participation in the chapel guild can increase eligibility for a music scholarship.
Application and Audition
All students interested in being a member of a Chapel Guild team must complete the Audition Form and schedule an audition time with the Director of Music. Auditions are always held at the beginning of each fall semester. Auditions may also be held at the beginning of the spring semester according to how many students are needed. Auditions provide the Director of Music with the opportunity to place students in complementary groups.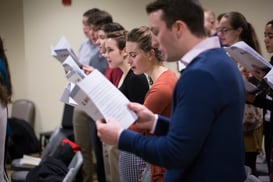 PHC Chorale: A mixed-voice ensemble which represents the College at campus events and throughout the region. Christmas and spring concerts, Advent chapels, community presentations, and a European tour have created beloved traditions for the student body, established relations with the greater Northern Virginia community, and produced a live recording in the Church of San Rocco, Venice. Open to all students by audition.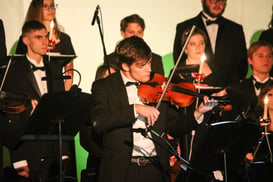 Chamber Orchestra: Our chamber orchestra rehearses and performs pieces in various styles, including historical literature and modern compositions, under the direction of Dr. Scott McCormick. This ensemble often joins the Chorale to perform major works. Open to all students by audition.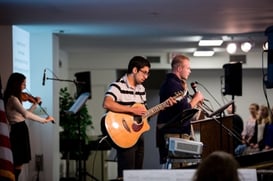 Chapel Guild: The Chapel Guild is composed entirely of students who are called to participate as worship leaders. Guild members sequence music and Scripture, leading our campus in thoughtful and intentional corporate worship. The Guild meets weekly with the Director of Music and the College President to discuss the place of music in worship and how the Guild can cultivate hearts for service, stewardship, and encouraging fellow students in the Gospel. Open to all students by audition.
PHC Youth Music Academy: The YMA is a consortium of ensembles, vocal and instrumental. Composed of 8-12th grade students from various educational backgrounds, the ensembles meet for rehearsal once a week on the PHC campus. Entrance by audition.
Besides these venues, Patrick Henry College also offers applied lessons in piano, voice, and strings for academic credit, along with informal musical opportunities.
Faculty