thoughtful and intentional corporate worship. The Guild meets weekly with the Director of Music and the College President to discuss the place of music in worship and how the Guild can cultivate hearts for service, stewardship, and encouraging fellow students in the Gospel. Open to all students by audition.
A mixed-voice ensemble which represents the College at campus events and throughout the region. Christmas and spring concerts, Advent chapels, community presentations, and a European tour have created beloved traditions for the student body, established relations with the greater Northern Virginia community, and produced a live recording in the Church of San Rocco, Venice. Open to all students by audition.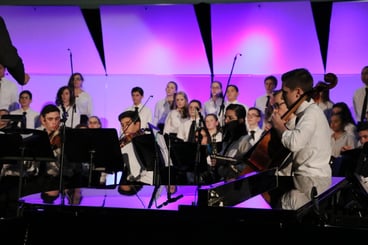 The YMA is a consortium of ensembles, vocal and instrumental. Composed of 8-12th grade students from various educational backgrounds, the ensembles meet for rehearsal once a week on the PHC campus. Entrance by audition. The Youth Music Academy (YMA) was established by Patrick Henry College in 2007 to serve the community and encourage local homeschooling families in their educational undertaking.
Besides these venues, Patrick Henry College also offers applied lessons in piano, voice, and strings for academic credit, along with informal musical opportunities.