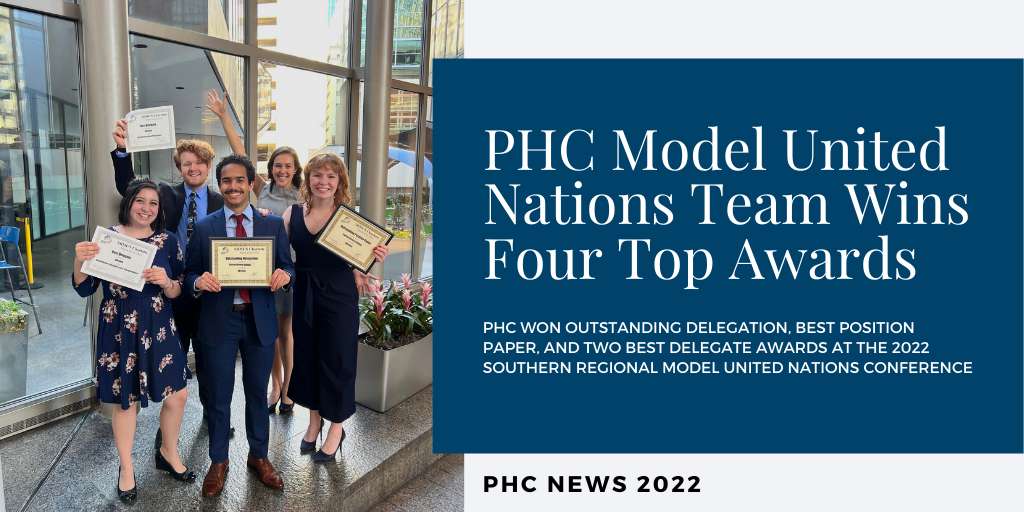 Patrick Henry College's Model United Nations team won Outstanding Delegation, Best Position Paper, and two Best Delegate awards at the 2022 Southern Regional Model United Nations Conference (SRMUN) in Charlotte, N.C. The team, representing Ukraine, was comprised of only six students.
"The fact that we were able to stand up and compete on an equal playing field even though we were a smaller team really speaks volumes as to the quality of students that come to PHC and participate in [these] kind of things," said junior Luke Argue.
In the same way that Mock Trial and Moot Court imitate debate in a court of law, Model UN imitates the conference of delegations at the United Nations. Each competing school chooses a different country to represent and are evaluated on how well they portray the policy positions of that country.
PHC won Outstanding Delegation and Best Position Paper in the awards for the overall conference. Out of the 3 PHC teams, 2 won Best Delegate in their caucuses: Juniors Luke Argue and Gentry Shannon in the International Labour Organization (ILO), and sophomore Belle Perdomo in the United Nations Population Fund (UNFPA).
Patrick Henry College has a long history of excellence in debate and forensics. The Moot Court and Mock Trial teams are top in the nation, and PHC's Civic Debate competitors rival Ivy League schools every year. But these forensics tend to focus on American politics and policy.
For those whose focus remains on foreign policy and international relations, Model United Nations gives students first-hand experience in multilateral diplomacy in an academic simulation of the United Nations, where they bring quick thinking and the art of compromise to the negotiation table.
PHC's MUN team typically attends the National Model United Nations (NMUN) in New York and has brought home Outstanding Delegation nearly every time they have attended. This year, however, the team decided to attend the North Carolina conference instead.
While maintaining the same procedure as NMUN, there were a few key differences at this conference. For instance, a different scoring criteria favored larger schools with more delegates. Typical teams include 18-20 members, but PHC brought only six.
"For [smaller schools] to compensate, they have to do extremely well within their committees," said club president Josiah Ssempa.
A new scoring system was just one of the challenges. Unlike former conferences, SRMUN limited the number of resolutions teams could submit. Many participants tried to merge their resolutions with each other. Resolutions are papers written by delegates from different countries that offer solutions to the issues being presented. Merging is a complicated process.
"What you're trying to do with a merger is you're trying to take two half-way played games of Jenga, then put them together," Argue said.
One delegate from Nicaragua kept pressuring Argue to merge his resolution with theirs. He even hinted at voting against Argue's resolution if they did not merge. Finally, Argue decided he needed to stop their constant nagging.
"You've got to remember this is Model UN, not model Congress or model Senate," Argue said. "You don't just vote down things because you're not on them. We believe in a spirit of cooperation and partnership."
He politely but firmly told them their papers were not similar enough to merge, so he refused to do so unless the dais, who determined which resolutions were ready to become voted on, told them to.
Nicaragua voted against Argue's paper. When it was time for Argue to vote on the Nicaraguan paper, he looked into the delegate's eyes and voted for his resolution.
"In that moment, they knew I was the bigger man," Argue said.
This experience represents the diplomatic and collaborative skills that MUN cultivates. Participants must work with people they have never met and who have different interests in order to pursue a solution in a professional atmosphere.
Ssempa, a senior, was extremely proud of his small team and their performance. He has been part of PHC's MUN team all four years of college. He hopes the club will continue to grow and compete so more students can experience this opportunity.