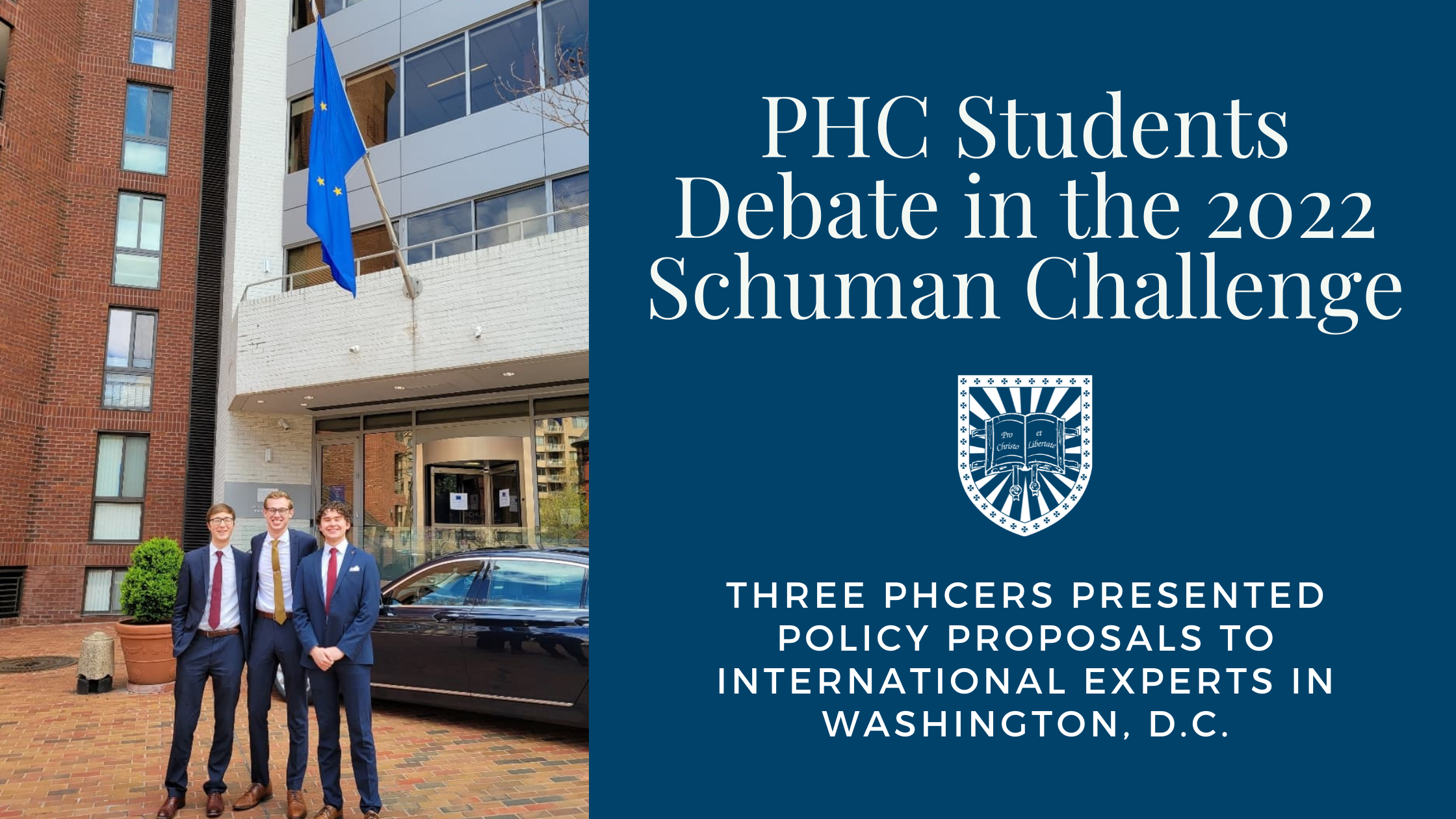 Patrick Henry College students Isaac Winnes, James Dunning, and Gage Neudigate earned fourth place at the 2022 Schuman Challenge on April 7 and 8. The team just barely missed the cut for finals by 0.4 points.

The Schuman Challenge is an annual civic debate competition hosted by the delegation of the European Union in Washington, D.C. Teams of three from colleges and universities around the nation give a ten-minute presentation and engage in a question and answer period on an international policy or resolution. This year's teams had to answer the question, "How should the EU and U.S. cooperate in Afghanistan following the U.S. military withdrawal?"

Currently, this topic is surrounded by a lack of consensus. Even the State Department's website has not updated its policy on Afghanistan since the U.S.'s withdrawal from the country about eight months ago. Students were placed into the position of a policymaker and required to form a course of action for the Afghanistan situation.

"It's easy for us to sit back and criticize a lot of international decisions," Winnes said. "It's a lot harder to actually think through it yourself and [ask], 'What would I actually do here?'"

Since only three of the twenty-one teams qualify for finals after the first round of debate, the competitors are faced with a short time to compete—simply 20 minutes. Dunning said that he would have liked to debate a few rounds instead of one before teams were eliminated for finals. However, he realized this process actually better mimics real life situations where individuals spend endless hours researching for only a short few minutes to present and convince their audience.

The team enjoyed the discussion between the judges and competitors during the their 10-minute question and answer period. They also valued their informal conversations with other students, staff, and policy makers working at the EU.

"It's not every day you get to go to an embassy in D.C. and get to talk to actual policy makers about policy," Winnes said.