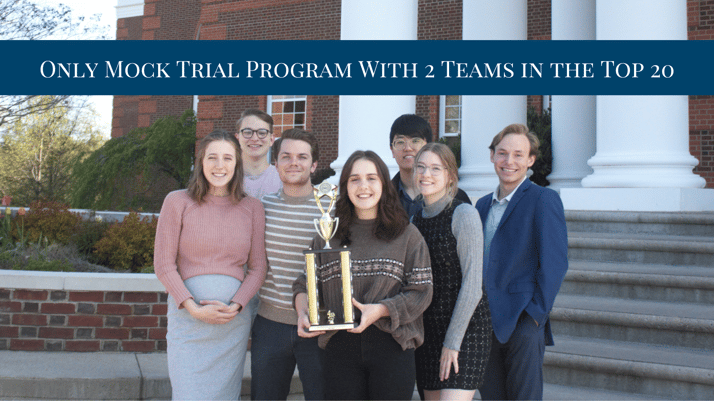 According to the recently released AMTA's Team Power Rankings for the 2023 competition season, Patrick Henry College is the only college with two teams in the top 20. In addition, PHC's B team is the leading B team in the country.
Each year, more than 650 college teams from across the nation participate in the American Mock Trial Association (AMTA) undergraduate mock trial competition, in which teams of 6-10 students simulate a civil or criminal trial by taking on the roles of witnesses and attorneys. In doing so, students gain a deeper understanding of our legal system while gaining analytical reasoning, persuasive speaking, and leadership skills. For the last several years, PHC has fielded four teams in the AMTA regional competition, with each team striving to earn a spot among the top 48 in the nation at the National Championship Tournament.
PHC's mock trial program was begun by the late Frank Guliuzza, and it has continued to excel under Forensics Director Sue Johnson. In both 2020-21 and 2021-22, two PHC mock trial teams reached that ultimate goal, a testament to the Lord's goodness and the dedication of our students and coaches.
In the recently released AMTA Team Power Rankings for the 2022-2023 competition season, PHC's Mock Trial A and B Teams ranked 6th and 16th among the 266 ranked teams (the remaining 300+ participating teams are not ranked).
"Because both teams have done very well for two straight years, PHC is the only college to place two teams in the top 20 of the AMTA Power Ranking," PHC's Forensics Director Sue Johnson said. "This is a remarkable achievement for any college, and especially so given the size of our student body."
The AMTA scores are based on a team's performance over the past three years, with more weight given to the most recent competitions. For PHC's Mock Trial teams, the past three years have been filled with exceptional successes.
After a shortened season during the 2019-2020 year due to COVID, in 2020-2021 two PHC mock trial teams earned spots at Nationals—among the top 48 teams in the nation—for the very first time in the history of our program. Not only did both teams qualify for the highest-level competition, but they also finished 2nd and 7th in their respective divisions.
This past year (2021-2022), PHC repeated this feat. Both teams earned spots at nationals, an accomplishment only six other colleges achieved this year. Once again both PHC teams had exemplary performances, earning 4th and 11th in their divisions.
Johnson attributes this success first and foremost to God and how He has blessed PHC with committed, diligent, and talented students and coaches.
"I am thankful for our talented alumni coaches who give back to the program by investing in these enthusiastic students. We pray that the mock trial program will continue to be used by God to develop godly young men and women who will use these skills and experiences to become leaders in society, wherever the Lord directs them," Johnson said.