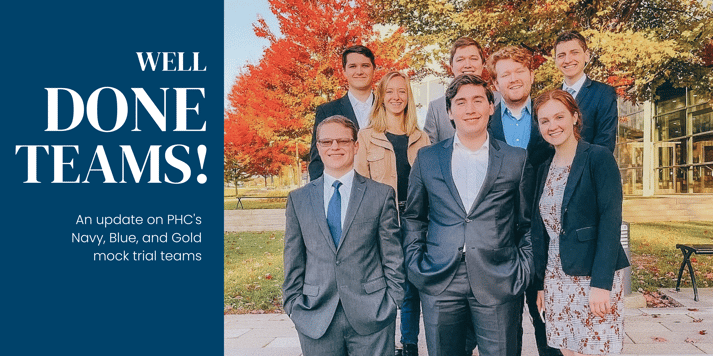 Three of our mock trial teams—the Navy, Blue, and Gold—recently competed in several invitational tournaments, with one team winning second place!
Our Navy team (coached by Kyle Ziemnick) competed at Penn State's Happy Valley Invitational two weekends ago. The team, captained by junior Andrew Bleiler and senior Luke Argue, finished with a 6-2 record, earning second place overall.
"Our goal was to come out of the gate strong, said Bleiler, who also earned recognition as an Outstanding Attorney on the defense side of their case.
The mock trial team swept rounds against Georgetown and Dickinson and split rounds against two of the top teams in the country, Tufts and Yale. "Of the teams that were [at the invitational], 60 percent were from schools that had attended nationals the previous year," Bleiler explained. This is impressive, considering only 48 percent of the league's 700-odd teams earn invitations to the annual championship.
"Our goal is to try and improve on our final performance from last year," Bleiler said.
Two more mock trial teams, the Gold and Blue teams, traveled to Williamsburg last weekend for the Colonial Classic Invitational tournament. Both teams overcame quite a variety of challenging circumstances during the weekend, and both teams competed with excellence.
The Blue team (coached by Director Sue Johnson) finished with a 7-0-1 record, not losing a single ballot and earning recognition as the Champion! While the final record for the Gold team (coached by Cooper Millhouse) was 4-4, they learned a great deal through the experience and are more prepared now to thrive in regional competition. Sophomore Sarah Fox and junior Ben Oyer won attorney awards, while junior Sarah Crosby won a witness award.
Parts of this story originated from PHC's journalism publication, the Herald.