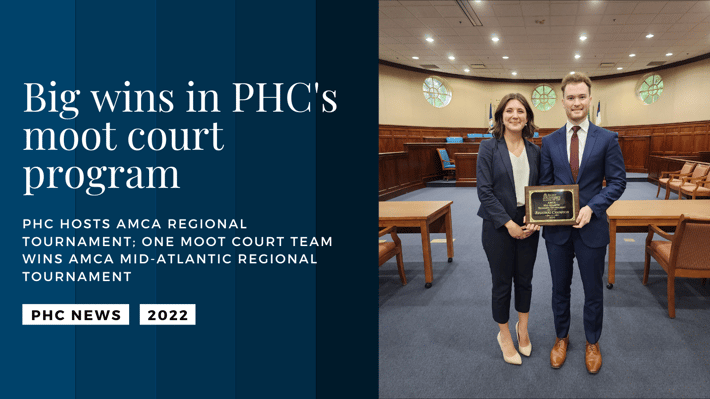 A lot is underway this season with PHC's forensics program! PHC has secured spots for 21 teams to compete at Regionals; 14 have competed so far, earning nine bids to Nationals.
At the Mid-Atlantic Regional tournament hosted by Regent University in late October, PHC earned four nationals bids; six PHC teams competed at Regent; five of the six teams advanced to the Saturday elimination rounds; and all six teams won three or more ballots in prelims.
Out of 33 teams, senior Isaac Bock and sophomore Hope Rawlson won the Championship at the Mid-Atlantic tournament. "It was an honor to represent Patrick Henry College at Regent University," said Bock. "Thanks to the hard work of Director Johnson, Coach K, and the whole team, I believe we are in perfect shape to take on nationals in January."
Rawlson added she was proud to represent PHC at the Regent University tournament this fall, saying "It was exciting and encouraging to see results of [our] hard work. We love moot court and are excited to get the chance to compete again at the national championship in January."
PHC also hosted its first-ever in-person AMCA regional tournament on November 4-5, with 30 teams from across the country competing, including five from PHC. All five PHC teams advanced to Quarterfinals; three PHC teams advanced to semis; and juniors Caleb Knox and Lauren Rule earned 2nd place, dropping a close final round of 2-3 against a team from Yale University.
"The tournament was an excellent opportunity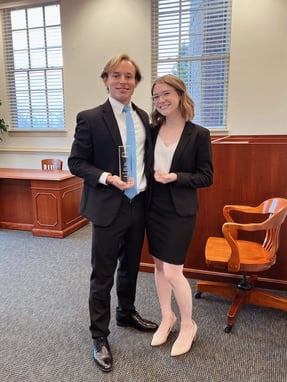 for PHC teams to show why we have best Moot Court program in the nation," said Rule. "I was proud of how each of us did and felt we represented the school well. There's nothing quite like arguing in front of a panel of lawyers and judges, and I am looking forward finishing this season strong."
Her partner, Knox, added "It was a blessing to compete on our own campus at PHC. There was a proper sense of familiarity with each round. I hope we continue to host this tournament. It ran well because of the work put in by Director Johnson and Coach K."