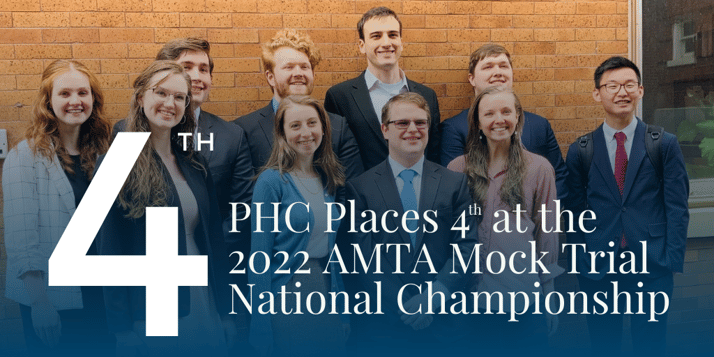 Two Patrick Henry College teams faced strong competition from Harvard University, UC Berkeley, Tufts University, defending national champions University of Maryland, Baltimore County (UMBC), Howard University, and other stellar programs at the 2022 AMTA Mock Trial National Championship this weekend.
Team 1014 (Amber) finished 4th in their division with a record of 7–4–1. Their Competition Strength (CS) was second highest in their division; only the eventual champion, Harvard University, had a higher CS. Team 1014 was the only team to take a ballot away from Harvard during the preliminary rounds. Team 1014 was captained by David Bainbridge and Benjamin Crosby; the remaining team members were Ashton Cho, Audrey Millhouse, Beckett Millhouse, Caleb Knox, Lauren Rule, and Trinity Klomparens.
Team 1015 (Gold) finished 11th in their division with a record of 6–6–0. They took two ballots from the defending national champions, UMBC, in their fourth round, and freshman Clara Harney earned an All-American Witness award! Team 1015 was captained by Luke Argue and Andrew Bleiler; the remaining team members were Calvin Huh, Carter Langhofer, Celine Robishaw, Clara Harney, Eva Cooley, Nathan York, Nikolas Frey, and Trinity Heinsohn.
These students represented the College and the Lord with excellence, integrity, and professionalism. They supported and uplifted each other with humor and encouragement the entire weekend.
Special thanks to Director Sue Johnson and the outstanding alumni coaches, Elizabeth Ertle, Kyle Ziemnick, Cooper Millhouse, and Sam Johnson. Their encouragement, guidance, and insights were key to the students' success. Thank you also to those who lifted the teams up in prayer.
Congratulations on a job very well done!
-----
PHC graduates have an unparalleled track record of success in debate, law, and government. Alumni have become state solicitor generals, argued before the Supreme Court of the United States, served in the White House in various capacities, and more.
Click below to read about forensics at PHC.