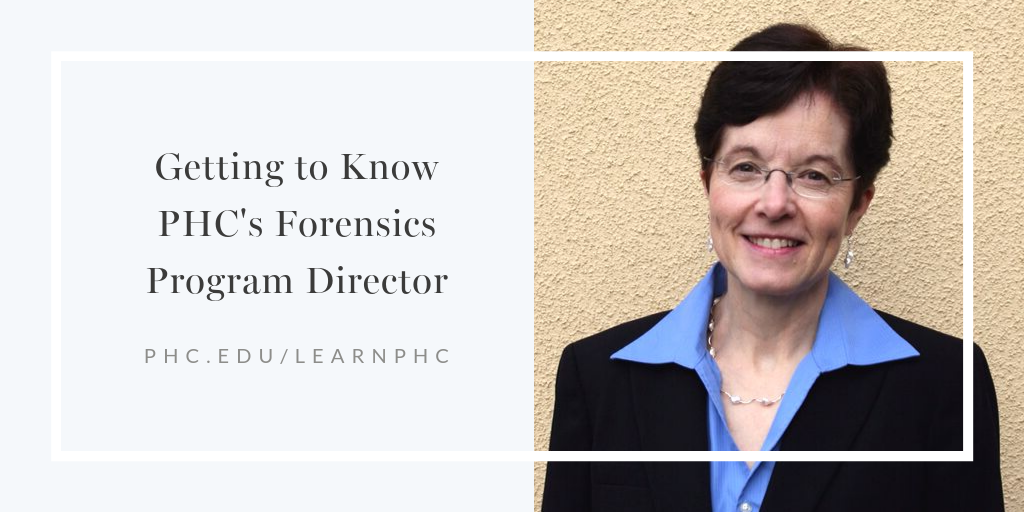 Forensics Program Director Susan Johnson joined Patrick Henry College's leadership this fall during a period of restructuring and expansion. In this position, she's responsible for PHC's Moot Court, Mock Trial, and Debate teams—managing eleven coaches, training students, attending tournaments, and more. While Johnson is new to PHC, she brings with her a wealth of experience from the collegiate forensics world and beyond. We sat down with Susan to learn a little more about her.
This interview was originally published in the fall issue of Founders magazine.
Hometown
I was born in Albany, NY but moved to Raleigh, NC when I was seven. All I really remember of Albany is snow in the wintertime! Raleigh was a wonderful place to grow up. I had lots of playmates in the neighborhood as a child, and we spent hours riding bikes, building forts in the woods, catching tadpoles in nearby ponds, and playing games of kickball or tennis on our cul-de-sac.


Degrees
Certificate in Non-Profit Management, Duke University, Durham, NC (2017)
Post-Baccalaureate Paralegal Program, Meredith College, Raleigh, NC (2011)
Masters of Public Health in Nutrition, University of North Carolina at Chapel Hill, Chapel Hill, NC (1985)
Bachelor of Arts in Mathematics, minor in Chemistry, graduated summa cum laude, University of North Carolina at Chapel Hill, Chapel Hill, NC (1982)

Honors and Published Works
Phi Beta Kappa and Delta Omega (Public Health Honor Society), UNC-Chapel Hill
Center for Development and Learning Traineeship (full academic scholarship), School of Public Health, UNC-Chapel Hill
Pogue Scholar (full academic scholarship), UNC-Chapel Hill

I am on the Board of Directors for the American Mock Trial Association (collegiate mock trial) and the National High School Mock Trial Association. I have published articles in the North Carolina State Bar Association Journal as well as authoring/co-authoring more than a dozen high school and collegiate mock trial cases. Many of the cases I wrote while serving as State Coordinator of the high school mock trial program in NC have been used in other states; the late Dr. Guliuzza also used one of my cases in the 2015 PHC summer mock trial camp.

Favorite Books
My parents were voracious readers, owning thousands of books on every imaginable topic from astronomy and geography to history, philosophy, and fiction of all sorts. I inherited their love of reading, and one of the hardest parts of moving to Virginia was cutting our home library down to a manageable size! I couldn't pick a favorite author or even a favorite genre, as it depends upon my mood and current interests. Of course, the classics that students read at PHC are on my list. A few others I've enjoyed recently are Peak by Anders Ericcson, Team of Rivals by Doris Kearns Goodwin, Stand Up That Mountain by Jay Leutze, Endurance by Alfred Lansing, and anything by Rosemary Sutcliff.


Best Advice I've Received
This year has been an exciting time of transition for me and our family, and at times I feel I don't have enough hours in the day. In those moments, in addition to Scripture, I try to keep two principles in mind: "Be All There" and "Keep the Main Thing, the Main Thing." When our son Sam, a PHC alumnus, graduated high school, his World Literature teacher reminded the graduates not to be always looking ahead or pondering events in the past. Rather, we should be present in the moment, enjoying the beauty of God's creation and listening to that still, small voice. The second admonition came from my pastor in NC, and it's an important guideline as I navigate the many responsibilities of my new position.


Favorite Part of Being PHC's Forensics Program Director
Serving with such an amazing group of believers. In my position as director, I have the privilege of working closely with a large segment of the faculty, staff, and students. I look forward to getting to know everyone as the year progresses! The richness of the community at PHC—spiritually, intellectually, and socially—is unique, and I am excited to see how the Lord will work through all of us for His glory.
-----
Learn how PHC stands apart from other Christian liberal arts programs.
Patrick Henry College exists to glorify God by challenging the status quo in higher education, lifting high both faith and reason within a rigorous academic environment; thereby preserving for posterity the ideals behind the "noble experiment in ordered liberty" that is the foundation of America.