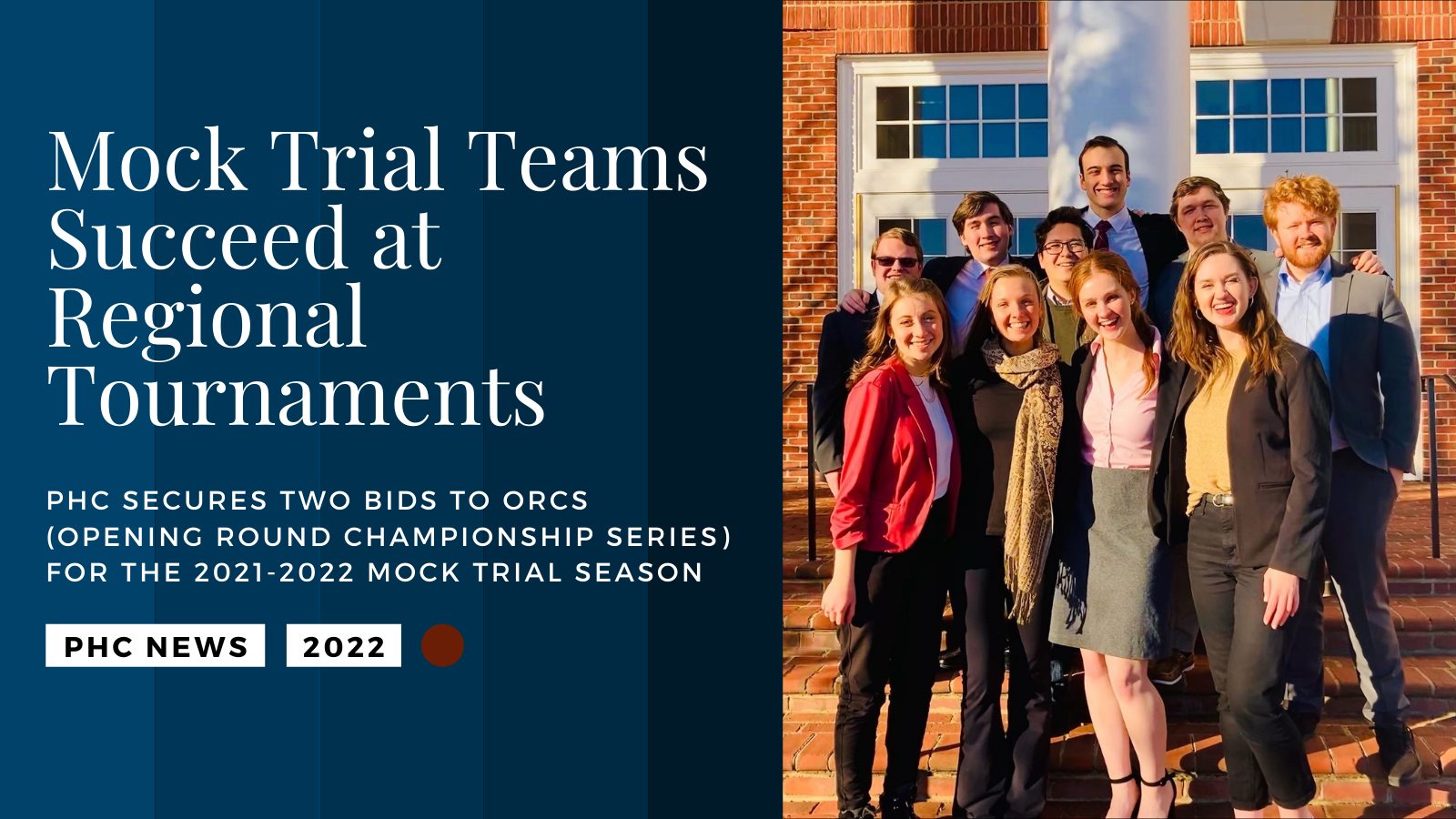 At regionals this weekend, two Patrick Henry College Mock Trial teams won bids to the Opening Round Championship Series (ORCS), the tournament that determines which teams compete in the 2022 Mock Trial National Championship. The Amber and Gold teams will advance to ORCS in the coming weeks.
Team 1014 (Amber team, led by David Bainbridge and Benjamin Crosby) earned the first bid to ORCS at their regional, with a record of 8-0. The team also earned two individual awards. Benjamin Crosby earned 20/20 ranks—the highest possible rank—as an All-Region Witness and 18/20 as an All-Region Attorney. Sophomore Caleb Knox earned 18/20 ranks as an All-Region Attorney.
Team 1016 (Gold team, led by Luke Argue and Andrew Bleiler) earned the second bid by securing the final bid to ORCS in their regional with a 5-2-1 record. Sophomore Andrew Bleiler earned 17/20 ranks as an All-Region Attorney.
Team 1015 (Navy team, led by Isaac Bock, Cana Cossin, and Silas Landsverk) faced strong competition, including teams from Xavier, Oregon, and Princeton. Unfortunately losing some close rounds by single digits, they did not advance to ORCS, finishing with a 4-4 record.
Team 1017 (Blue team, led by Calvin Klomparens and Jack Singer) also faced strong competition, with three of their four opponents earning bids to ORCS. Although finishing with a record of 2-6, they put on strong performances, with freshman Jake Bell earning 17/20 ranks as an All-Region Witness.
Congratulations to all teams for their hard work and dedication throughout this Mock Trial season!
-----
Learn more about Patrick Henry College's top debate program here: