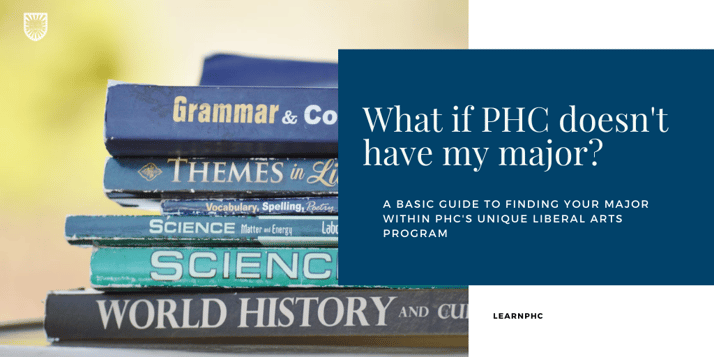 "I'm looking at CLA right now…it's the only thing that seems to fit," I told my admissions counselor. Thirty minutes later, Olivia Schmidt was convinced I needed to be a Journalism major and set up a meeting between me and her sister-in-law GraceAnna Schmidt. In case you were wondering, I am now a Journalism major.
Like many classical liberal arts colleges, PHC has a limited number of majors, and they might not all be what you expect. Below are PHC's eight majors--enjoy reading about how each major is unique and unlike any other undergraduate programs!
Classical Liberal Arts
Students in the Classical Liberal Arts major pursue a rigorous interdisciplinary focus in the liberal arts, preparing them for graduate school, seminary, or the work force.
The CLA major's interdisciplinary opportunities help students explore their academic strengths and develop the art of learning as a lifestyle. This major also gives students the flexibility to hand-select classes, allowing them to develop their own focus in a particular area of study.
Students are required to take five courses developing an integrated philosophical, historical, literary, and biblical worldview and then may use Major Course Electives to continue to gain broad exposure to the liberal arts disciplines. To fulfill their apprenticeship credits, students pursue research projects, applied internships or practica. Students will also study a classical language.
Economics & Business Analytics
The Economics & Business Analytics major is PHC's fastest growing program.
In the Economics & Business Analytics major, students take a variety of courses in economic theory, advanced mathematics, and business analytics. Key distinctives within the Economics & Business Analytics program stand apart from any other college in America.
EBA students learn the principles of economic theory, which seek to explain the accumulation and distribution of limited resources among various "players" in the marketplace. Those players include private consumers, private companies, public utilities, government organizations and their international counterparts throughout the world.
Journalism
The Journalism program is designed with five career paths in mind:
Journalism
Public Relations & Communications
Advocacy and Ministry
Analysis and Business
Graphic Design & Multi-Media
With an unparalleled foundation, students are prepared to serve and lead in the field best suited to their God-given talents and abilities. The Journalism program at Patrick Henry College will make sure graduates are ready for future success and impact wherever the journey leads.
Our society needs Christians in digital media, government, markets, and ministry who can help people see the world clearly and thereby live rightly. That's why our Bachelor or Arts in Journalism trains young Christians to understand our culture and then serve our society in a deeper biblical way: by telling true stories of a fallen world infused with grace. PHC provides the solution through its Journalism Program.
History
PHC students in the History program learn to think Christianly about the past. This starts with mastery of the significant names, places, ideas, and events in history. Most college history programs pursue this goal, but we at PHC also pursue a higher one. Using biblical insights to analyze the past yields a better understanding of history, a better understanding of humans, and a better understanding of how our God deals with humans.
PHC students majoring in history complete a yearlong History of Western Civilization course, a yearlong U.S. History, and two specialized courses: a philosophy of history course that explores how to think about history from a Christian perspective, and a research methods course that teaches students how to research in original historical documents. Students also choose history courses from a handful of possibilities like Modern Chinese History, the Intellectual History of the United States, the History of Classical Roman Civilization, the History of Islam, and the History of Modern Russia.
Government
The Government major prepares students to be outstanding public servants, whether in foreign policy, domestic policy, the academic sphere, or the intelligence community.
Within the Government major, students have a measure of flexibility to craft their course work to their specific academic interests. Most broadly, the general Government major allows students to choose 12 credits in a variety of Government disciplines. Many students choose a specific discipline within Government in which to specialize. These specializations are called tracks.
These include American Politics and Policy (APP), International Politics and Policy (IPP), Political Philosophy, Political Theory, and Strategic Intelligence. Each track has specific upper-division courses tailored to provide the student with a sound understanding and appreciation of government, politics and policy, theory, or strategic intelligence. Combining this with the apprenticeship opportunities, students are well prepared to enter public service, non-profit organizations, think tanks, or graduate and professional schools.
English
Students majoring in English study the great works of European and American literature. They take two semesters of English literature and one semester of American literature, as well as a course in literary theory and criticism. English majors study a classical language and take advanced courses in history, philosophy and theology.
As part of major electives, they must take classes in either fiction or non-fiction writing, study two distinct genres in more depth, and focus on one major author. Additionally, they expand on areas of interest by developing Directed Research & Writing projects in literary studies or creative writing, or participate in literature or writing-related internships such as student teaching, tutoring, or editing.
English majors are strong and thoughtful writers who know the power of the logos to tell the story of salvation and touch people's hearts.
Strategic Intelligence in National Security
The Strategic Intelligence (SI) program seeks to integrate quality classroom education with practical experience, leadership opportunities, and a classical liberal arts perspective. The SI major equips students with a respect for the intelligence function and its role in defending a free society, and cultivates their ability to anticipate moral, ethical, and mission challenges in order to defend the security of the United States.
The SI program also offers a Cyber Domain and Artificial Intelligence Track. This track in the SI major prepares students for entry into junior technical roles and future leadership roles in the cyber domain which is rapidly applying emerging artificial intelligence techniques.
Environmental Science & Stewardship
The Environmental Science & Stewardship (ESS) major equips students to fulfill their divinely appointed role as stewards of Creation who apply multi-disciplinary solutions to environmental problems. ESS students... and may choose between three optional tracks:
Law & Policy
Science Pedagogy
Pre-Med
ESS students study biology, chemistry, physics, statistics, hydrology, geology, ecology, calculus, and more. These disciplines are integrated in capstone experiences, including courses in environmental science and the philosophy of stewardship, as well as apprenticeships.
Exciting, right?
All students at PHC will also take the substantial, 63-credit core, which will give you a solid base in history, literature, writing, science, music, and political theory, no matter what major you choose. It's the largest core curriculum in the world of liberal arts colleges.
More than anything, college is going to be what you make it, and your experience will matter more to future employers than your major. Think of your major as an assortment of classes designed to help you thrive in your chosen field, not a bullet train to a specific job. If you still have questions about any of the majors, find our other articles focused on specific majors or talk to an admissions counselor!