S.I. Program Overview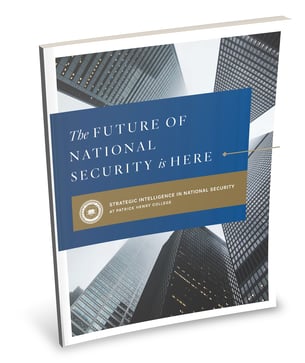 EXTENSIVE CLASSICAL CORE CURRICULUM
A comprehensive 63-credit classical liberal arts core, emphasizing Theology, Philosophy, History, Literature, Logic, Rhetoric, and more, builds a foundation for students to think, write, and speak at an advanced level.
RIGOROUS PROFESSIONAL PREPARATION
Students receive extensive preparation in critical thinking, analytic methodologies, and advanced data science applications by faculty with decades of applied, professional experience.
ADVANCED SKILLS FROM SPECIAL PROJECTS
Special projects provide students with hand-on experience in team dynamics, practical leadership, and strong relations within the Intelligence Community.
DEVELOPMENT OF MORAL IMAGINATION
Students will be prepared to confront difficult and complex intelligence and national security problems from a Christian worldview.
INTERNSHIPS IN WASHINGTON, D.C.
Work opportunities with strategic partners in government, industry, and think tanks provide graduates with workplace experience and security clearances.
Undergirding these specific aspects of the major is the Core Curriculum, which teaches the historical emphasis on free markets in American economics as well as fundamental political theory, logic, and biblical theology. The Core Curriculum emphasizes good writing and verbal communication skills. Graduates will be prepared to enter directly into the business world, graduate studies, or the public policy arena.
Why Cyber and AI at PHC?
In addition to the core courses in the S.I. Major, students in the Cyber & AI Track take a variety of courses in data science, big data tools, artificial intelligence and machine learning, and advanced technology and ethics in intelligence and national security. Capstone experiences include an Area Study, a cyber-related internship, and a cyber research and writing project under faculty supervision.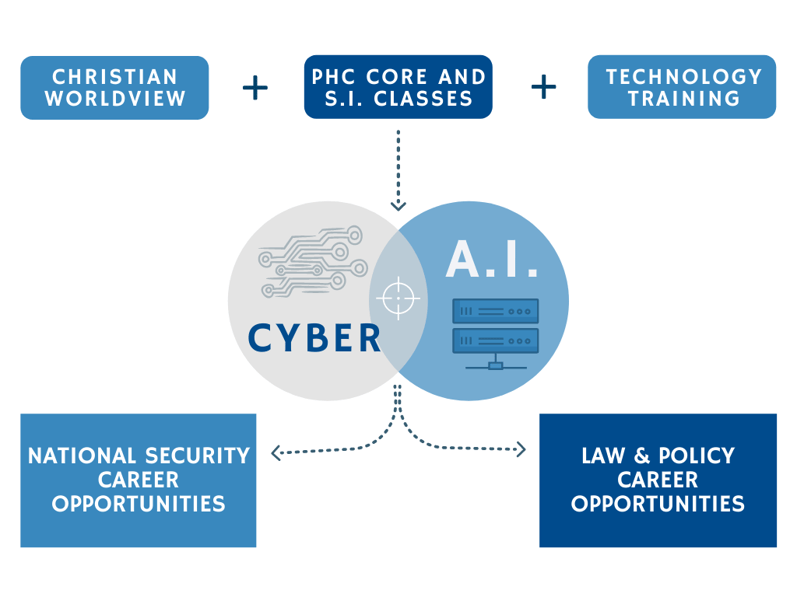 Scope and Approach of the PHC Cyber and AI Track
Why Study at PHC?

The PHC Cyber & AI Track blends liberal arts with an in-depth focus on technology from the per-spective of a Christian worldview and enables students to address the growing set of cyber and AI challenges as well as opportunities that deeply affect our nation's security, law, and culture. This program is tailored to enable liberal arts students to understand the emerging issues in cyber and artificial intelligence and innovate solutions based on that broad understanding of the human story.
Why study Cyber and AI at a Christian, liberal arts college?
• The most difficult cyber and AI issues are not technical;
• Emerging issues and opportunities are increasingly impacting pivot points of culture, law, and politics;
• Solutions need broad understanding of history, culture, law, and strategic trends within the emerging technologies.
Who should consider this study area?
Students should consider this Track if they are interested in:
• US military policy, capabilities, and operations; or
• Law and policy for national security, advanced technology, social media, big data, intellectual property; or
• Social media, privacy, communications, military information operations, and media and technology regulation.