The Program
IPP students learn from professors who are experts in international policy, theory, and research. Major courses and electives include:
International Relations

Comparative Politics

Foreign Policy: Theory and Practice

International Economics

European Politics

Ethics and International Relations

Politics of Developing Nations

Comparative Economic Systems

Modern Chinese History

And many more...
Under the direction of a qualified faculty member or mentor, students in the International Politics and Policy track can explore a specific global issue (e.g., globalization and global governance, human trafficking, economic development, family deterioration, resource scarcity, free trade, ethnic violence, genocide, environmental degradation, etc.) through researching primary and secondary sources. Students are then required to draft a policy report articulating a strategy for US involvement that would ultimately be forwarded to relevant government officials.
Apprenticeship Experience and Methodology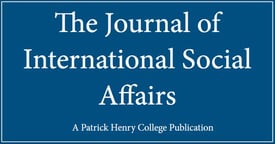 Several campus programs supplement the IPP major classroom experience. Patrick Henry College's apprenticeship method requires IPP students to obtain real-world experience in an internationally-related internship. IPP students and graduates have worked at high-level internship positions in the White House, the US Department of State, the Department of Defense, Heritage Foundation, Sysco, The Atlantic Council, and the Project for National Security Reform, as well as embassies and other venues abroad. Students may also write for the student peer-reviewed IPP Journal, which affords them further opportunity to hone their analytical skills and knowledge of international politics.
IPP: From the Director
Christians today are becoming more aware and active internationally. At Patrick Henry College we encourage this trend and try to equip our students to apply biblical principles to the study of politics and connected affairs globally, thereby furthering God's Kingdom throughout the world. It may be a cliché that we live in a global environment, but Christians must be prepared to shape global trends.
We aim to help our students assume positions of leadership at the forefront of international affairs.
Complementing the other tracks of the Government Department, including Strategic Intelligence, the IPP track offers a rounded curriculum in international affairs. Because of the interests of many PHC students and families, we give special emphasis to the study of social affairs internationally, to which we aspire to exercise leadership. The machinery of global governance, such as the United Nations, and European Union and other intergovernmental and transnational organizations are subjects of interest and scrutiny. Without neglecting the traditional issues and questions of global politics, we have found that issues such as family integrity, religious freedom, marriage and sexuality are either ignored in their increasingly important international dimensions or are addressed largely within narrow ideological limitations. It is our endeavor to remedy this deficiency.
While an IPP track is awarded within the context of the Government major, it can equip students to enter a variety of globally important professions, including diplomacy, law, business, government, missionary and humanitarian work, and work with intergovernmental and non-governmental organizations.
We aspire to make the Patrick Henry College IPP track into an important force for affecting the global environment. Because of our proximity to Washington, students in the IPP track work in apprenticeships as interns in important agencies and organizations with global reach. Our award-winning Model United Nations team is highly popular among IPP majors, and our new IPP journal Legatus exemplifies the kind of initiative exhibited by IPP students. Currently we are developing opportunities for IPP students to study, intern, and work abroad.
Our faculty are active globally as well, leading international research efforts such as the Institute of World Politics, and participating in international movements and events, such as the International Academy of Apologetics, Evangelism, and Human Rights in Strasbourg, France, and the 2009 World Congress of Families in Amsterdam. We are very excited about the challenges and opportunities that are unfolding before us internationally, and we hope and pray that you will join us to advance God's work in many lands.