EBA graduates learn the principles of economic theory, which seek to explain the accumulation and distribution of limited resources among various "players" in the marketplace. Those players include private consumers, private companies, public utilities, government organizations and their international counterparts throughout the world.
In the Economics & Business Analytics major, students take a variety of courses in mathematics, economics, ethics, and business.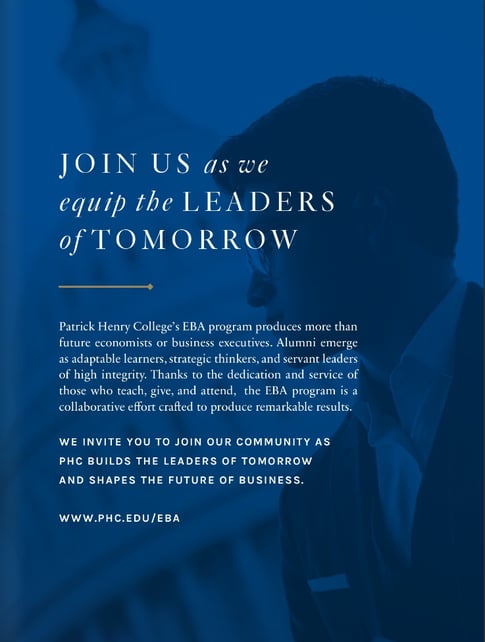 Students gain expertise in the broad range of mathematical tools required for the analytical aspects of the major taught by world-class mathematicians. These include calculus, statistics, differential equations, graphical and numerical techniques as well as actuarial math. These tools will be applied to the analysis of individual players (microeconomics) as well as the conglomerate of all players (macroeconomics).
Public Economics includes the behavioral aspects of the field, and discusses marketing (private company influence on behavior) in addition to more technical economic elements of public economics. Public Finance includes financial markets, applications of financial calculations, and various investment tools in addition to more typical elements of public finance. Students gain experience evaluating the strength or weakness of private companies by reading financial summaries and examining their internal organizational structures, marketing strategies, and position in the business cycle.
Undergirding these specific aspects of the major is the Core Curriculum, which teaches the historical emphasis on free markets in American economics as well as fundamental political theory, logic, and biblical theology. An upper-level course in ethics is also required. The Core Curriculum emphasizes good writing and verbal communication skills. Graduates will be prepared to enter directly into the business world, graduate studies, or the public policy arena.
The Program
The major is comprised of the following credit allowances:
63 credits plus intermediate foreign language proficiency in the core curriculum;

47 major course credits;

12 open elective credit hours;

122 total credit hours.
The objectives for EBA majors are that students are able to:
Demonstrate the ability to apply biblical principles to the study and practice of economics and business.

Understand how government policy impacts both the economy at large and individual businesses.

Demonstrate an understanding of the competing economic models that exist at both the macroeconomic and microeconomic levels.

Understand how to use the tools of mathematics to analyze the past performance and current health of a business or government entity.

Demonstrate the ability to use mathematics to predict the future performance of a business or government entity.

Understand how to use oral and written communication skills to interact with business executives using standard business terminology.