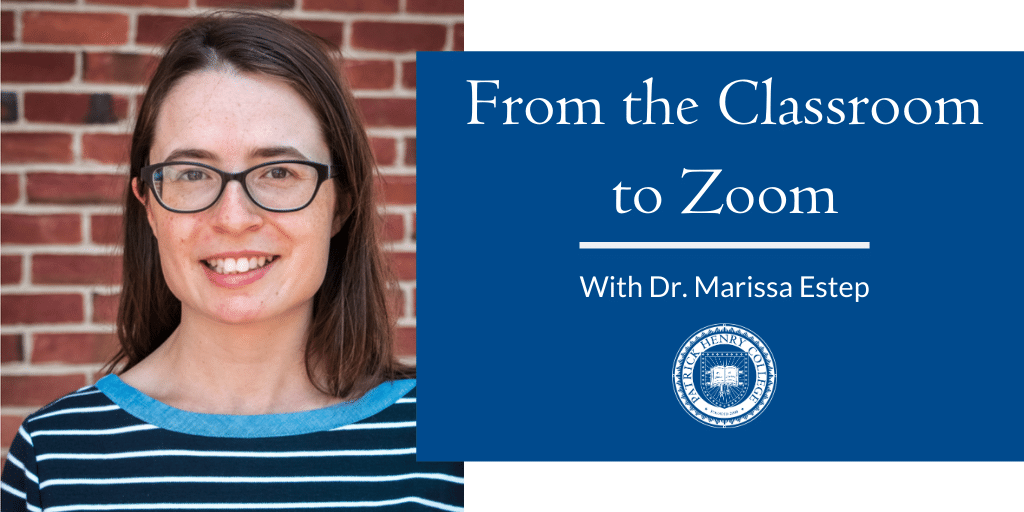 Moving from in-person to Zoom classrooms is a difficult transition for students who are used to interactive classes. But it's a hard transition for professors who have to restructure all their lectures.
Dr. Marissa Walraven is teaching General Chemistry II, General Chemistry II Lab, and Differential & Integral Calculus this semester—all math-heavy classes where giving students a hands-on experience is important. Despite the challenges, Walraven has been able to transition successfully.
Making the Classroom Experience Engaging
"The logistics of the transition have been smooth, thanks to our wonderful tech team," Walraven said. She has experience tutoring students over Skype and was able to adapt her "whiteboard-heavy" classes to an online format.
Talking to a screen is not easy, especially after spending half of the semester in a normal classroom setting. Still, Walraven has found ways to keep her students engaged by using online tools to the best of her ability.
"While there is no substitute for face-to-face interaction, Zoom is the closest I can imagine to such a substitute, and it has been conducive to teaching so far," Walraven said.
Creative Solutions to Difficult Problems
"Labs have been the biggest challenge, but we have come up with creative solutions," Walraven said. She has learned to maneuver lab assignments to where students can still learn the concepts and stay engaged.
"It's harder to conduct class discussions or collaboratively solve problems without the nonverbal cues people typically use to signal shifts between speakers," Walraven said. She normally tailors her lectures to what students are thinking about, "I love the serendipitous connections students make between class and real life."
But she can't connect to a screen of silent faces. "Remote instruction feels more formal, making students less willing to ask the seemingly off-topic questions that often turn out to be on-topic," she said.
Walraven has found some tips to be useful for making the most out of online classes. She has found that checking her tech set-up ten minutes before every class is helpful for malfunctions during class. In terms of connecting with students, she has found that smiling calms her nerves when staring into the camera.
"Remember that your students are the same wonderful people they have been all along, and that you are excited about what you have to share with them, and that this is the best way to do that right now," Walraven said.
Staying Flexible and Optimistic
"Flexibility has been the biggest advantage to remote instruction so far," Walraven said. She has enjoyed the accessible nature of online teaching. Instead of arranging a meeting during office hours, she can eat dinner with her family and then meet with a student over Zoom, all while staying at home.
"I was nervous the first day of remote instruction," she said. The class had to change their typical routine but having connected with them in person for half of the semester, she had a nice foundation to work from. "Once we got into the subject material, it was easier to ignore the awkward eye contact," Walraven said.
Technology takes getting used to. During one meeting, Walraven wondered why she couldn't hear any of the other participants. "I had forgotten to turn on my speakers," she said. "Definitely had a laugh over that one."
All things considered, Walraven has found the transition to an online format to be challenging but not impossible. "Desperate times call for desperate measures. I certainly prefer teaching in person, and I miss meeting with students and colleagues face to face, but we will manage!"
______
Click below to read more about science at PHC!