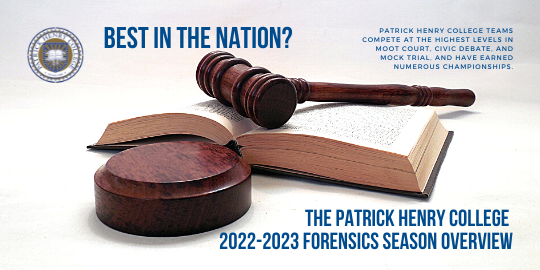 We believe that God calls Christians to serve in all areas of social and public life, including law and government. By training leaders to reason and communicate effectively, PHC empowers Christian students to excel in their sphere of influence and thereby convey the truth and glory of God. The 2022-2023 collegiate forensics season was one for the history books including several PHC firsts.
God's goodness surrounded the Patrick Henry College (PHC) forensics program this year, enabling our students and coaches to achieve remarkable success as they used their talents for His glory. All three programs—moot court, civic debate, and mock trial—competed in-person for the first time since 2019. We are thankful for the investment of our coaches—many of them alumni—as they guided our students in developing godly character and winsome communication. We celebrate His care and give Him the glory for the blessings He bestowed.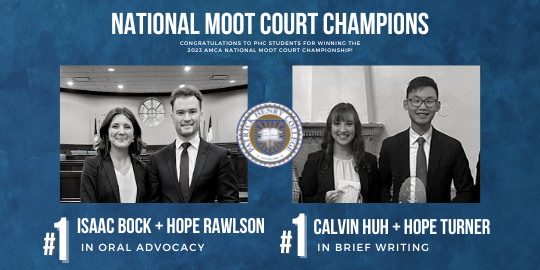 In Moot Court, PHC ended the season ranked as the #1 Moot Court program in the country, winning National Championships in both Oral Advocacy and Brief Writing. In Oral Advocacy, 21 two-student teams competed at 5 different regionals, including one hosted at PHC, winning two and finishing in 2nd place at two more. In all, PHC teams earned 12 bids to the National Championship, 4 more than the maximum allotment of 8! Our Nationals teams put on a strong showing in the National Championship Oral Advocacy competition: all 8 teams advanced to elimination rounds, with one earning 1st place!
The overall success of the PHC moot court teams earned the college recognition as the nation's #1 Program in Oral Advocacy. Additionally, 26 students submitted briefs for the National Brief Writing competition; PHC teams earned 1st and 10th place for Petitioner briefs. The new national program rankings for Brief Writing will be announced in August, but we expect to be ranked either #1 or #2.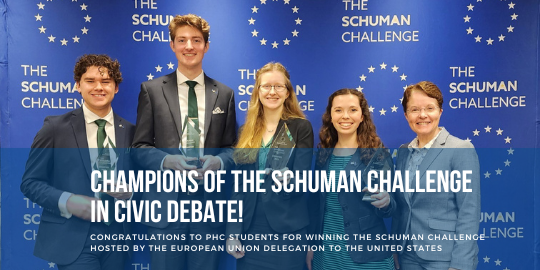 PHC's Civic Debate program enjoyed its best year on record and earned a few PHC firsts. Fifty-nine students competed in civic debate this year with nearly two-thirds being freshmen or sophomores. To ensure our debaters had opportunities to showcase their skills, PHC also hosted invitational tournaments in the fall and spring seasons utilizing resolutions our varsity students would debate at external tournaments.
In the spring, PHC debaters brought home the gold at numerous events including First Place at the Schuman Challenge hosted by the European Union and First Place in the NCCFA IPDA National Championship. Closing out the year, two freshmen were declared Novice Division Champions at the Miami Ocean Debates while two other students brought home the Championship from the Holistic Justice Challenge!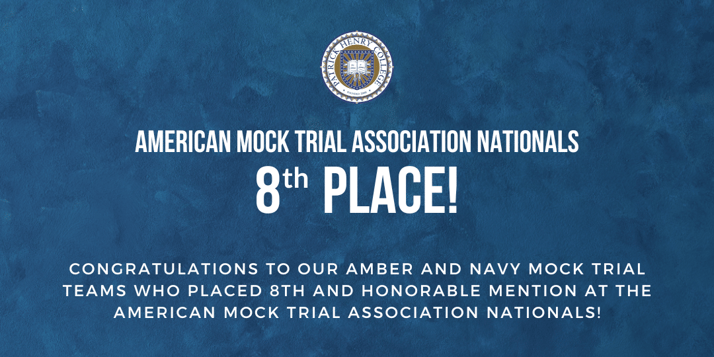 In Mock Trial, PHC fielded four varsity teams that competed in external invitational tournaments in the fall and in the American Mock Trial Association (AMTA) nationwide competition in the spring. PHC also hosted its own internal tournaments for both inexperienced and experienced students using the full AMTA case materials. More than 50 students participated on one of PHC's mock trial teams this year, promoting the continued growth and success of the program for years to come.
Our varsity teams earned recognition at fall invitationals: our Blue team brought home the Championship at the Colonial Classic Invitational hosted by William and Mary, while the Navy team earned 2nd place at the Penn State Happy Valley Invitational and the Amber team took 2nd place at the prestigious Great American Mock Trial Invitational hosted by the University of Virginia.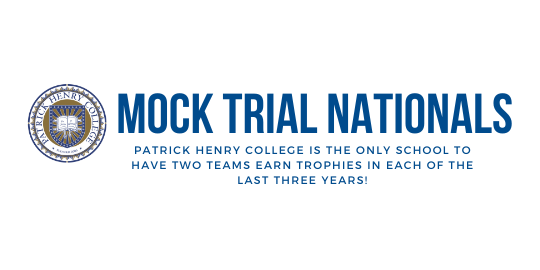 In the spring, PHC advanced two teams from Regionals to the Opening Round Championship Series (ORCS) and then on to the National Championship competition for the third year in a row. PHC's top mock trial team earned 8th place in its division, while our second team earned Honorable Mention.
Notably, PHC is the only program in the nation in which two teams brought home "hardware" from Nationals in each of the last three years! in addition, three PHC students earned individual recognition at ORCS, two as All-National Witnesses and one as an All-National Attorney, while a fourth won All-American Witness honors at the National Championship!
It was a blessing to the students and coaches to return to in-person competitions this year after the changes wrought by COVID since spring of 2020. We are confident the Lord will continue to guide us in the years to come. Soli Deo Gloria! We look forward with expectation as Patrick Henry College continues to seek His will, doing our utmost "for Christ and for Liberty!"