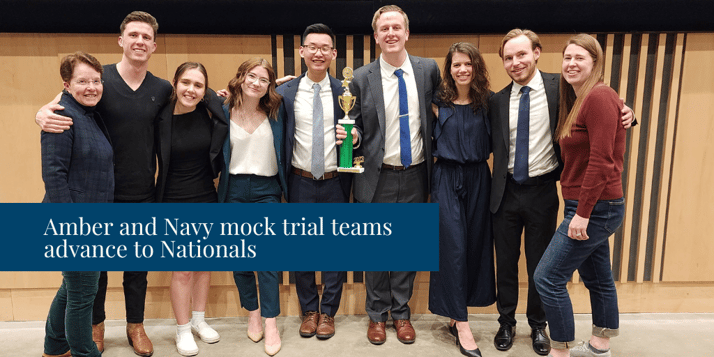 Patrick Henry College is thrilled to announce that two PHC mock trial teams have earned spots at the National Championship for the third year in a row! PHC's Amber (A) team and Navy (B) teams will be among the 48 teams competing in Memphis, Tennessee on April 14-16.
More than 650 teams started out the season at the regional level! In February, 192 teams advanced to the Opening Round Championship Series (ORCS), including PHC's A and B teams. From there, only 48 teams advanced to the National Championship Tournament. Only PHC and U. of Chicago have advanced two teams to Nationals each of the last three years (2021-2023).
The Lord richly blessed our B team's efforts at the St. Paul ORCS on March 10-12. The B team secured a bid to the National Championship Tournament with a record of 6-1-1 after facing strong teams from Stevenson, Boston University, U Chicago, and Loyola University in Chicago. In addition to the B team's success, GraceAnna Schmidt earned an Outstanding Witness Award for her portrayals of DB Gelfand / Shannon Shahid on the plaintiff side of the case.
"Our performance at ORCS was the best we've performed all year," said junior Nikolas Frey (B team). "The camaraderie that we had together was the embodiment of what anyone could want in a team. … Ultimately, I think that's what carried the day for us to make it to Nationals."
On March 18-19, our A team earned their spot at the National Championship with a 6-2 record at the Cincinnati ORCS! The Cincinnati ORCS was particularly difficult, and the A team faced tough competition from Rider University, University of Rochester, Yale University, and Michigan State University.
"We came away with both a greater appreciation for [mock trial] and a stronger bond as a team," said junior Lauren Rule (A team). "I am personally blessed to call my teammates my best friends, and we are incredibly excited to compete together one more time in Memphis."
In addition to the A team's success, Caleb Knox earned an Outstanding Attorney Award, and Trinity Klomparens earned an Outstanding Witness Award.
Throughout the competition, both teams prayed that they would compete with joy and gratitude, and that all those with whom they interacted would see the Lord in their words and deeds. The teams' joy, camaraderie, and cohesion were noteworthy, whether they were exhorting each other to excellence in rounds, engaging in snowball fights on the lovely Macalester campus (B team), or creating other fun memories in their journey to/from St. Paul and Cincinnati. Both teams are grateful to have the opportunity to continue to work together as they prepare an entirely new case for the National Championship!
Kudos to the members of both teams as well as to our alumni coaches Elizabeth Ertle and Sam Johnson (A team) and Kyle Ziemnick (B team)!
Amber team: Allyn Sims, Caleb Knox, Calvin Huh, Lauren Rule, Ryan Olson, Silas Landsverk, Trinity Klomparens
Navy team: Andrew Bleiler, Carter Langhofer, GraceAnna Schmidt, Eva Cooley, James Staub, Luke Argue, Nik Frey, Zach Barnes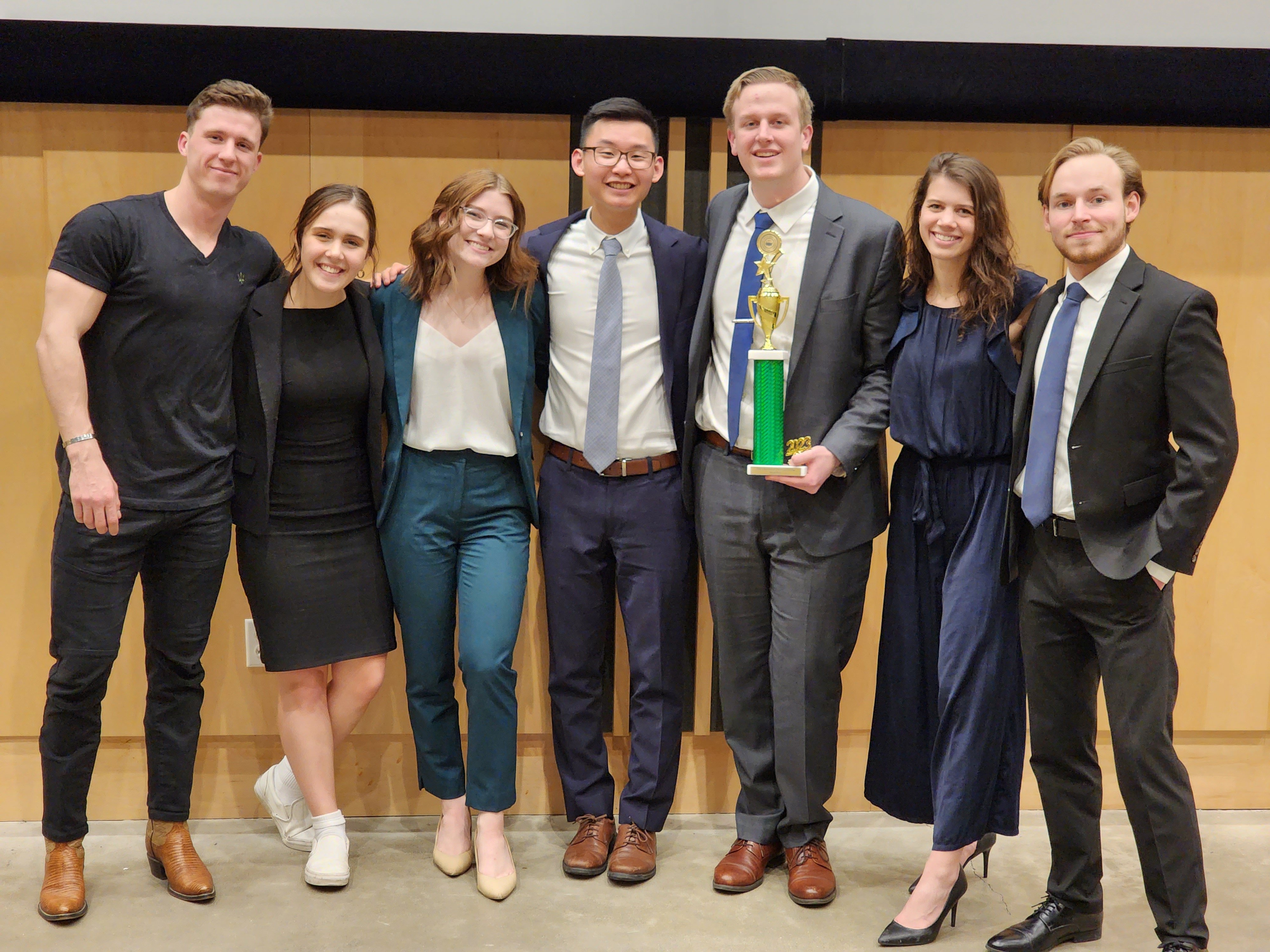 [image: Amber team at Cincinnati ORCS]