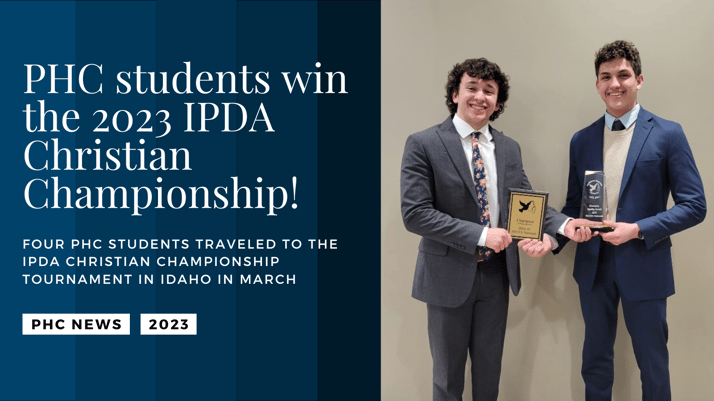 Patrick Henry College sent four debate students to the National Christian College Forensics Association (NCCFA) tournament in Idaho last month and two freshmen—Ben Spivey and Aiden Forbes—locked out the final round of the International Public Debate Association (IPDA) Christian Championship, giving PHC a guaranteed win.
While PHC has competed in IPDA debates before, attending NFCCA was a first. IPDA specializes in an extemporaneous parliamentary-style debate that runs for about 55 minutes per round (30 minutes of research and 25 minutes of speaking time split between the two sides). The PHC delegation consisted of four students including Forbes, Spivey, Jonathan Arens, and Bethany Loos and Coach Ryan McDonald.
Forbes and Spivey, current roommates, traveled to the tournament as part of PHC's Civic Debate Program. Both did team policy debate in high school, so they found the structure of the IPDA similar in some ways and very different in others. Team policy debate requires a partner and allows more breathing room to prep before and during each round.
For IPDA, two competitors are given a list of five resolutions (debatable statements to argue) and take turns striking the ones they do not wish to debate until one is left. Once a resolution is selected, they are given 30 minutes to research, with one student on the affirmative side and the other on the negative side. The 25-minute debate is split into five speeches and several cross-examination time periods with no breaks for preparation.
Spivey said he generally prefers the ethical questions and debates, preferring to argue from values than from research. Forbes prefers the more practical policy questions, so their debates covered a wide range of topics. Before the tournament even started, they joked with each other about locking out finals, not believing it would actually happen.
When both of them advanced past the six preliminary rounds, they realized there was an actual chance. They were placed on opposite sides of the bracket and started to work their way up through subsequent rounds.
"Day three was semi-finals … we both broke and thought, 'ok, we could definitely do this,'" Spivey said. Passing through semi-finals, they waited to see which debaters would be announced for the final round by computer.
"We were sitting around the computer [not sure] if we were going to be able to do this," Forbes said. "Then, [the announcement] was out and it said 'Aiden and Ben' … It was really crazy. We were going wild … we did not see [that] happening."
Both Spivey and Forbes encourage PHC students to get involved with civic debate, even if they have no prior experience. "If you're not a [forensics kid], you can still jump into [civic debate] because the commitment is so incredibly low," Spivey said.
Civic debate is accessible to every student at PHC, and many students start in civic debate to see if they'll be interested in moot court or mock trial.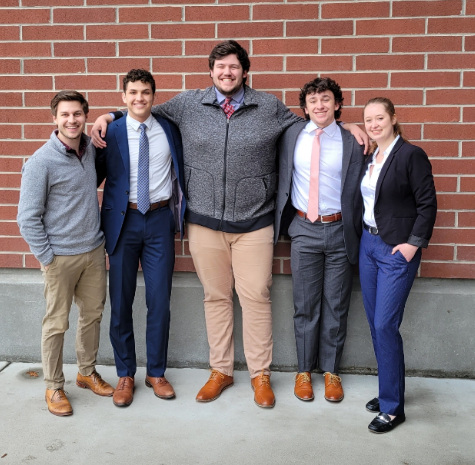 [image: civic debate team at the IPDA Christian Championships]