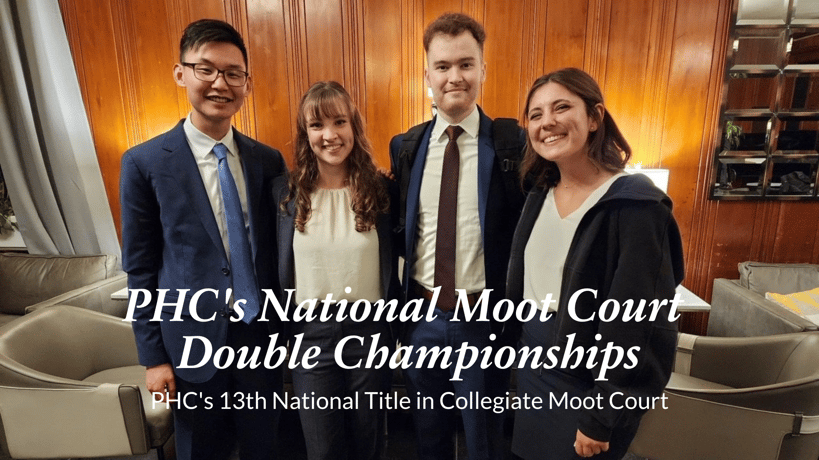 [Left to right: Brief Writing Champions Calvin Huh and Hope Turner and
Oral Advocacy Champions Isaac Bock and Hope Rawlson]
On Sunday, January 15, 2023, PHC's Moot Court teams won both of the championships at the AMCA National Tournament in Baton Rouge, Louisiana. PHC won its 13th national Oral Advocacy championship with Hope Rawlson and Isaac Bock taking 1st place in National Oral Advocacy. Additionally, PHC's Hope Turner and Calvin Huh earned 1st place in Brief Writing. Three PHC teams placed among the top eight in the nation. PHC speakers also won seven of the top 25 speaker awards.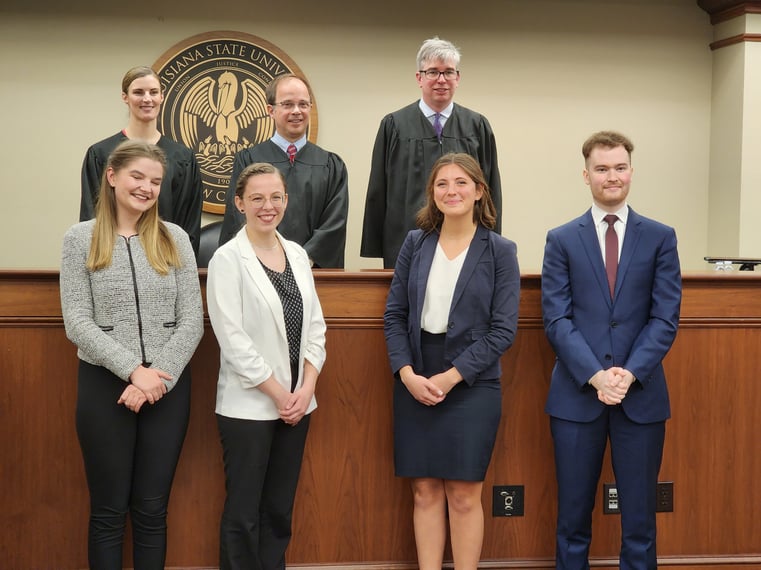 [Left to right: U. Texas, Dallas Oral Advocacy Runners-Up Paulina Hruskoci & Olivia Cooper, Oral Advocacy Champions Hope Rawlson and Isaac Bock]
PHC Moot Court Head Coach, Peter K., says, "Hope and Isaac went 19-1-1 at Nationals (90.5%), after going 18-0 (100%) at their Regional tournament. I don't have data for every PHC team that ever won the title, but I am fairly confident their final ballot score of 40-1-1 (95.24%) is one of the three greatest single-season records ever (for any school), if not the greatest."
This 2023 win marks Patrick Henry College's 13th Oral Advocacy title in 18 years (2005-2023). California State, Long Beach, with two titles since 2003, is the only other school to have claimed more than one title. In all, PHC boasts 12 consecutive appearances in the final round (2008-2019). In addition, including this season, PHC has won 9 Brief Writing Championships since the start of AMCA records in 2011.
Competition this year was high across the board. Eighty teams from 35 institutions (including Yale, University of Chicago, Duke, Liberty, Maryland, Cal State Long Beach, and UC Santa Barbara) competed in the event. Eight is the maximum number of teams that a college can send to the national tournament. Impressively, all eight PHC teams advanced to the elimination rounds—the only college in the competition to do so—based on their excellent preliminary round results. A total of nine PHC teams (8 competing, 1 alternate) and five coaches traveled to Baton Rouge.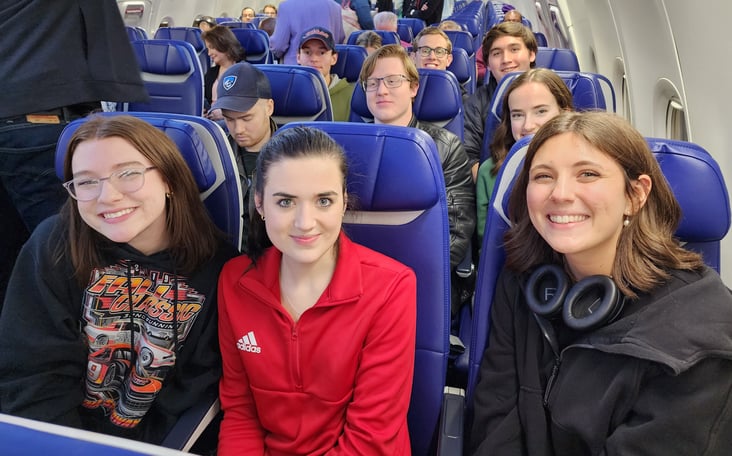 [Photo: Traveling to Louisiana for the National Tournament]
In addition to champions Rawlson / Bock (1st place), two other teams advanced to the quarterfinal round for Oral Advocacy: Lauren Rule and Caleb Knox (5th place), and Hope Turner and Calvin Huh (8th place). Andrew Bleiler and Isaac Winnes advanced to the top 16 (11th place), and Olivia Green and Allyn Sims advanced to the Round of 32 (24th place).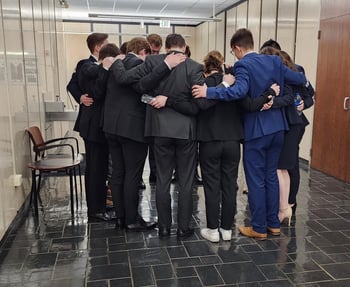 Congratulations to these teams as well as to our other advancing teams: Riley Anderson and Noah Johnson, Trinity Klomparens and Calvin Klomparens, and Sarah Fox and Finneas Buck.
More than 190 briefs were submitted to the Brief Writing competition. In addition, to champions Turner / Huh (1st place), Sarah Fox and Finneas Buck earned 10th place for their Petitioner Brief.
In addition, seven PHC students earned individual recognition as Outstanding Orators: Noah Johnson (3rd), Riley Anderson (9th), Trinity Klomparens and Caleb Knox (tied for 18th), Isaac Winnes (21st), Finneas Buck (24th), and Allyn Sims (25th). 160 students were in competition for the individual orator awards, which were based on individual scores during the 3 preliminary rounds. Awards were given to the top 25 scores.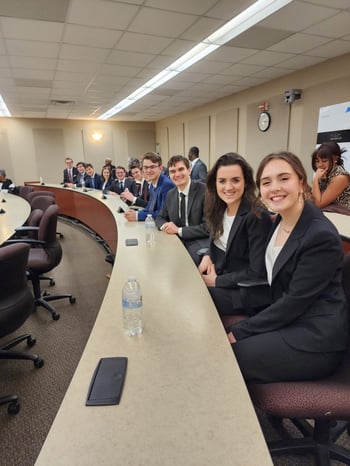 Congratulations are also due to PHC's outstanding forensics coaching staff led by Peter Kamakawiwoole and Forensics Program Director Susan H. Johnson, aided by assistant coaches Logan Spena, Tyler Dunning, James Dunning, and Cole Reynolds.
PHC alums Chris Baldacci, Kyle and Marina Ziemnick, Shane and Ashlyn Roberts, Will Glaser, Caleb Jones, Caleb Dalton, Daniel Thetford, Thomas Doan, Jenna Lorence, and Jason Long also helped our teams prepare during PHC's annual "Nationals Boot Camp" on the weekend before nationals, as did PHC Adjunct Professor (and head debate coach) Ryan McDonald. Chancellor Emeritus Michael Farris also worked extensively with Hope Rawlson and Isaac Bock during the season.
PHC sent 20 teams to regionals in the 2022-2023 season. Every team won at least half of their ballots (the criterion to advance to elimination rounds at nationals), which is the second straight season that PHC has accomplished that feat. Approximately 500 teams from across the country then competed for bids to the National championships. PHC qualified 12 of its teams for Nationals, and 8 PHC teams comprised the final field of 80 teams competing at the National Championships.
Director Johnson is proud of how Patrick Henry's Moot Court teams worked together this season. "This year's contingent was exceptionally well prepared, talented, determined, and cohesive. They truly worked as a unified team, supporting, encouraging, and sharpening each other at every step of the way in their preparations and during the competition itself."
"It was clear that they had a deep desire to serve as humble stewards of the opportunity they had been given to represent the Lord and the college, and it was a tremendous encouragement to see how they pulled together to work hard, have fun, and uplift each other throughout the weekend."
Due to the rigorous legal analysis that it requires, Moot Court has been called by some "the single most beneficial experience for anyone contemplating law school." Moot Court provides an outstanding opportunity for students to experience the practice of Constitutional Law firsthand, and Patrick Henry College has once again proven itself the best in the nation.
-----
-----
Our goal is to educate young men and women to lead the nation and shape the culture for Christ. Explore what sets PHC apart by clicking the button below.