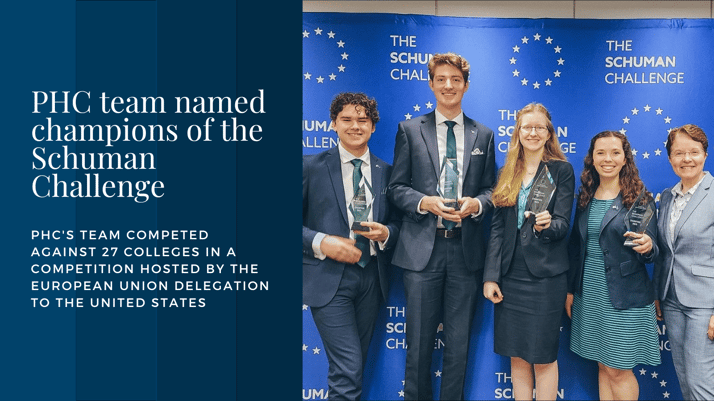 On March 30-31, four Patrick Henry College students competed for the title of Champions in a prestigious academic competition hosted by the Delegation of the European Union to the United States of America. The Schuman Challenge is an annual competition that invites teams of 3-4 undergraduate students to respond to a topic impacting transatlantic relations and present before a panel of judges.
Students Nicholas Storz, Julianne Kidd, Rachel Greenlee, and Gage Neudigate represented PHC at the Schuman Challenge in Washington D.C. Representing a total of 16 states, twenty-seven colleges across the U.S. (including Columbia University and University of Texas at Austin, who placed second and third, respectively) competed for the Championship title. After careful deliberation by the judges' panel, the PHC team was announced as the Champions!
On Thursday, each team had 10 minutes to present a proposal addressing the topic: How should the EU and the U.S. tackle the global security implications of climate change? This was followed by 10 minutes of Q&A from an esteemed panel of judges including ambassadors from EU countries and subject-matter experts in the U.S. Three teams were announced as finalists Friday morning—PHC, Columbia University, and the University of Texas at Austin.
Each team immediately presented their proposals before an equally-exceptional panel of judges: EU Ambassador to the United States Stavros Lambrinidis; Deputy Director of the Center for Climate and Security Tom Ellison; and Head of the Global Issues and Innovation Section at the EU Delegation Mercedes Garcia Perez. The judges then privately discussed the presentations and came to agreement on the final placement of each team.
The PHC team argued for a joint initiative by the U.S. and EU to develop, manufacture, and utilize Small Modular Reactors (SMRs) to reduce dependence on carbon sources (coal and liquid natural gas from Russia), minimize dependence on rare earths from China (used in renewable energy sources), and provide easily manufactured and transported power generators not only to the EU and U.S. but also to third world countries. By these means, the use of SMRs could provide clean energy, reduce dependency on bad actors, and enable even third world countries to be more self-sufficient, thereby promoting social stability.
As part of the competition, participants mingle with like-minded peers and engage with brilliant minds in the world of international affairs, including the EU Ambassador to the United States. There are also opportunities for professional development and networking with EU policy officials, alums of graduate programs in international relations, and mentoring sessions on careers in foreign policy.
In 2018, three PHC students earned a top-four spot and an honorable mention award at the second annual Schuman Challenge. In 2022, another team of three PHC students earned fourth place, just barely missing the cut for finals by 0.4 points.
This was an exciting first win for PHC and an amazing opportunity to present and defend transatlantic policy recommendations to an esteemed panel of foreign policy experts. Congrats to the coaching staff and the student champions!