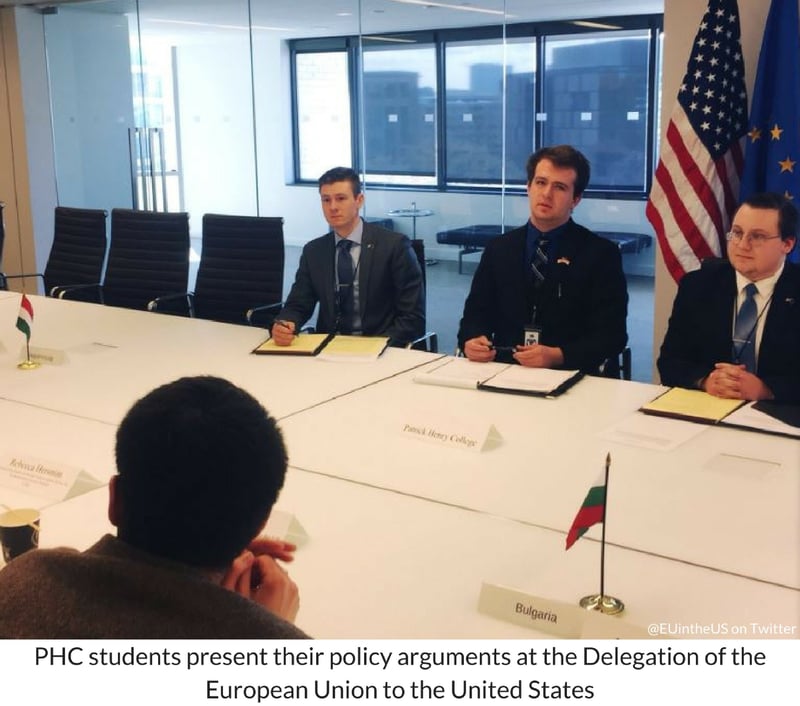 Patrick Henry College debated at the Delegation of the European Union to the United States in the District of Columbia on March 25, and PHC's team earned a top-four spot and honorable mention award at the second annual Schuman Challenge.
The Challenge invited 10 undergraduate schools, including Johns Hopkins University and American University, to compete to present policy positions in the most effective way possible.
Their assignment? The teams were tasked with "presenting and defending concrete initiatives and measures for transatlantic cooperation to ensure a lasting diminution of tensions in the Korean peninsula."
Sophomore Blake Toman, junior Andrew Bambrick, and senior David Poythress represented PHC. In the weeks before the Challenge, they put in hours of independent background research.
The team decided on the policy change that they would present to a panel of judges, which included the Deputy-Head of the EU Delegation to the U.S. and other high-ranking officials.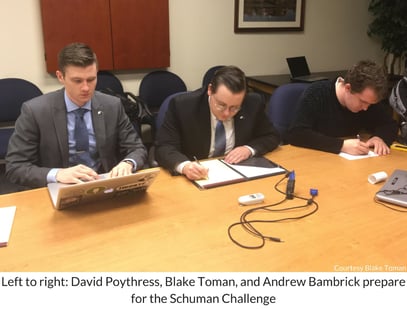 "We would reinstitute the sixth-party talks framework, first established in 1994, and add the EU as a seventh member to increase diplomatic ties between the EU and the United States and to further transatlantic cooperation," Toman said.
Their final presentation was split between each team member. Poythress opened, Bambrick followed, and Toman closed out the presentation.
This was the second year that both Toman and Poythress participated in the Challenge. Toman plans to apply for the communications internship that the EU Embassy offers and hopes that by participating in this challenge, he now has a foot in the door.
"It's always a great opportunity to go to the European Union's Embassy," Toman said. "Not only is the topic interesting, but the opportunity to present in front of a panel of diplomats from either the EU Embassy or experts in the field seemed like a great opportunity."
Through PHC, Bambrick has participated in British Parliament tournaments, which are more spontaneous than the Schuman Challenge. He appreciated that he had time in advance to prepare for the competition, and he enjoyed smoothing out ideas for their policy change with his teammates. He valued the opportunity that the Schuman Challenge gave contestants to pitch their policy ideas directly to diplomats and knowledgeable people in positions of authority.
"The real test for speaking to high-ranking political individuals is actually doing it," Bambrick said. "I think that this competition has given me more of the confidence to actually know that I can speak to these high-ranking people and has also given me a feel for, in most cases, what the environment's going to be when you're discussing policy."
----------------
This story was originally published in PHC's student newspaper, The Herald. To learn more about PHC's emphasis on teaching students to communicate effectively, click the button below!