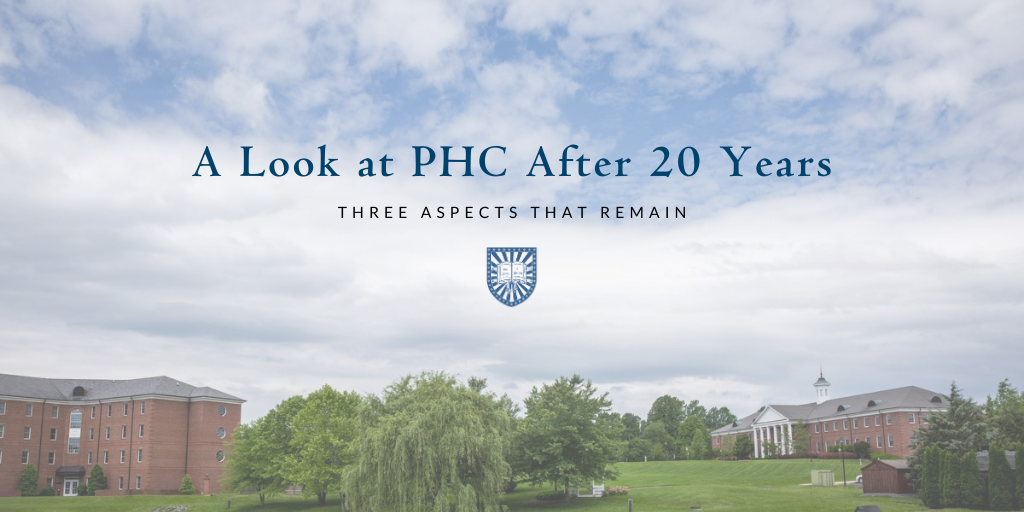 PHC looks forward to celebrating its 20th Anniversary this year as the school reflects on where it has been in the last two decades. Many things have changed since PHC opened its small one-building campus in 2000. The school has grown in size, changed in leadership, established a track record of forensic success, and expanded its core curriculum.
Still, PHC's mission to educate Christian men and women to be culture-changing leaders has remained. The school continues its dedication to uniting faith and reason through biblical principles and academic rigor. In addition, some foundational parts of the school have been around since its beginning and remain today. Here are three cornerstones of PHC that haven't changed...
Originally founded in 2002, the student-led drama troupe is PHC's longest standing campus club. Our Town, performed in November 2002, was the first play Eden Troupe produced. They hosted the play in Town Hall (PHC's chapel) and began a long tradition of putting on at least one play every semester.
The drama troupe has performed Shakespeare classics such as As You Like It, Macbeth, A Winter's Tale, and Much Ado About Nothing, to name a few. The Oscar Wilde classics have graced the stage: An Ideal Husband and The Importance of Being Earnest. The troupe has also done musicals such as Little Women, Peter Pan: The Musical, Fiddler on the Roof, and Frankenstein.
The troupe is run by a student-appointed board who manage shows, venues, and finances. The club was originally created to bring the beauty of God's glory to the stage. In a sense, to bring back the garden of Eden to a fallen world through compelling stories that convey truth and meaning.
The club is proud to remain a prominent feature of campus life to this day and hopes to continue to grow.
Bobtism
Lake Bob, PHC's beloved retention pond, has been a significant feature of PHC's landscape since the school was founded. Original faculty member and Professor of Literature Dr. Steve Hake began hosting events centered around the lake. The annual "Bobfest" was a day where students could bring out their paddle boards, kayaks, canoes, and even a zipline to enjoy time in the water.
While the last Bobfest was in 2013, another Lake Bob tradition still remains today: Bobtisms. The tradition goes that when a young man gets engaged, his friends carry him to the flagpole, pray for him and his fiance, carry him down the hill, and throw him in the lake. This practice dates back to 2001 and remains today as a fun aspect of campus life.
Moot Court
When the school was only a few months old, Chancellor Emeritus Michael Farris sent a team of students to a moot court tournament with little coaching and preparation. They enjoyed the activity and found that it fostered communication skills and a deeper knowledge of law, so Farris decided to start building a forensics program from the ground up. Since then, PHC has been dedicated to forensic excellence.
[Read An Oral History of PHC's First Moot Court National Championship.]
The school saw its first major forensic success in 2004 when it beat Oxford at a tournament hosted in London. This triumph was soon followed by PHC's fist national championship win in 2005 with Peter Kamakawiwoole and his partner Sarah Wilson.
Dr. Frank Guliuzza joined Farris as moot court co-coach in 2008, and PHC has since enjoyed a history of moot court domination. When Farris left his coaching position in 2017, Guliuzza continued as head coach for both moot court and mock trial until his passing in 2019.
The forensics department has changed in the past year. We now have several teams of coaches working under Forensics Director Sue Johnson. Though the program looks different, we are still dedicated to success.
Kamakawiwoole is currently head coach of PHC's moot court team and is excited to carry the tradition of moot court success to a new level. Most recently, PHC competed in the American Moot Court Association National Brief Writing Competition for the first time. Emma Shipe and Jacob Smith took top honors, forging a path to success in yet another aspect of moot court.
The future is bright for PHC as it anticipates the years to come. We are excited to move boldly forward as we seek to grow our programs, student body, campus, and further our mission to change culture for Christ.
______
Want to learn more about academics at PHC? Click here...