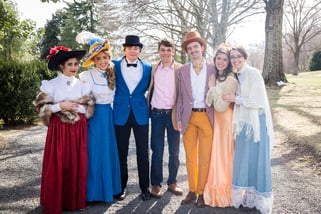 As PHC's drama program, Eden Troupe strives to present thought-provoking and amusing plays for the glory of Christ. Eden Troupe performs productions every semester for fellow students along with the local community and directs productions according to the club's goal of portraying truth and beauty through the classical art of theatre. Eden Troupe selects plays and musicals according to their entertainment and instructive value. The group produces one or more theatrical productions each semester, which have included:
The Three Musketeers
The Importance of Being Earnest
As You Like It
Fiddler on the Roof
Frankenstein: A New Musical
Much Ado About Nothing
Twelve Angry Men
Leave it to Psmith
Arsenic and Old Lace
Twelfth Night
Peter Pan: The Musical
Henry V
It's A Wonderful Life: The Musical
A Man for All Seasons
Macbeth
Little Women
and many more...
Every production has a message, and Eden Troupe strives to perform plays that keep the audience laughing, gripping their playbooks, or musing over a deeper meaning. Eden Troupe seeks to entertain through humor, irony, facial expressions and comedy.
PHC's oldest club, Eden Troupe has been a completely student-led organization with Dr. Cory Grewell as its faculty sponsor. Eden Troupe has always been dependent on the faithful support of its student body and audience.
For more information or to join, contact the club board through the form below.