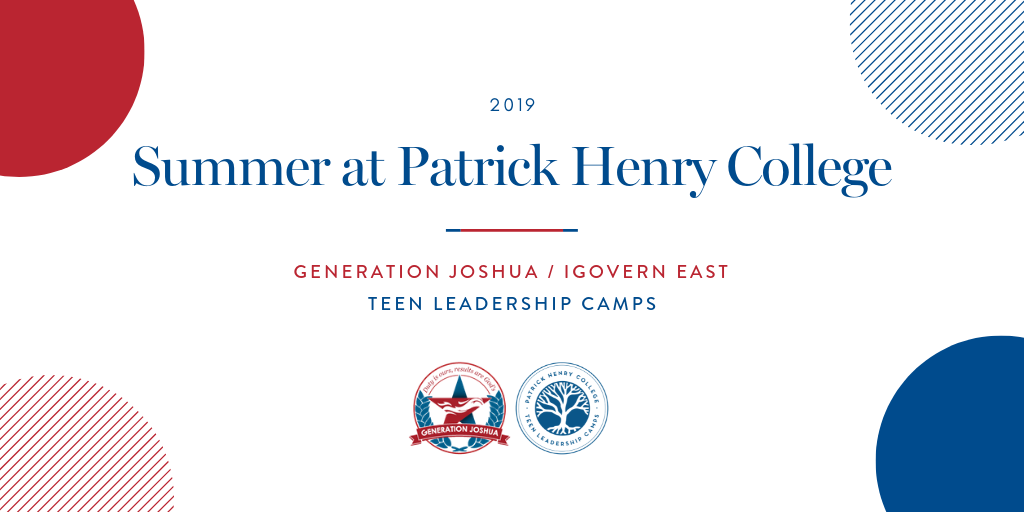 We couldn't be more excited about this upcoming "Summer at Patrick Henry College"!
If you're a Christian teen looking to grow both academically and spiritually this summer (and have fun doing it, too), PHC is the place for you. We've got two separate organization running teen camps this summer: Generation Joshua's iGovern (East) and Patrick Henry College's Teen Leadership Camps. Check out both and see which one might best for you or your child.
Here's how Generation Joshua describes iGovern:
On the beautiful campus of Patrick Henry College, you will learn what leadership means, participate in team games, develop an understanding of Congress, and make your mark in the iGovern experience. You will also get the opportunity to tour Washington DC with your friends, where you will get the chance to see the Lincoln Memorial, the United States Capitol, the Air and Space Museum, the Holocaust Museum, the Smithsonian, and much more.
Generation Joshua's iGovern Summer Leadership Camps are a hands-on, educational experience for students ages 14-19 (14-17 for iGovern East and Statecraft). During the weeklong camps, students take on a role such as a member of Congress, a journalist, or an ambassador from a foreign country and engage in projects such as drafting and passing legislation, reporting on the news of the day, participating in international diplomacy, or even running for President of the United States. All this while learning through an interactive scenario that will challenge them to think through what his or her Christian faith means in our world.
Generation Joshua's iGovern Summer Leadership Camps are the only camps where Christianity, real-world politics, adventure, and fun are brought together in a seamless blend to inspire and challenge your child spiritually, educationally, and physically.
Register before March 1st to receive the Early Bird discount!
This year's camps include:
PHC Teen Leadership Camps distinguishes itself as a camp that challenges and cultivates the mind. While we fully promote a fun-loving environment, we also seek to foster a genuine love of learning. More than giving young adults a wealth of facts to digest, the camps' leadership seeks to equip campers with a Biblical worldview—a strategy for thinking about the culture in a Christ-honoring way. Whether attending Moot Court, Fine Arts, or Leadership & Vocation, campers will not merely increase their knowledge of truth, but will refine their ability to reason Biblically and pursue wisdom.
While we strive to make each camp an educationally-enriching experience, we believe that the most important thing a camper can glean is a stronger love for Jesus Christ. Every morning begins with devotions, where campers will study a book of the Bible under the mentorship of the counselors. Scripture is woven into the daily fabric of camp, with each lecture taught from a Biblical perspective and each evening concluding with either corporate chapel or a group Bible study. Our goal is not only to grow the campers academically and personally, but to increase their knowledge of and passion for the Gospel.
While our camps are academically-rich and spiritually-focused, our camps are not college class crash-courses. Not only do we value the art of learning and emphasize critical-thinking, but we have a robust philosophy of good, plain fun! Whether it is seeing our counselors decked out in crazy outfits for Counselor Clue, exploring the monuments of Washington, D.C., or competing in evening recreation activities, we are ready to include you. Amidst group discussions and team projects, get ready to bond with like-minded friends and experience the beauty of fellowship.
Register before April 1st to receive your $75 off Early Bird discount!
---
We look forward to seeing you this Summer at Patrick Henry College!