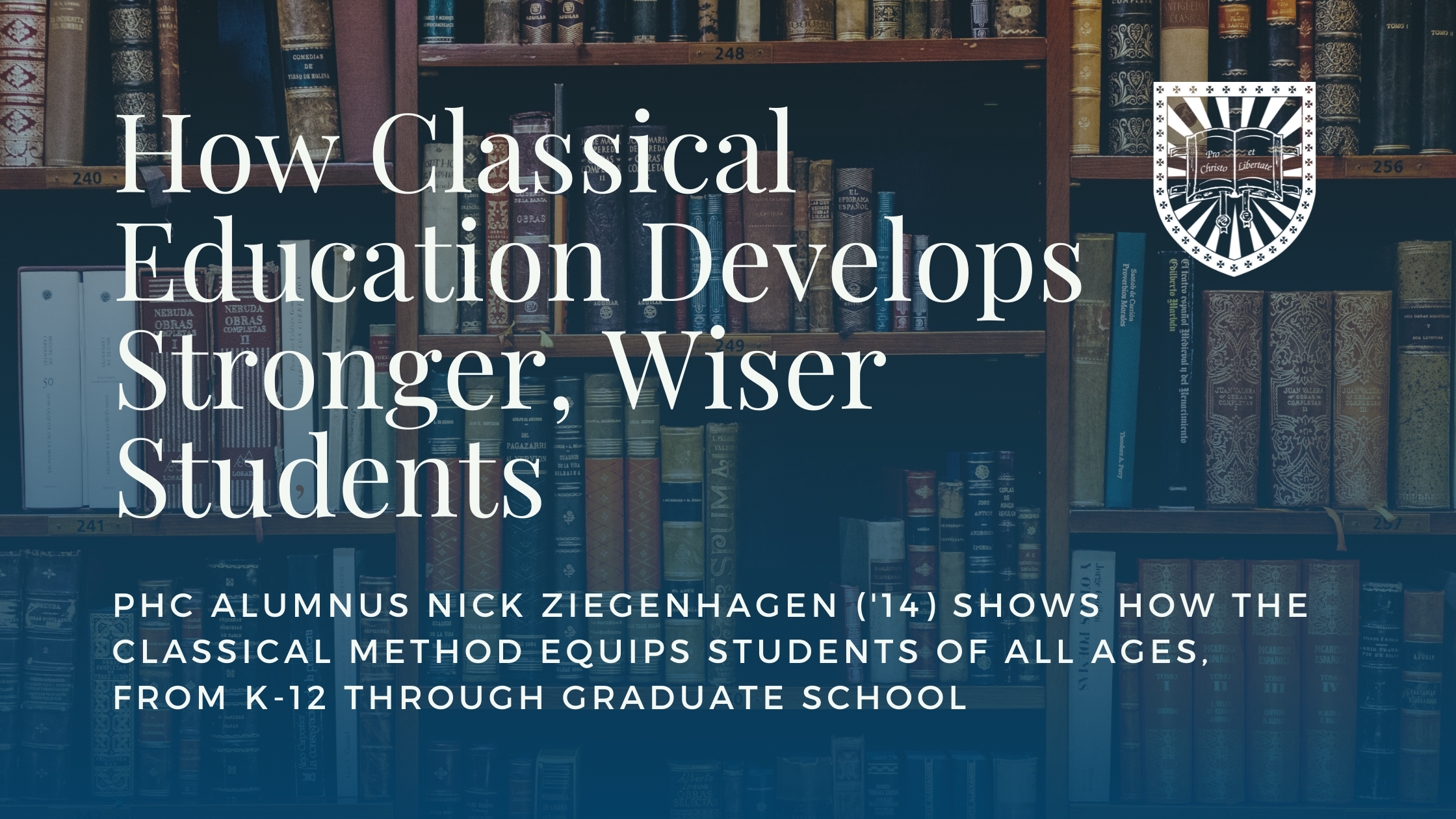 Compared to modern education models, which revolve around standardized testing and memorizing pieces of information, the classical method emphasizes gaining wisdom and growing holistically through discussion and apprenticeship. Patrick Henry College is firmly dedicated to Christian classical liberal arts, alongside a small handful of other schools across the U.S.
PHC alumnus Rev. Nick Ziegenhagen ('14) currently works as the chaplain and academic dean of Good Shepherd Classical School in Tyler, Texas. There, he continues PHC's values by helping students love learning and become well-rounded people. But he wasn't always planning to become a minister.
Nick chose to attend Patrick Henry College because of the Strategic Intelligence (SI) program, highly interested in pursuing a military or intelligence career. When he began taking major classes, however, he quickly realized it wasn't for him.
After one semester in the SI program, while he was working at the campus safety desk, he noticed that his friend and fellow campus safety officer had brought Revolt of the Masses by José Ortega y Gasset to read for Dr. Mitchell's Democracy course. As Nick sifted through it, he thought, it's not fair that people get to be reading this kind of thing. He decided to switch majors to Government: Political Theory.
"I would say that was the best decision I ever made," Nick said. "Political theory itself—I can't imagine better preparation, better formation, than political theory for pastoral work."
The major's reading list and the instruction of Dr. Mitchell and Dr. Bayer laid a solid foundation for his work in ministry. Nick described political theory as practical philosophy paired with theology. "Especially at Patrick Henry," Nick said, "where political theory is always going to be linked in some way to theology because of how serious the Christian commitment is."
After graduation, Nick considered a master's in political theory, but all of his undergraduate papers always had a theological bent. He'd found himself writing less about politics and more about religion and the Christian Church.
When Nick and his wife Sarah ('14) moved to California and he started working at an Anglican church, he realized the great need they had for ministers. He spoke with his bishop about it, who encouraged Nick to attend seminary.
"I realized that there is a need," Nick said. "And I think Patrick Henry did equip me pretty well to meet that need."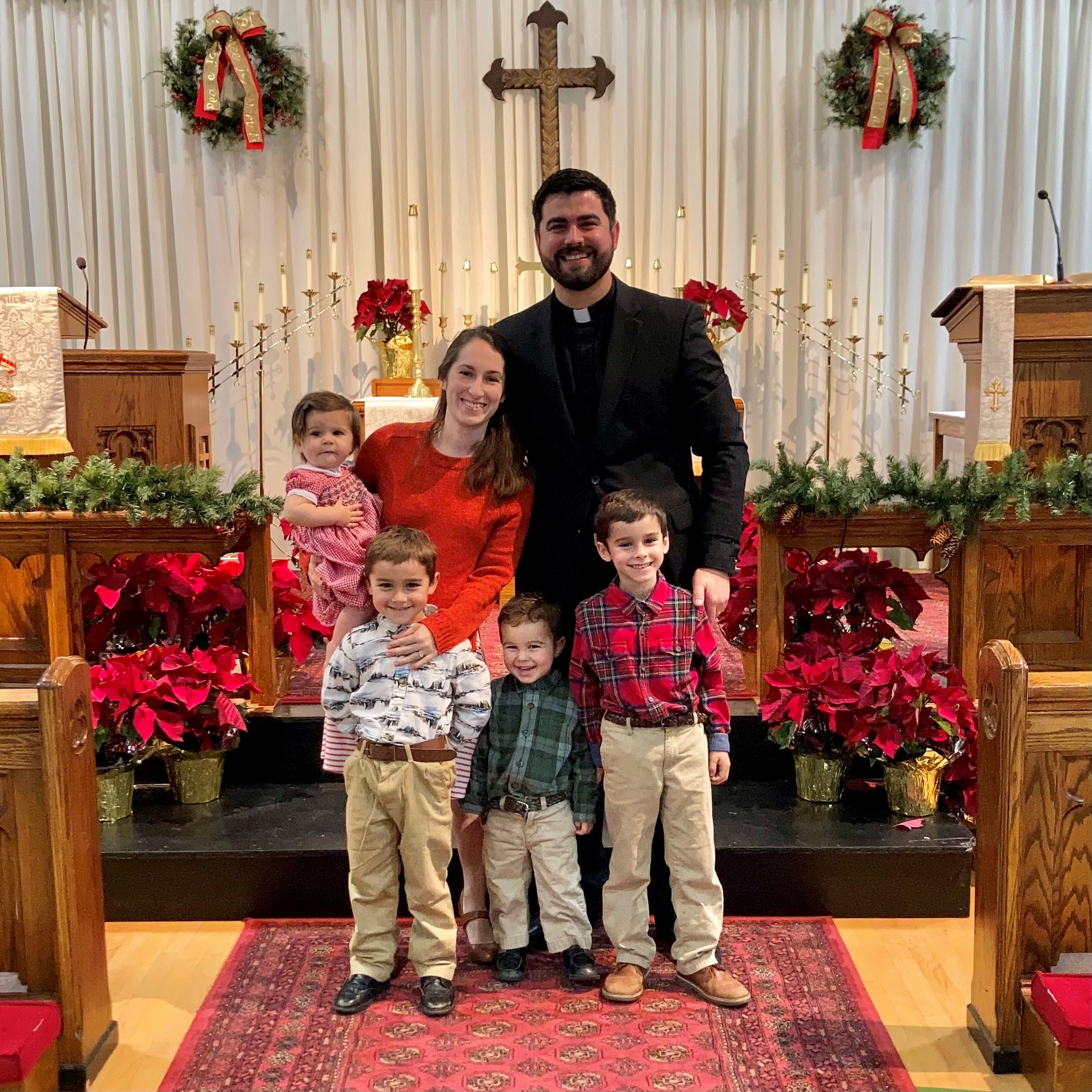 Nick and Sarah Ziegenhagen (Class of 2014) with their four children.
He completed his M.Div. in 2018 and began looking for a place that needed help and could also support himself and his family. That led him to Good Shepherd Reformed Episcopal Church in Tyler, Texas, where he is now Academic Dean and chaplain of the church's classical K-12 school, teaching high school theology, high school Koine Greek, and even boys' physical education.
His time at PHC has paired closely with his work at Good Shepherd Classical School because both schools integrate the Christian classical liberal arts to grow students into self-motivated learners.
"Schools exist so that each succeeding generation may learn to take the place of their fathers," Nick said. "They exist to pass on the torches of truth and virtue. In this, the schools are a binding glue, the bridge between generations. The relationship between the older and younger generations is typified in that of the teacher and the student."
The discussions Nick has with his high school students reflect his PHC political theory classes as they sit down and discuss the assigned texts.
"We would even go so far as to say that the mark of a good student is not necessarily the grades that they receive," Nick said. "That might be the mark of a naturally smarter student, or a maybe more hardworking student, but those are secondary to the main goal. A good student is somebody who is naturally curious about learning."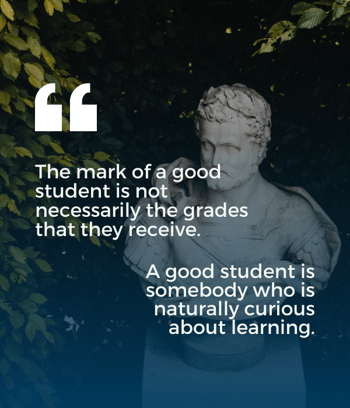 Similarly, apprenticeship teaches students to gain wisdom and skill through a mentor-apprentice relationship, where students and teachers have a shared enthusiasm about subjects they explore.
"When I think about my own education and why Patrick Henry College was so successful in my life—and why I was able to go and do what I wanted to do—it's because Dr. Mitchell rubbed off on me," Nick said. "I learned how to love reading. I learned how to take seriously these kinds of questions because he did that. It wasn't just the books themselves that did all the educating."
In the process of reading classic texts and holding deep, serious discussions about all parts of life, Nick has found that students step out of Good Shepherd as young people who are, as he says, "old."
"What that means is basically children who are not juvenile, not uprooted and confused. They have a much clearer idea of what it means to worship God and give yourself to Him in this life, as well as what it means to have a meaningful life," Nick said.
"We have this false idea of a separate category of youth. We think children and teens have a separate telos than adults do," Nick said. In reality, young people need to be taught to think deeply and make decisions from an early age.
"The kinds of students I get to be around all the time are ones who have a mature vision for their lives already. They're leaving here and they're not duped by the lies of the culture," Nick said.
Instead, they look for truth and virtue, goodness and beauty. "[The student] sees the counterfeits everywhere on offer as unconvincing and undesirable alternatives for the good life he lives."
Good Shepherd Classical School is now 42 years old. The church has been operating the parochial school and spearheaded a movement for Anglican schools in the church denomination.
"A classical education—or at least, the label 'classical'—at our school is secondary to the idea of an integrated way of educating children. The school and the church are working together in harmony."