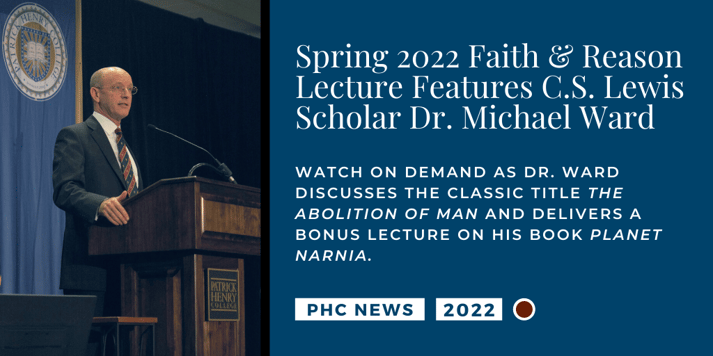 Each semester, the Patrick Henry College community comes together as a learning community for the Faith & Reason lecture. This is a unique PHC tradition that allows students, faculty, and staff to consider important insights in Christian scholarship. This spring, Patrick Henry College welcomed C.S. Lewis scholar, Dr. Michael Ward.
Dr. Ward's Friday lecture examined C.S. Lewis's classic work, The Abolition of Man. Lewis described it as "almost my favourite among my books." It is a purely philosophical argument, not a work of explicit Christian apologetics. Dr. Ward investigated why Lewis chose to write in this non-theological fashion and how The Abolition of Man is compatible with Christian faith.
Dr. Ward studied English at Oxford, theology at Cambridge, and has a doctorate in Divinity from St. Andrews. A member of the Faculty of Theology and Religion at Oxford, he is also professor of apologetics at Houston Baptist University. He is the author of the best-selling and award-winning Planet Narnia: The Seven Heavens in the Imagination of C.S. Lewis (Oxford University Press) and co-editor of The Cambridge Companion to C.S. Lewis (Cambridge University Press). On the fiftieth anniversary of Lewis's death, Dr. Ward unveiled a permanent national memorial to him in Poets' Corner, Westminster Abbey, London.

Dr. Ward works occasionally in film and television. He presented the BBC documentary The Narnia Code, played the part of Vicar in the C.S. Lewis biopic The Most Reluctant Convert, and handed a pair of x-ray spectacles to Agent 007 in the James Bond movie The World Is Not Enough.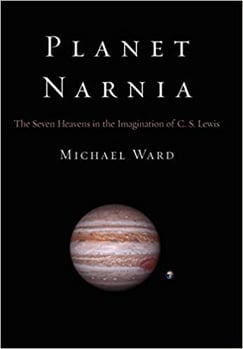 Dr. Ward gave a preliminary lecture on Thursday evening in the Barbara Hodel Center (BHC) gymnasium, where he discussed his highly acclaimed book Planet Narnia, which argues that the interpretive key to the Narnia books is the seven planets of medieval cosmology. After his argument, readers view The Chronicles of Narnia in an entirely new way.
Like with every semester, Friday's lecture was a daylong event for which all classes were dismissed. Following the lecture, each dormitory wing gathered together for lunch and a special breakout session to discuss the lecture. Each breakout group formulated 1-2 questions that were presented to Dr. Ward during the afternoon general session. This session also included a panel discussion where PHC faculty members Dr. Mark Mitchell, Dr. Cory Grewell, Dr. Roberta Bayer, and Dr. Graedon Zorzi responded to his argument.
-----
-----
Watch Dr. Darrel Cox's Faith & Reason lecture from Fall 2021, titled "Character: The Necessary Foundation of Calling."