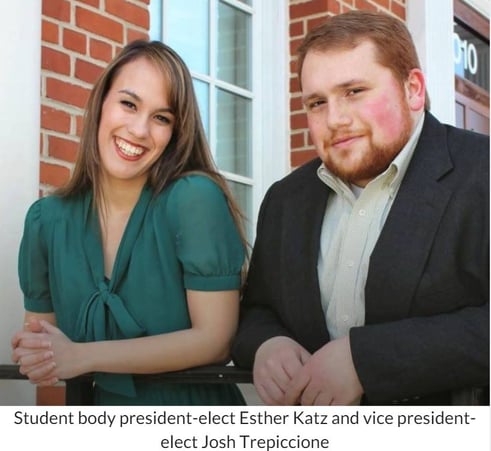 Juniors Esther Katz and Josh Trepiccione have become the next student body president and vice president of Patrick Henry College.
They faced junior Olivia Bowers and her running mate Kara Brown, also a junior, in the presidential election on April 17.
Both Katz and Trepiccione have worked hard in both their academic lives as well as in their roles as student senators during their time so far at PHC. Katz is a Florida native studying International Politics & Policy, while Trepiccione is a New Jersey native studying History. Both president-elect and VP-elect said they appreciated how civil the whole election process was this year.
[Related Post: 5 Tips for Succeeding in Student Council Elections]
"I was really encouraged by the support from the student body on both sides, especially how gracious and supportive the other ticket was of us," Katz said. "Policies really were the primary focus of this election… rather than the person taking the office."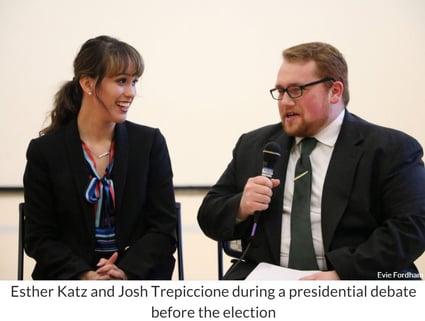 Katz and Trepiccione are excited to get started on some of their policies and ideas before summer, Katz said, so that they "can come back swinging" in the fall. She realizes that her role is to be an ambassador for the student body and plans to be "active and present" wherever she may find herself on campus.
Throughout their campaign, Katz and Trepiccione talked to various people about what their slogan "Expanding the Ethos" meant. Many of the replies they received involved the idea of community.
"Ethos is very community-based," Katz said.
[Related post: Read about Katz's exciting internship on Capitol Hill!]
They plan to move forward in their new leadership roles with a focus on living out their slogan and helping the community at PHC.
"[Community is] imperfect people, living together, striving for excellence," Trepiccione said.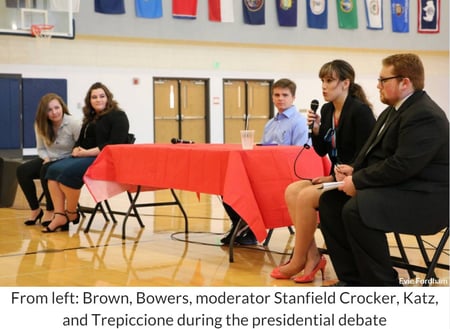 "And bathed in grace!" Katz added. She pointed out that it is important to remember that extending grace is an essential part of living in community with
"We're super happy for Esther and Josh," Bowers said. "I know Josh and Esther will continue to walk in the compassion, attentiveness, and intentionality that they already do."
Reporting courtesy of PHC's student newspaper The Herald.
-----------
PHC's Government students especially love the practice and insight they gain from student government. Learn more about the Government major here...