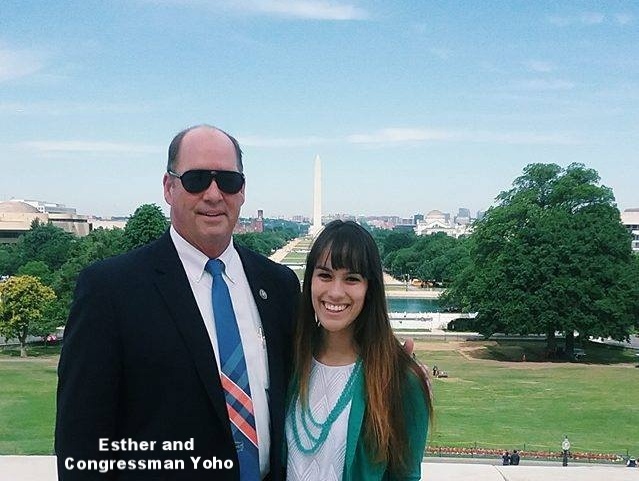 The most exciting day of Esther Katz's congressional internship on Capitol Hill was probably the day she ate a five-course lunch in the same room as President Donald Trump and Senator Ted Cruz. But with meeting ambassadors, attending congressional hearings, and getting a VIP-access tour of the Capitol, pretty much every day of her college internship was a highlight.
Esther interned in the D.C. office of Congressman Ted Yoho, who represents her home district (Ocala, Florida).
She's a junior International Politics & Policy major who wants to focus on Middle East policy. She was especially eager to work for Congressman Yoho, chairman of the Asia and the Pacific foreign affairs subcommittee.
"I'm drawn to policy concerning the Middle East, specifically women's rights," Esther said. "Foreign affairs did come into play when we would have ambassadors arrive … It was really awesome to meet them."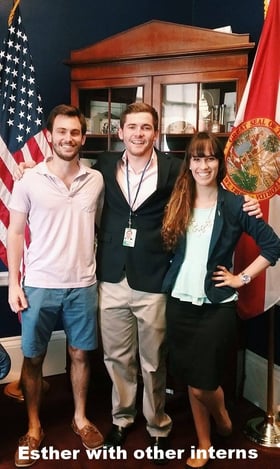 She met ambassadors from both Taiwan and South Korea while in the office. But much of the time she was out of the office, running to hearings and briefings in the multi-building Capitol Complex. Esther's job included taking notes at the meetings and writing up memos for the congressman's staffers.
"There are all different kinds of topics," she said, "and you would, as an intern, have to be flexible and be open to whatever the staffer wanted you to do."
Esther's other tasks included writing form letters about issues like the Second Amendment and North Korea, giving tours of the Capitol to constituents, and occasionally cleaning out the office refrigerator. For many other interns, answering the office phones is the most important task they are allowed to do. But Esther made it a point to challenge herself.
"You have to take initiative and be proactive," she said. "You can sit in the office and just do the stuff that they give you, or you can look at the schedule, look at all the briefings, and say, 'Hey? Can I get notes for you on this topic that interests me? Would it help you?' And [the staffers] say, 'Yeah! That would be great!'... Then you get a better experience."
Esther was lucky enough to find a Bible study group of staffers and interns that met on the Hill. Her supervisor gave her the time off so that she could attend, and the group went through the book of Ruth in six weeks.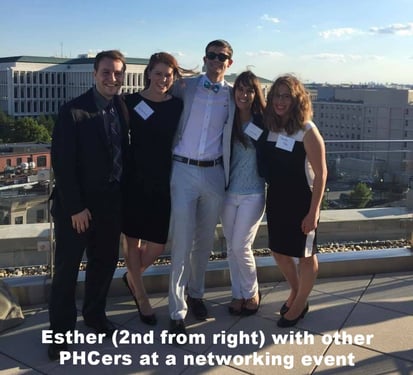 "My favorite part of the whole internship, aside from the academic, professional side of it, was being able to literally be in the world and not of the world, working with people who don't believe the same you do," Esther said. "You have to find common ground, build relationships, and take opportunities to witness and share your faith when it's appropriate."
Now she's back at school in Purcellville, taking classes. She's brought the lessons she learned during her House of Representatives internship back with her to college as she considers future career paths.
"Next step would be working with a think tank next summer, rather than policy," Esther said. "I did learn a lot and loved it, but I want to go one layer back in the process—to the brain behind the policy where you're researching and you're philosophizing and learning history."
-------------------------
We hope this post was interesting to you! Click below to find out why internships are one of the keys to PHC students' success.