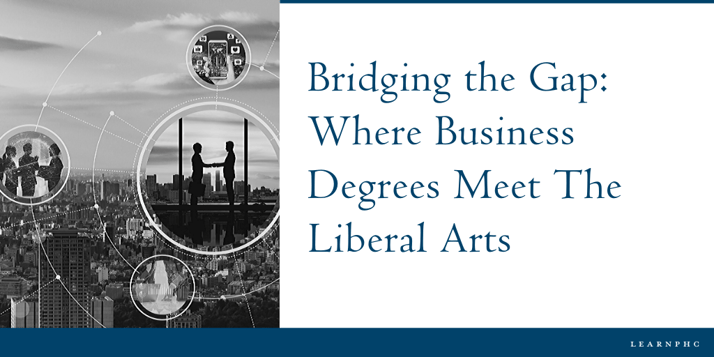 Dean of Academic Affairs Dr. Mark Mitchell shared a Washington Post article titled "The world's top economists just made the case for why we still need English majors" with students this week. Read for more information on what many of today's STEM majors are missing.
Research pronounces an unfavorable future for American undergraduate business programs.
Not only are these programs failing to produce qualified business executives, they also fail to equip students with the basic tools to successfully navigate the business world — at most positions higher than mid-level management. (View infographic at the bottom of the page for more details)
The future of business, according to these studies, must be rooted in a deep appreciation and understanding of the liberal arts.
TIME wrote the following in late 2016:
"But even as the liberal arts draw increasing skepticism, surveys find that employers hold in high esteem precisely those skills associated with a liberal arts education —critical thinking, communications, and problem-solving. Fully 93% of employers agreed that a job candidate's aptitude in these areas was more important than his or her undergraduate major, and 80% believed that students needed to cultivate 'broad knowledge in liberal arts and sciences.'"
Liberal arts degrees have indeed received a substantial measure of criticism, TIME noted. Skeptics claim these programs do not equip students with the skills necessary for any practical field of work. And, unfortunately, their claims are largely true.
The studies indicate a deep-seated need in higher education to refocus on the liberal arts as they were historically understood, putting the quality of education ahead of the mere quantity. Before anything else, students must learn exactly how to learn, think, and communicate clearly — all of which are elements central to the classical liberal arts.
Research suggests business programs should broaden their scope, emphasizing

students' ability to think critically, solve complex problems, and make healthy ethical decisions, in line with the liberal arts tradition.
A study performed by the Council for Aid to Education concluded that a stunning 40% of students produced in undergraduate programs are not equipped with "complex reasoning skills" sufficient for the common workplace.
This alternative method implies students should be educated on the very nature, definition, and purpose of business, focusing on the undergirding principles of the field rather than exclusively on situational practices.
In short, the natural solution is a robust business program that invests in history, economics, mathematics, philosophy, logic, language skills, law, science, and more.
According to Forbes, "Higher education is failing to meet the needs of both students and employers, and only a fundamental transformation can put it on the right track."
----
Patrick Henry College seeks to begin that fundamental transformation through its Economics & Business Analytics program. Click below to find out how.