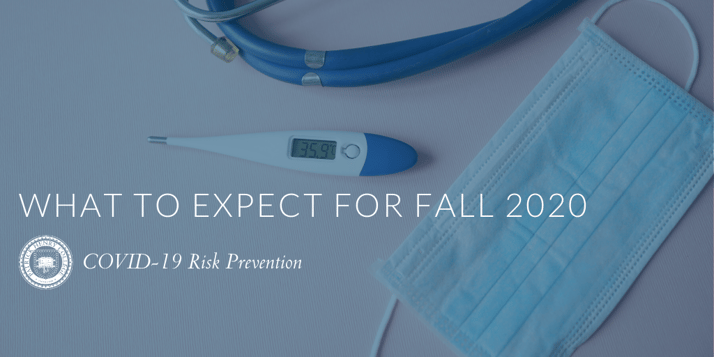 Due to the risks that COVID-19 places on our community, PHC's 2020 Fall semester will be unlike any other the school has experienced. "Hundreds of hours have been invested into developing the COVID-19 Risk Mitigation Plan, and we are convinced that the steps in this plan will contribute to campus health and academic success this fall semester," Vice President of Institutional Effectiveness and Planning Rodney Showalter said.
While there will be differences, PHC will still remain the same in a lot of ways, according to Showalter. It will still be dedicated to a rigorous liberal arts education, have the same faculty, and the same community. "God has clearly been leading us during these days and we trust the minor inconveniences will be worth being on campus together," Executive Vice President Howard Schmidt said.
While navigating these differences, "we are all learning and growing together... we are all striving after similar goals," Showalter said. Here is what to expect this fall and how you can be prepared...
Physical Distancing
"We will need to practice physical distancing all around campus," Dean of Student Affairs Sandra Corbitt said. The Library Study Center, Town Hall, and Templeton board room will be converted to modified classrooms, creating more space between seats to socially distance.
"The first three weeks (of physical distancing) will be the most critical time," Schmidt said. The class sizes will be smaller and seating in the classrooms will be spread out. Students will be able to attend classes in person while staying spaced out to create a healthy and safe environment.
Academic Schedule
To prevent students from bringing the virus back to campus after breaks, the semester schedule has been revised to include no Labor Day Break, October Break, or Fall Break. Instead, students will end the semester in November.
The school is working on ways to adapt to the shorter semester and will release more information soon. "We have an excellent and very understanding faculty," Schmidt said.
Mental Health
"The College is aware of the challenges created by COVID-19 as well as the impact that fewer semester breaks might have on students. While faculty and staff are evaluating methods to increase student support, personal responsibility for routines that promote healthy sleep schedules, exercise, personal hygiene, and effective time management will perhaps become more important this semester," Showalter said.
To promote mental health and a supportive environment, the school has contracted with local professional counselors Christopher Doyle and Tracy Carter to provide on-campus counseling for students. Students can make appointments free of charge through email: Christopher Doyle, cjdoyle@phc.edu; Tracy Carter, tbcarter@phc.edu.
Check-In Process
"We are really excited to meet the incoming class in Fall 2020 and eager to welcome continuing students back to campus," Showalter said.
As described in the COVID-19 Risk Mitigation Plan, students and their guests will have their temperature taken before proceeding to check-in, those who have a fever of 100.4°F or higher and/or experience flu-like symptoms in the previous two weeks will not be permitted to continue through check-in. And like previous semesters, the check-in process is mandatory.
Classes
The classrooms will be modified to fit social distancing guidelines. PHC is exploring options for a wide-variety of situations, including supporting students who are required to self-isolate. "While pedogogical methodologies could be impacted in certain scenarios, the faculty are committed to using the full range of their talents to preserve the quality of a PHC education," Showalter said.
Dean of Academic Affairs, Dr. Mark Mitchell, will be releasing more information about academics in the future, according to Corbitt.
Masks
Students are advised to bring masks to school with them. Schmidt said that students should come prepared to wear a mask and be flexible as when situations require it.
Temperature Checks
PHC will have new contactless thermometers to assist in daily temperature checks. Additionally, "a Self-Monitoring Protocol is in place throughout campus, which requires our community to self-isolate when sick or after having been in close contact with those who are ill," according to Showalter.
PHC will be supporting students and faculty when they arrive on campus and throughout the semester to minimize the risk of infection.
Hygiene
"Custodial staff are implementing extra cleaning and disinfection protocols throughout campus, including classrooms, the dinning hall, and exercise facilities," Showalter said. Cleaning supplies will be available in each classroom, according to Corbitt. Students and faculty will be encouraged to clean the classroom after each use.
Sports
It is unclear how PHC's soccer teams will be affected by the new guidelines. "However, the College is seeking to preserve the intercollegiate soccer season," Showalter said. The college is expecting to publish a schedule during the upcoming weeks.
Chapel
"PHC's corporate religious services are essential features of a PHC education and critical in shaping the campus ethos," Showalter said. The school will be changing how such services are normally commenced in order to promote a healthy campus.
The services will take place in the gym with seats physically distanced apart. Students will sit with their wings or "household units" and will sit together in designated areas during chapels and other religious services. At-risk individuals will also have designated seating. Exiting will be coordinated to prevent traffic congestion and the facility will be cleaned after each use.
Events
The restrictions on public gatherings are "constantly changing" in areas outside the school, according to Schmidt. The school will try to keep students gatherings below 50 people with an exception for dining and religious services.
Larger gatherings such as Faith & Reason, and other religious services will meet in the gym in a similar way to corporate chapel.
The status of PHC dances is unclear, as current restrictions do not permit them. "Events will be limited to 50 or less and must practice physical distancing and refrain from physical contact, so therefore, I doubt there will be dances," Corbitt said.
More information about PHC events will be released in the future.
"During this season especially, the PHC community will be defined by the grace we give and receive from one another as we navigate these differences.... we're praying the Lord will lead us in creating a community of grace," Showalter said.
"I am excited to see everyone. I truly miss seeing the students. We have a wonderful student body and our staff and faculty and been planning closely together. We think we will be ready and waiting for everyone's return," Schmidt said.
______
Stay updated on our COVID-19 Fall 2020 plan here...