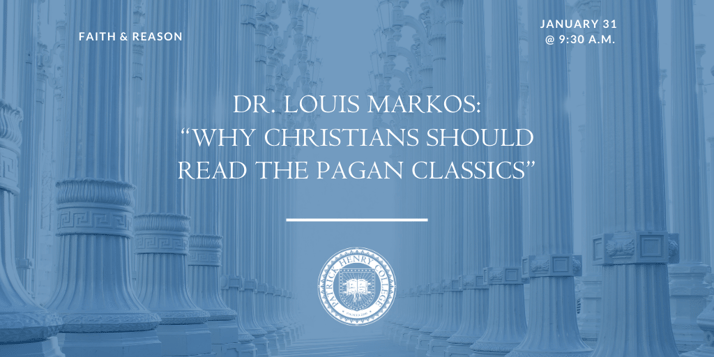 PHC students and faculty will come together on Friday, January 31 for the semesterly Faith and Reason lecture. They'll hear from Dr. Louis Markos a lecture titled "Why Christians Should Read the Pagan Classics," in which Dr. Markos reflects on Christian scholarship.
Dr. Markos is a professor of English and Modern Languages at Houston Baptist University. Dr. Markos graduated with an MA and a PhD in English from the University of Michigan and received his BA in English and History from Colgate University. While at the University of Michigan, he specialized in British Romantic Poetry, Literary Theory, and the Classics. Dr. Markos is an authority on C.S. Lewis and lectures on Ancient Greece and Rome for HBU's Honors College.
"In this talk," Dr. Markos said, "I offer a defense as to why Christians, especially evangelicals, should read closely and even prayerfully the pagan literature of the Greeks and Romans. I argue that Christianity is not the only truth, but the only complete truth, and that fragments of God's Truth can therefore be found in pre-Christian literature that point forward to the coming (and full) revelation of Christ, the Bible, and the Church. I back up these claims by considering the journey of the Magi, Paul's speech at the Areopagus (Acts 17), and Jesus' answer to a group of pagan seekers (John 12)."
Visit phc.edu/webcasts at 9:30am to live-stream the lecture. The Q&A and panel sessions will begin at 1:00pm.