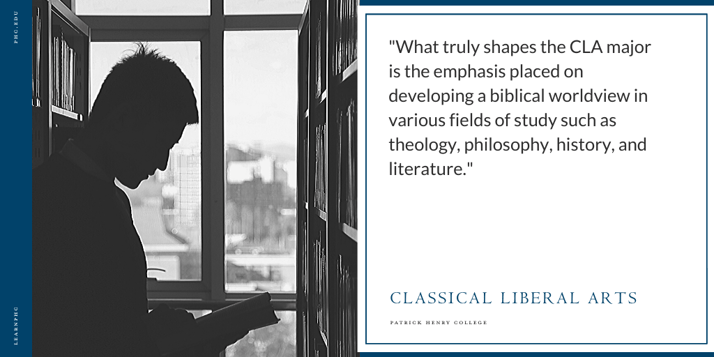 The Classical Liberal Arts major provides students the opportunity to choose from a wide range of elective courses. Students may use these elective credits to complete a minor study or simply to explore whatever courses interest them. What truly shapes the CLA major, however, is the emphasis placed on developing a biblical worldview in various fields of study such as theology, philosophy, history, and literature.
[READ: Why is a Classical Education Important?]
Theology
Patrick Henry College trains its students to think and act in such a way that influences the world's culture for Christ. We do this by promoting a Biblical worldview through coursework. Regardless of their major, each Patrick Henry College student is required to take two semesters of theology and a course in Biblical reasoning. Classical Liberal Arts majors also take at least one upper-level theology course. Understanding the world around us involves understanding where we came from. Inherently, we are reflections of God's nature and as such, we should constantly seek to know Him better.
Philosophy
In addition to the required core philosophy course, CLA majors study one semester of ethics. Not only does this help students understand how to define principles of morality, but it also helps them relate their beliefs to the world in a practical way. Great philosophers spent entire lifetimes trying to explain the origins of moral standards and understand the purpose of living.
History
In Historiography, CLA students explore different worldviews and how those applications influence history. In essence, students explore what it means to study history as a Christian. This not only enables them to understand how today's culture came to be; it also displays how they can best influence the world around them in accordance with Scripture and the spirit of the American founding.
Literature
Just as God created the universe with His words, we can create imaginative worlds with our words. How we interpret words has a direct impact on how we interpret our lives. Literary Theory and Criticism is a CLA course designed to allow students the opportunity to study different worldviews in literature and the implications of their application. Literature provides a means of creating hypothetical worlds in which new ideas, philosophies, or values can be explored.
The CLA major exposes students to a wide array of worldviews with the intent of cultivating an unwavering biblical standing. The high academic rigor at PHC combined with a classical Christian liberal arts education encourages students to live excellently, keeping before them both faith and reason.
______
PHC graduates think clearly, communicate persuasively, and are best equipped to serve Christ faithfully. PHC exists for Christ and for liberty.