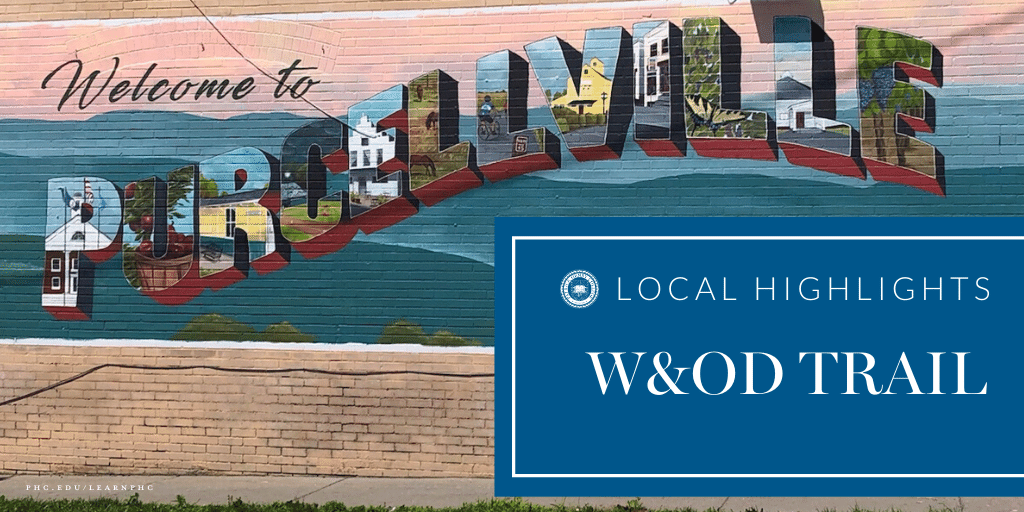 Patrick Henry College is located in Purcellville, VA, 15 miles west of Leesburg and 50 miles west of Washington. Obviously, the nation's capital holds no shortage of events and attractions, but what are young college students to do when they can't make the hour-long trek to D.C.?
Welcome to The Local Highlights, where we let you know what's good around town.
We recommend the Washington and Old Dominion (W&OD) trail for when students want something fun to do that doesn't require spending money. Run by NOVA Parks, this historic train track-turned community trail extends approximately 45 miles from Alexandria to Purcellville.
[Related Posts: Check out our posts on Market Street Coffee, Happy Creek Coffee &Tea, and Petite Lou Lou.]
History
The trail was originally a railroad known as the Alexandria, Loudoun and Hampshire Railroad when it was built in 1847. The route was vital to spreading commerce from Alexandria's seaport on the Potomac River to the communities growing further west. In its original conception, the route was primarily for commercial use.
During the Civil War, the route served as a site for some skirmishes and later helped facilitate the development of Northern Virginia. This was because it made the area accessible and wound through key areas for economic development like Arlington and Leesburg.
The railroad stopped functioning in 1968 and was originally handed to a Virginia power company. In 1974, its management switched to NOVA Parks who opened it up in September of that year as a natural park. In 1988, the Trail's final nine miles were extended to Purcellville, and is now a favorite local attraction for Patrick Henry College students and Purcellville residents.
Convenience
Students wanting to get to downtown Purcellville but don't want to drive can simply walk one block from the school to access the trail that lets off right in the middle of downtown.
The Purcellville Library, weekly Farmer's Market, and other local activities are made accessible to students through the W&OD trail. Some students even use the trail to walk to their church on Sunday.
The trail ends at the historic Purcellville Train Station, which is listed on the National Register of Historic Places by the U.S. National Parks Service. It is also the largest train station in Loudoun County—though now inactive. Students can use the W&OD trail to check-out a fun historical sight right in their backyard.
Use
For students who like to run or bike, the trail provides a wonderful track that extends 2.5 miles in one direction from the college and approximately 42 miles in the other. If students are looking for an adventure, the W&OD trail is definitely the way to go.
The trail is lined with benches and markers for the visitor's convenience. If you simply want a change of scenery or new study-spot, the trail is also a great place to hang out. Other features of the trail are playgrounds, rest stops, picnic tables, equestrian trails, and bike lanes.
---
Learn more about what Patrick Henry College students spend their free time doing here!