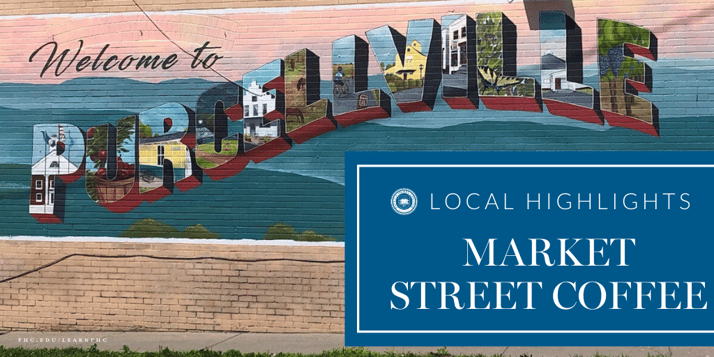 Patrick Henry College is located in Purcellville, VA, 15 miles west of Leesburg and 50 miles west of Washington. Obviously, the nation's capital holds no shortage of events and attractions, but what are young college students to do when they can't make the hour-long trek to D.C.?
Welcome to The Local Highlights, where we let you know what's good around town.
Market street is closer to campus and more affordable than either of the other popular local coffee locales.
[Related Posts: Check out our posts on Happy Creek Coffee & Tea and Petite LouLou.]
You'll never step into the cozy shop without seeing a fellow PHC student or even a few alum. Not only is it the most convenient locally-owned coffee shop to get to, it also stays open the latest: until 10 p.m. on weeknights! It's the last opportunity late-night studiers have to purchase a steaming espresso drink.
While homey, inviting, and an all-around great place to hang out, Market Street does lack the Instagram-ready decor of Happy Creek or Petite LouLou. The walls are a warm red, the lights dim, and the storefront packed with bench seats and chairs. It's the perfect place to hunker down with a book and get some work done on a cold night, but if you're looking for a vogue atmosphere, you'll have to drive a little further down the road.
Aside from the comfy leather seats and the collection of free books, the best part of Market Street is the vast variety available on their menu. If you're hungry, they offer soups, sandwiches, pastries, and gelato. From their drink menu, you can choose the usual espresso and tea options, but they offer seasonal beverages like PSLs and peppermint mochas year round. You can also choose from bubble teas, Italian sodas, or a variety of blended options. The frozen hot chocolate is their signature drink, and it comes in a glass goblet with a pile of whipped cream and a cookie on the side!