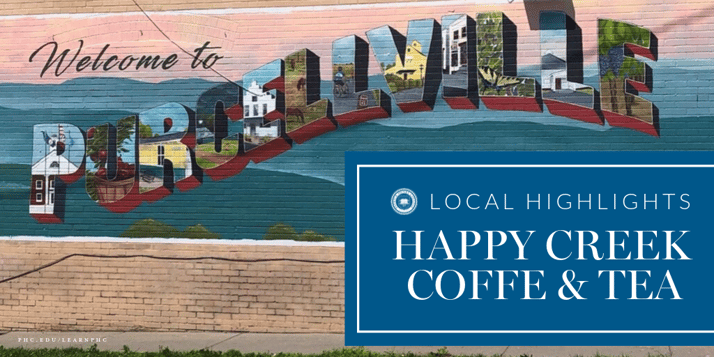 Patrick Henry College is located in Purcellville, VA, 15 miles west of Leesburg and 50 miles west of Washington. Obviously, the nation's capital holds no shortage of events and attractions, but what are young college students to do when they can't make the hour-long trek to D.C.?
Welcome to The Local Highlights, where we let you know what's good around town.
While Purcellville is a town of less than 10,000 people, we're home to a total of seven coffee shops (eight if you count McDonalds).
Starbucks x 2
Dunkin' Donuts
Market Street Coffee
Happy Creek Coffee & Tea
La Petite Lou Lou
Bicycles and Coffee
We'll find time to discuss each of the local shops, but today we wanted to focus on Happy Creek Coffee & Tea. This and Market Street are two of the most popular off-campus study spots for PHC students.
When you first walk into Happy Creek, the first thing that hits you is the light and spacious atmosphere. An abundance of windows allows tons of natural light The seating arrangements aren't cramped, but cozy, with sofas, armchairs, and small tables sprinkled throughout.
The menu offers options for everyone. They are 100% gluten free, so no one with allergies has to worry. Their specialties are pour-over coffee and traditional espresso drinks, but they also offer a wide range of tea, smoothies, and kombucha. From their bakery, you can order a variety of gluten-free baked goods.
Their crisp and trendy aesthetic makes every visit a photo-op. So if you're visiting campus, be sure to stop by Happy Creek!