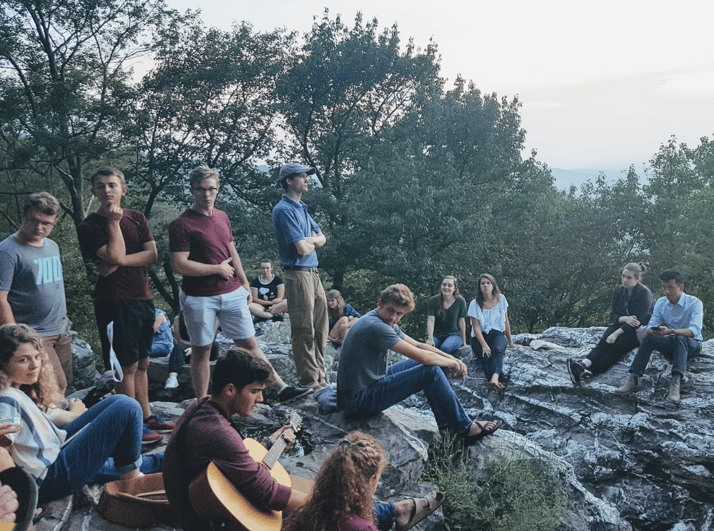 Considering the move to Purcellville, Virginia? Walking out of class on Friday afternoon? Our town and campus are small, but we're just a short distance from mountain peaks, city lights, historic towns, and diverse entertainment. Whether you're city-bound on the Silver Line or headed where only hiking boots can take you, here are just a few of your options in Northern Virginia and beyond.

For the runner...

W&OD Trail


You can easily access the W&OD trail on foot from PHC's campus. 45 miles of beautiful, paved running & biking trail stretch from Purcellville to Washington, DC. If you've ever considered distance running, there's no better time than while you live in Virginia.

Local races




Local 5ks, 10ks, half/full marathons, and everything in between for all seasons are plentiful in Loudoun County and the Washington, DC area.


Potomac River Running


This local running retailer hosts free weekly fun runs at their Leesburg location - a great opportunity to meet other runners and locals.
For those with an appetite...
Local flavors


Here in Purcellville, you can get your daily buzz at Happy Creek (for the coffee connoisseur). Get your small-town diner breakfast on Saturday morning at Purcellville Family Restaurant. And try My Deli & Cafe for carry-out Greek — and a student discount!

Beans in the Belfry


This historic-church-turned-coffeehouse in the nearby railroad town of Brunswick, MD is the perfect place to spend the afternoon with friends, homework, or both.

[Related Post: 5 Local Coffee Shops PHC Students Can't Get Enough Of]

Eastern Market


For those willing to make an early-morning drive into Washington, D.C., a delicious breakfast awaits. Get blueberry buckwheat pancakes at Market Lunch and a latte at Peregrine Espresso. Bonus: Walk right around the corner to Capitol Hill Books. Trust us…

Hill Country BBQ


Reserve a table at Hill Country BBQ (near Verizon Center) for a brisket sandwich, sweet tea, Blue Bell ice cream, and live country music.

We're torn between these two for our favorite burger in Loudoun. Try them both. We also recommend Good Stuff Eatery, with locations on Capitol Hill and in Crystal City (near Reagan airport).
For the arts lover...
Millennium Stage


Every evening at 6PM, musicians of diverse genres perform in the Grand Foyer of the Kennedy Center free of charge.

Franklin Park


Franklin Park Arts Center offers music, dance, and comedy performances just a short drive away.


Shakespeare Theatre Company


Shakespeare Theatre Company offers tickets to stunning productions of Shakespeare and other plays for a discounted price of $25 to theatergoers under 35. Bonus: Every summer, they host a Shakespeare Free-for-All, giving away free tickets to magnificent performances.

Live Music


The DC area attracts every artist and genre imaginable, from sold-out stadium shows to coffeehouses and charity events. Get on the mailing list for venues like 9:30 Club and Jammin' Java to browse DC-area offerings.
For the history buff...
Smithsonian Museums


DC is a museum lover's paradise with a huge selection of free museums and galleries. The Smithsonian museums include Natural History, American History, the American Indian museum, several art galleries, and so much more. Bonus: The National Museum of African American History and Culture opens on September 24, 2016.

Morven Park


This historic mansion in Leesburg offers beautiful grounds to stroll in all seasons. FREE!

Manassas National Battlefield Park




Walk across Civil War battlefields, about 50 minutes from PHC. FREE!

Monuments at night


DC's beautiful monuments and memorials are even better at night. Check out the Washington monument, World War II Memorial, Martin Luther King Memorial, and Lincoln Memorial. FREE!
Just for fun...
Steven F. Udvar-Hazy Center


This museum (just 30 minutes away in Chantilly, VA) is the annex facility of the Air & Space Museum in Washington, DC. Two huge hangars hold thousands of aviation and space artifacts including the space shuttle Discovery.

National Zoo


Parking is pricey but admission is free to one of the world's best zoos.

Topgolf Loudoun


Try your hand at golf in 100+ climate-controlled bays on three floors at the huge TopGolf complex in Ashburn, VA. Golf not your thing? There's plenty of food, games, and entertainment.

Laser Tag


The Zone in Ashburn, VA offers laser tag, bowling, and arcade games.

Jam Cellar


There's a dance party every Tuesday night at Jam Cellar in Washington, DC. Swing dancers of all levels are welcome to the spacious facility with live DJ, dance lessons, and affordable entry price.

Paintball


Check out Hogback Mountain Paintball for some paint-splattered adventures in the wild.
For the day-tripper or weekender...

McAfee Knob




Expect to spend three hours driving each way - but trust us, the view from the McAfee Knob overlook in Catawba, VA is worth the trip. Check out Land of a Thousand Hills Coffeehouse on the way back.

Colonial Williamsburg


A walk through Colonial Williamsburg is like a walk through a Revolutionary War movie. With fifes, drums, historical reenactments, and the beautiful William & Mary campus, it's the perfect place for a history lover to spend a weekend.
For the explorer... (weather permitting)
Harpers Ferry, WV

This historic town includes hiking trails, historic exhibits, and picturesque streets.

Old Rag

This all-day hike, about 2 hours from PHC, is one of Shenandoah National Park's most popular and challenging destinations.

Bears Den

This hikers' hostel is an entry point to the Appalachian Trail, where you can hike as far as your heart desires or simply sit and watch the sunset.
For the localist...
Orchards


Go apple picking in early fall at Crooked Run Orchard, right next to the roundabout in Purcellville.

Farmers, artisans, and foodies sell their goods at the local farmer's market in nearby Leesburg.


Got a Sweet Tooth?

Take a 9-mile trip to Leesburg for Dolce and Ciabatta on the weekends. But come early! They sell out. Staff pick for best area bakery.

Thrifting


Swing by Blue Ridge Hospice and Re-Love It — both off Main Street in Purcellville — for thrifting and consignment. Mark your calendar for Purcellville's annual Town-Wide Tag Sale, usually early November.

Don't know about the largest rummage sale this side of the Mississippi River? Cancel your plans in mid-October and head over to Leesburg for the annual Ladies Board Rummage Sale.
Need to study but still want to get off campus? Take a look at a list of popular study spots by clicking the link below!