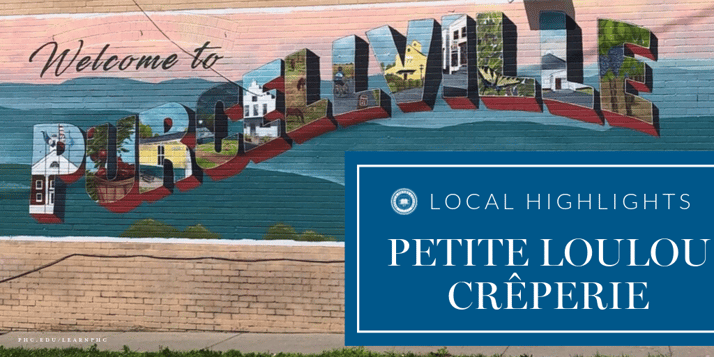 Patrick Henry College is located in Purcellville, VA, 15 miles west of Leesburg and 50 miles west of Washington. Obviously, the nation's capital holds no shortage of events and attractions, but what are young college students to do when they can't make the hour-long trek to D.C.?
Welcome to The Local Highlights, where we let you know what's good around town.
Petite LouLou serves coffee and espresso drinks, but it's more than a coffee shop.
[Related Post: Check out our post on Happy Creek Coffee & Tea.]
It's even more than an experience. It's a French-themed crêperie known locally as "The Crepe Place." The decor is vintage and Parisian, complete with French chocolate advertisements lining the walls and a black-and-white tiled floor. Seating options range from booths to tables to couches inside and twinkle-light-canopied tables outside, and French melodies drift to every corner of the shop. If the customers around you weren't speaking English, you might start to believe you were in Paris.
The menu offers items for any time of day: quiches, sandwiches, baked desserts, coffee, tea, and of course, crepes—both sweet and savory. There are so many options, you may have a difficult time making up your mind, but no decision is a bad one.
Petite LouLou also offers group reservations for their Afternoon Tea services. "Escape to Paris with a lovely afternoon of Hotel Ritz inspired finery with Loulou's Parisian Afternoon Tea Service," says their website. "Featuring a three-tier tea tower of varying tea sandwiches, fresh brioche + delicate sweets the culinary presentation is accompanied by a pot of organic tea." This Holiday season, they will also be offering Nutcracker tea services, which include the same sweets in addition to a performance from the Dance Academy of Loudoun.
Petite LouLou is truly a gem of the Purcellville area.