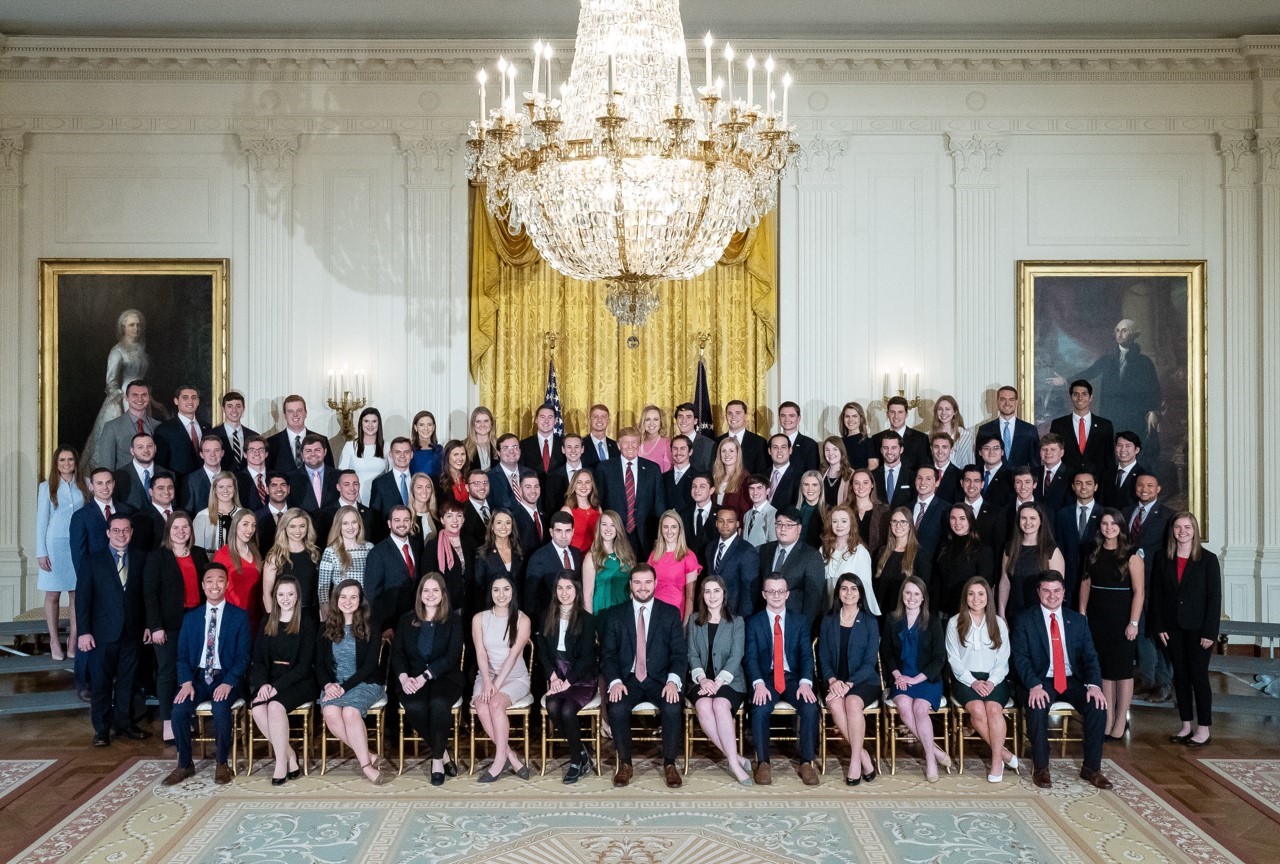 POTUS: Official White House Photo by Tia Dufour* | Carter with President Donald Trump and other interns: front row, third from right
Abi Carter, a rising senior at PHC, interned at the White House last semester. Here's what she had to say about the experience.
What was your job title? I worked in the department of Presidential Correspondence.
How long was your internship? The internship was supposed to be 12 weeks but because of the government shutdown in the beginning it was 10 weeks.
What did your daily duties entail? Responding to and organizing the public's communication with the President, through phone calls on the White House comment line, email and physical mail.
[Related Post: PHC Students Land Leading Number of White House Internships]
How did the internship line up with your expectations? The White House Internship itself was a full program with speakers, professional development sessions, and networking events. I was not expecting to gain so many different experiences out of this internship in addition to the work and lessons I was learning each day.
What were the main lessons and memories you took away from it? I learned the importance of networking and taking advantage of the knowledge and experience of the people around me. I set up a few lunches and coffee meetings with staff members and learned a lot from them. Just coming in to work each day walking past the West Wing never got old.
How did your perception of the White House/Administration change, if at all, through the process? I learned that the people in the current Trump administration work very hard and care a lot about truly helping the American people. Also, no one within the administration is really fazed by bad media or press because they all understand that regardless of what the media says about the administration they are doing good work to help the American people.
[Related Post: What Does It Take To Work In D.C.?]
How did the introduction for Tony Dolan come about? I was very nervous beforehand because I was giving a speech for one of the chief speechwriters during the Reagan administration. But Mr. Dolan had read over my speech before I presented it and told my supervisor that I had done a great job which was a high compliment from Mr. Dolan! I was able to meet him and talk for a bit which was a very special memory. Ronald Reagan is one of my favorite Presidents and I enjoyed getting to hear the stories Mr. Dolan told about his experiences with the President. Mr. Dolan also discussed one of Reagan's favorite books, Witness by Whittaker Chambers. His speech was surprisingly similar to the last class of Freedoms Foundations II with Dr. Mitchell. Mr. Dolan spoke about the same parts of the book that Dr. Mitchell has us read for class and it was such a big moment for me in realizing how impactful that class truly was. Ronald Reagan has been someone I've always admired and greatly respected and meeting a colleague and friend of his was something I'll never forget.
----------
Patrick Henry is committed to high academic rigor, fidelity to the spirit of the American founding, and an unwavering biblical worldview. Read more below...
*Official White House Photo Disclaimer: This photograph is provided by THE WHITE HOUSE as a courtesy and may be printed by the subject(s) in the photograph for personal use only. The photograph may not be manipulated in any way and may not otherwise be reproduced, disseminated or broadcast, without the written permission of the White House Photo Office. This photograph may not be used in any commercial or political materials, advertisements, emails, products, promotions that in any way suggests approval or endorsement of the President, the First Family, or the White House.