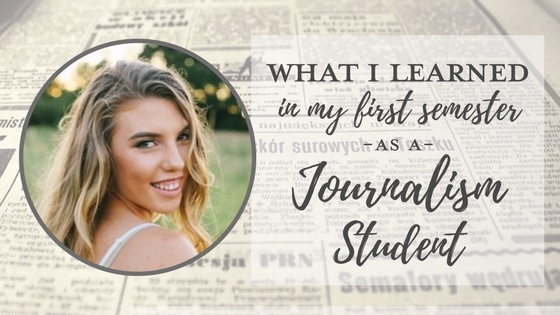 In this era of #FakeNews and partisan polarization, Patrick Henry College is training the next generation of journalists who stand up for Truth and understand how current events fit with God's everlasting Word.
Susanna Hoffman is a freshman Political Journalism student from Maryland. She first considered studying journalism as a high school senior because she enjoyed researching and writing about political hot topics. Read on to find out what she's learned in PHC's journalism program:
---
My first semester at Patrick Henry College as a journalism major taught me multiple practical and far-reaching lessons. Here they are!

Practically, my journalistic writing significantly improved as I learned to write concisely, effectively, and vividly. Here at Patrick Henry College, even first-year journalism students' stories are edited by a professor with a Ph.D. and real-world experience, not a teaching assistant. That makes a world of difference when it's time to apply for internships.

I also improved my communication skills by conducting dozens of interviews with a variety of people, including new professors and PHC's student artists! I learned how to balance being professional and personal during an interview, which is so important.

Another lesson my time at PHC has taught me so far is how a Christian journalist ought to interact with the secular news world. Christians are responsible to communicate Truth to a world devoid of the gospel.
One of the books we read in our introductory journalism class is Telling the Truth by Dr. Marvin Olasky. He says that this task of communicating Truth is impossible without constant immersion in God's Word. Through studying the Bible, we can learn God's vision for the world and His definition of Truth.
The world knows truth — facts with limited moral interpretation —but yearns to know the underlying Truth controlling the cosmos. However, the world opts to ignore God and the Truth of His Word. In my first semester as a journalism student, I began to learn how Christian journalists can tactfully revolve their stories around this Truth.
As I pursue Political Journalism, I am confident that because of my training at Patrick Henry College I will be prepared for what the Lord has in store for me. Under Dr. Les Sillars' instruction, I'm learning to convey God's Truths armed with stylistic and technical expertise.
I am grateful for the values this school teaches and am eager to grow in my readiness for this competitive field.


-----------
Download our free ebook on #FakeNews written by Dr. Les Sillars to learn more about the status of journalism in the modern world.