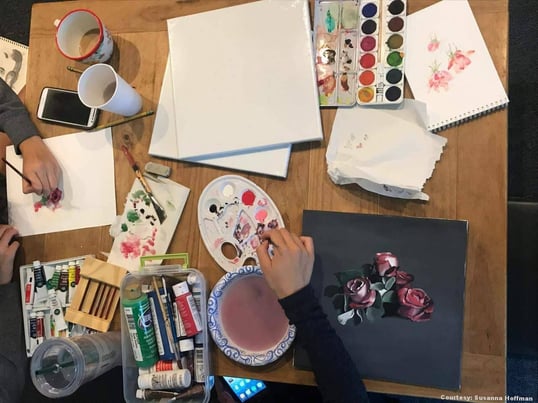 Bring your paints, crafts, clay, and sketch pads and get ready to create at Patrick Henry College's newest student club, the PHC Art Society.
Founded by freshman Susanna Hoffman, the club provides a relaxing atmosphere for students to express their creativity on Saturday mornings. The club enables artists of any medium and interest to improve their abilities. During the first session, junior Gabriella Johnson wired an elegant necklace while freshman Rachel Grove penned illustrations.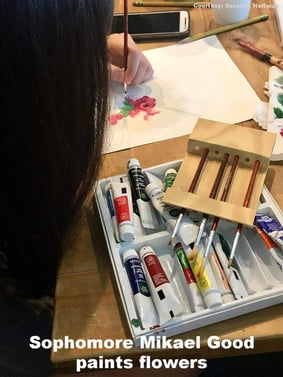 Freshman Adriana Von Helms is also in the Art Society. When looking for colleges, Adriana knew that having something art-related to do there was a must.
"I wasn't able to emotionally or mentaly solidify going to PHC until I knew I could start art," she said.
Visual arts are not included in the classical liberal arts core curriculum (music history and appreciation is, however), but the arts are still considered a fundamental subject that requires critical thinking to appreciate properly, said Dr. Doug Favelo, who teaches history at PHC. Students learn about art through the ages in his Western Civilization classes.
He believes art should either portray the goodness and beauty of Christ or the brokenness of this world.
"The liberal arts discipline men and women to be free and are a way through which God points us to Himself," Favelo said.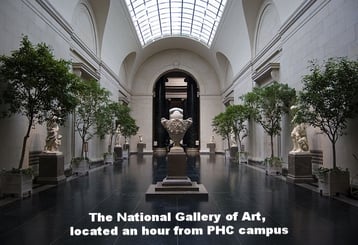 Later this semester, the Art Society plans to invite local artist and PHC alumna Christine Olmstead (who's partnered with companies like home decor company West Elm and Wayfair) for painting workshops or similar events. The Art Society also plans to take field trips to Washington, D.C., to visit classical art displays at the many museums just an hour or two from PHC's campus.
Read more about Christine Olmstead and other PHC journalism alumni here!
--------------------------------------------------------------------------------
Reporting courtesy of PHC's The Herald.