"I'm curious… how did you come to select this topic?" asked Colonel Gordon Middleton.
The question was addressed to International Politics and Policy senior Julia Tomaszewski as she presented at the George Wythe Symposium on Monday, April 16.
The symposium, put on by the George Wythe Review's staff, gives student contributors a platform to present papers they wrote for the award-winning student journal on policy issues. In Monday's symposium, the topics were women in terrorism, voter fraud, and alternative dispute resolution.
One of three seniors to present on Monday night, Tomaszewski spoke about women in terrorism. The topic was suggested by her friend and fellow Strategic Intelligence senior, Sarah Geesaman, because it intersected national security and psychology. Tomazsewski explored the recruitment of women in terrorist organizations and how they serve many purposes, among them actors for social media stunts.
Dr. Middleton, the panel respondent to Tomaszewski's paper, had shown it to Katharine Gorka, a national security analyst and anti-Muslim activist, prior to Tomaszewski's presentation and said that Gorka had interest in talking with her about the paper. Even with her impressive amount of research, Tomaszewski said that she had just scratched the surface and encouraged others to seek out more information.
Many students in the audience were riveted by her paper.
"I found myself drawn in and interested in the results of her study," junior Cougar Poths said.
Poths said Tomaszewski's clarity and conciseness along with her arguments helped him understand the topic.
Tomaszewski was also junior Marina Moreira's favorite presenter at the Symposium.
"I think that obviously terrorism and terrorists are something that everyone should have a general overview and some knowledge of," Moreira said. "And I think a lot of times we don't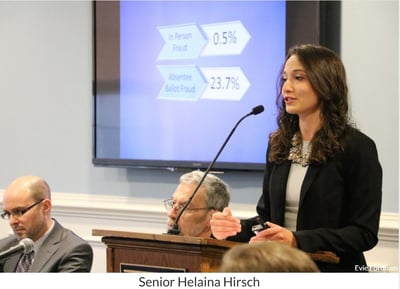 think through all who could easily become a terrorist and what demographics could be targeted in order to have maximum effect."
Helaina Hirsch, a senior studying American Politics and Policy, was the first to present and talked about the use of indelible ink in elections and how it could potentially solve many problems in voter fraud.
"It might be genius just because it's simplicity," Hirsch said.
Dr. Stephen Baskerville, when responding to Hirsch, said that while he was not an expert in this field, "I couldn't find any weaknesses in your argument; I couldn't find any criticisms of this proposed solution."
Daniel Thetford, a Strategic Intelligence student, presented on alternative dispute resolution (ADR). ADR is a field that Thetford finds appealing as he desires to venture into the world of law after graduation.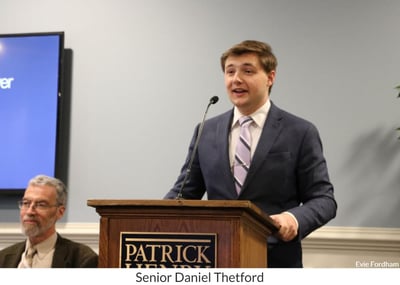 "Traditional litigation only offers win-lose resolutions," Thetford said while appealing to the statistic that 85 percent of ADR cases are resolved prior to litigation. He believes ADR produces faster, cheaper, and better results.
Michael Carowitz, special counsel of the Federal Communications Commission, mused on his own undergraduate days as a political science student before congratulating Thetford on his paper and corroborating Thetford's research with his personal experience at work.

Reporting courtesy of PHC's student newspaper The Herald.
-----------
The George Wythe Review is supervised by Dr. Michael Haynes, the American Politics & Policy program director.