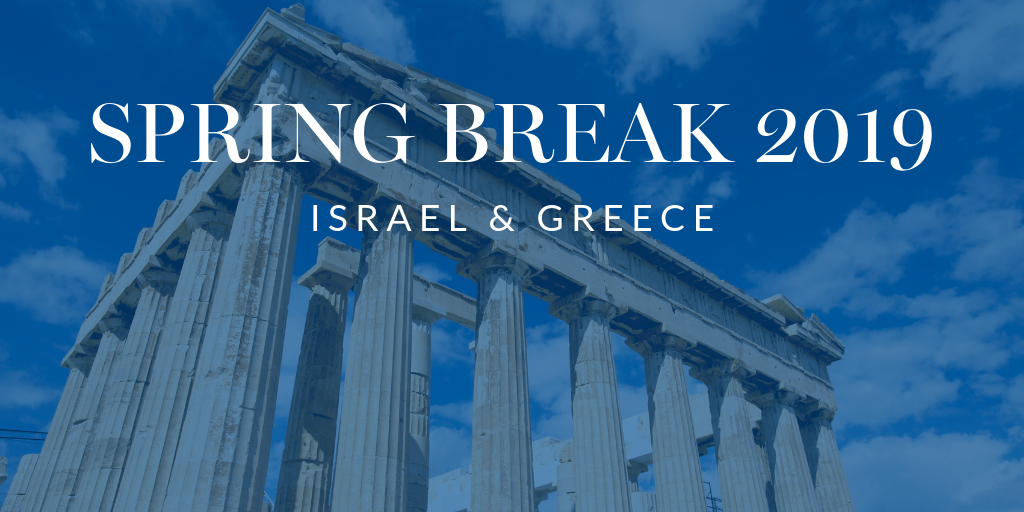 Spring break is just around the corner and students are beginning to pack for not one but two international, school-sponsored trips. While one group departs for Israel, the other will head to Greece.

Greece Trip
Dr. Doug Favelo, Chairman of the Classical Liberal Arts Department at PHC, has a long tradition of leading students on a trip to either Greece or Rome each spring break, alternating locations each year. These trips are, without fail, the highlight of many students' college experience. Read the story about last year's trip to Rome here. On these trips, Dr. Favelo is known for his incredible passion for classical history (which makes him an A+ tour guide) and his affinity for local gelato shops.
Israel Trip
Last summer, PHC partnered with Passages Israel for a 10-day trip to the Holy Land, escorted by Dr. Mark Mitchell and Col. Gordon Middleton. Forty students attended, their trips largely subsidized by The Philos Project and Museum of the Bible. You can read about their trip (and see photos) here. Since the trip was such a success, 20 more students are embarking on the same trip this spring break, escorted by Dr. Les Sillars.
They will tour central and northern Israel—from the Lebanon border, down to Masada and the Dead Sea—all the while viewing dozens of biblical and historic sites including Jerusalem, the Sea of Galilee, the Mount of Beatitudes, and more.
-----
Stay tuned here or on any of our social media platforms for updates of our students' experiences this spring break. These trips reflect part of Patrick Henry College's larger effort to provide students with a truly well-rounded education, training young men and women to lead the nation and shape the culture for Christ. To learn more about our philosophy of education, click the button below.