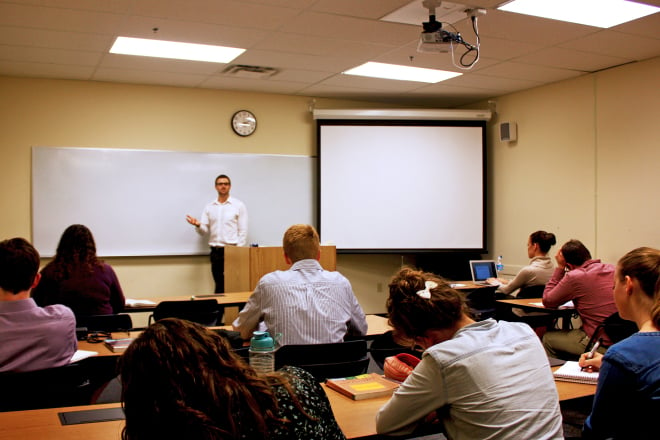 When Brett Larson graduated from Patrick Henry College in 2009, the ceremony took place on the Farris Wheel in front of an unfinished Barbara Hodel Center. Six years later, he and fellow '09 alum, Christy Ting, are back at PHC as professors.
"I think it speaks to the health of the college that we have a lot of alumni that want to come back and invest here," Ting said.
Larson majored in government on the political theory track. After graduation, he moved back to his home in Minnesota for a year before returning to the D.C. area for grad school at Catholic University. Larson plans to defend his dissertation at the end of this month and officially complete his PhD. in politics in October.
Larson is teaching Dr. Stephen Baskerville's upper-level government courses while Baskerville is on sabbatical in Europe. Larson said he was thrilled when his dissertation advisor forwarded him an email from Baskerville describing the opening. He was even more excited to learn that the position was full-time.
As Baskerville will return next fall, Larson has already begun to apply for teaching positions at other undergraduate schools. Colleges begin hiring professors a year in advance, said Larson.
"They say you have to apply to 20-50 schools to get one interview out of it," he said. Larson believes that when PHC grads teach, they have a significant opportunity to shape the culture. As a compliment to the other priorities of PHC, such as law and government, undergraduate teaching opens a new arena for PHC to influence the nation.
Ting also understands the power of teaching. She is PHC's new Pedagogy I professor, taking over for her friend Dr. Laura McCollum. Before Ting graduated in December of 2009 with a degree in Classical Liberal Arts, she was already substitute teaching at Trinity Christian School in Fairfax, Va. She continued to work at Trinity in various teaching roles over the years, and now teaches there part-time.
"I've always wanted to teach on the college level," Ting said. "I never thought it would be at PHC, but I'm grateful to be here."
Ting said that she was excited when Dr. Michael Kucks, who was acting chair of the CLA department, contacted her. Ting said that returning to PHC has not been a difficult transition. "I truly love this school," Ting said. She plans to continue teaching "for as long as they'll have [her]."
---------------------------------------------------------------------------------------------------------------
Originally published in the PHC Herald