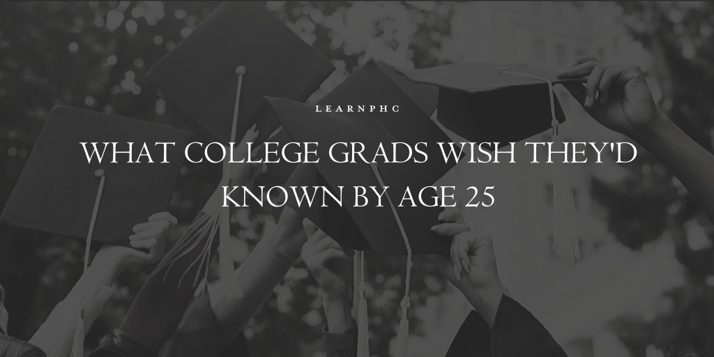 We caught up with our alumni to find out how they are doing and to a pose a single question—what do you wish you had known by 25?

Their answers were thoughtful, helpful, and covered a range of topics, from academics to life in general. Take a look!
From Ben Sayre (SI, 2010)
On learning to bounce back from failure
"Moving forward and making mistakes is better than waiting for the perfect plan. A lot of times in making the mistakes you end up learning something that you're way better off for anyway and being paralyzed waiting for perfection a lot of us are very obsessed with making sure everything is exactly in order so that everything works out exactly as we think it should. In reality life is messier than that and that's okay."
From Daniel Turner (Government, 2008)
On waiting to go to graduate school
"I wish that I had realized that work experience is very important before graduate school. I ended up doing five years in the real world before going to graduate school, and by the time you're done with some real world experience, you actually start to understand what you want out of grad school. You're much more focused, it's much more targeted ,and you can determine whether you actually need to go, because work experience and education are actually interchangeable, for the most part."
From Christy Ting (CLA, 2010)
A short and sweet list
"Be hospitable, travel as much as possible, and keep reading good books."
From James Nelson (IPP, 2013)
On focusing on what matters
"Keep the main thing the main thing. Don't worry a lot about one bad grade or one faux pas you did socially, but focus more on family and relationship with God.
A lot of people like myself stress a lot about little things that don't actually matter in the long run."
From Becca Chinyee (Literature, 2010)
On trusting God in everything
"Trust that God already knows what your ten-year plan is, and it's easier if you just roll with punches. When I was 25, I went back for my master's in education. I had already been in education, so it had the direct application and it just made it so much more meaningful."
From Emmery Grotberg, (Government, 2014)
On what to remember at graduation
"You don't know everything. Life is just beginning, and there's a lot of excitement, and God does a lot with your life after college.
When I graduated it was feeling like I was commencing upon the world -- you know, college commencement -- but at the same time just realize that it feels like a completion, but it's so much more a beginning."
----------------
We hope you found these grads' advice helpful! Be sure to click the button below to learn what Patrick Henry College alumni are up to right now.